Jun. 16, 2020
[United States] Toray Industries (America), Inc. (TAM)
Sponsoring "Let's Support COVID-19 Fighters! Feeding the Front Line in NY" Project
New York City, where TAM has its office, has been facing the most serious COVID-19 pandemic in the United States, and providing various assistance, especially to those who are working in the medical field, has become an urgent issue.
Under such circumstances, TAM decided to cooperate with and support the "Let's Support COVID-19 Fighters! Feeding the Front Line in NY" project started by the Japanese Chamber of Commerce and Industry of New York, Inc. and The Nippon Club, Inc., a local NGO, with support from their member companies and the Japanese Medical Society of America. The project aims to continuously offer bento lunch boxes for free to health care workers.
The project offers balanced and nutritious Japanese-style lunch boxes prepared by the chefs of The Nippon Club. From May 7, 2020, 120 bento boxes with messages from the supporting companies are being delivered once a week to two hospitals in New York City and the project plans to do the same for other hospitals. The message from TAM reads, "We are tremendously grateful for your selfless and courageous work. Your dedication to save people's lives is truly admirable. Our thoughts for the safety and well-being of you and your families are always with you."
We hope to be of help as much as possible to those who are making strenuous efforts at neighborhood medical institutions that are supporting us in our daily life.
Message from TAM to the project
The COVID-19 pandemic has made the world acutely aware of how much we need one another. Our interconnectedness is more evident than we may have seen in our lifetimes.
In the midst of this global crisis, every day we witness extraordinary acts of courage, persistence, ingenuity, kindness, and love, from healthcare teams, grocery store employees, delivery people, teachers, volunteers, neighbors, and many more. We may not know their names, but their generosity of spirit is unmistakable. And for all this, we at Toray are deeply grateful. As a small gesture of thanks, the Toray Industries (America), Inc., team in New York City is committed to providing bento boxes to local hospitals. At the same time, the entire Toray Group continues to do everything it can to protect its employees, communities, and customers.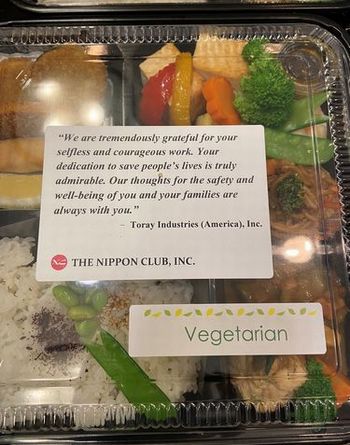 A bento box with a message from TAM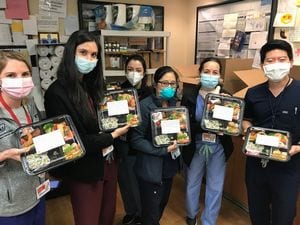 Health care workers at Columbia Presbyterian Hospital receiving the bento boxes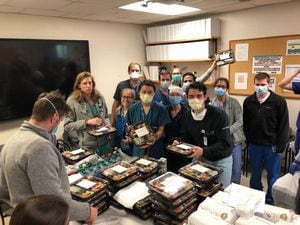 Distributing the bento boxes at Mount Sinai Hospital