Oct. 6, 2020
Toray Advanced Materials Korea Inc. (TAK)
President Jeon Joins in Thank You Challenge with Officers and Employees
On June 25, 2020, TAK President Jeon Hae-sang, along with officers and employees of the company, participated in the Thank You Challenge, an event held to convey everyone's respect and gratitude, in sign language, to health-care workers fighting to overcome the COVID-19.
The Thank You Challenge was initiated by the Central Disaster Safety and Countermeasure Headquarters of Republic of Korea in April to offer encouragement to the health-care professionals where a participant will take a picture or video of him or her showing the sign for respect in sign language—placing the right hand with the thumbs up on the palm of the left hand—and post it on SNS, and then tag three other participants and so on in a relay format. Not only officials from government ministries and offices but also well-known actors and singers of the country are participating in this campaign.
"We are able to live safely, amid this crisis caused by the spread of the COVID-19, thanks to the sacrifice and hard work of the health-care professionals fighting at the frontline of resistance, and all of us officers and employees would like to thank them from our heart. We would do our best to keep supplying materials for masks for the safety of the citizens," said President Jeon.
Till now, TAK has been striving to solve the mask shortage by quickly supplying meltblown nonwoven fabric, an essential material for mask, as well as electrostatic meltblown nonwoven fabric that can be used for double-layer masks. The company has been working continuously to ensure a smooth supply of mask material through measures such as development of a light and breathable anti-droplet fabric.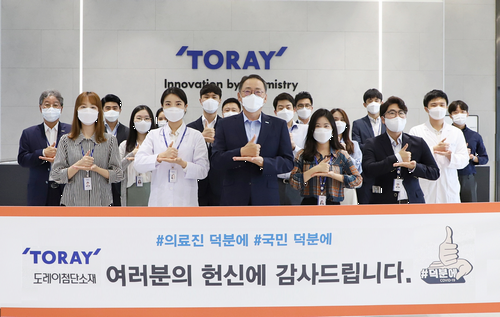 President Jeon (front row center) participating in the Thank You Challenge with officers and employees