Oct. 6, 2020
Toray Advanced Materials Korea Inc. (TAK)
TAK Donates 300 Love Sanitary Kits
On July 14, 2020, TAK prepared 300 Love Sanitary Kits, each of which contains anti-droplet masks and hand sanitizers, to be distributed to those who were facing economic difficulties to purchase hygiene products necessary to prevent COVID-19 infection, and donated them to the Gangseo-gu Office's Living and Welfare Bureau (Gangseo-gu is a district in Seoul where TAK's headquarters is located).
TAK manufactures meltblown nonwoven fabric, which is an essential material for producing disposable masks, and has been developing new products one after another such as fabric for masks that can be worn comfortably even in summer. This business activity of TAK has been acclaimed for contributing to material supply necessary for maintaining public hygiene.
"We would like to be of help in whatever way we can to the local community struggling against COVID-19. We will continue to demonstrate our strength and supply materials required by the society," President Jeon Hae-sang said. "The fact that our products are helping the local communities in these times, when the importance of maintaining distance in daily life is being stressed, makes me feel really motivated about my job," said Kim Eun-joo, Vice President in Charge of Communication, who took part in the donation ceremony.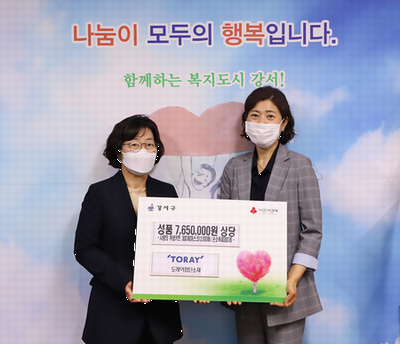 Kim (left) and the Living and Welfare Bureau Chief of the Gangseo-gu Office (right) at the donation ceremony