Jun. 16, 2020
[Malaysia] Toray Group Companies in Malaysia
Donation of Hand Sanitizer to the Local Council
The COVID-19 pandemic has spread globally and Malaysia also has not been spared. Fortunately, the number of infections is on the downward trend as a result of movement control and other initiatives by the government.
In Toray Group companies in Malaysia, one of our first responses to the COVID-19 pandemic was to ask, "What can we do to help?"
In Penang, the Penang Island City Council is providing crucial services to ensure Penang Island City and people remain safe and healthy. When informed that the local council was experiencing challenges in sourcing sufficient personal protective equipment and other supplies to battle the spread of the virus, we decided to donate 360 bottles of hand sanitizer as part of our corporate social responsibility (CSR) initiative.
On 20 May 2020, Velayutham Rajendran, Associate Director of Toray Industries (Malaysia) Sdn. Berhad (TML) cum Deputy Managing Director of Penfabric Sdn. Berhad (PAB) and Gor Siew Yeng, Associate Director of TML cum Executive Director of PAB, handed over the hand sanitizer to the Penang Island City Council on behalf of Toray Group companies in Malaysia.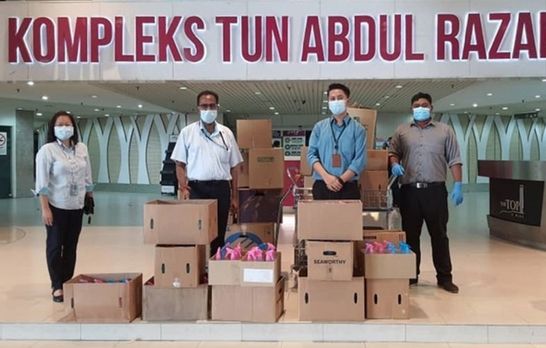 Gor (far left) and Rajendran (second from left) handover the hand sanitizer to the Penang Island City Council