Jun. 16, 2020
[China] Toray Fibers & Textiles Research Laboratories (China) Co., Ltd. (TFRC)
Activities to Prevent Spread of COVID-19
In China, the spread of the COVID-19 is said to have been attributed to the movement of people such as many going back to their home towns for the Chinese New Year.
During the Chinese New Year holidays, TFRC made preparations to handle the employees returning to work after the holidays, such as by arranging masks, alcohol for sterilization, and thermometers for checking body temperature.
Since the start of the office with some employees on February 12, 2020, all employees have been continuing with various measures such as wearing masks, checking body temperature, and regularly disinfecting office spaces, bathrooms, handrails and doors, and by sitting at desks arranged alternately so that they would not directly face each other. When it was difficult to obtain masks due to product shortage, the company provided support by distributing masks and mask sheets which are inserted in cloth masks for family members of the employees.
To support our community, on March 5, Toray Sakai Weaving & Dyeing (Nantong) Co., Ltd. (TSD), Toray Fibers (Nantong) Co., Ltd. (TFNL), Toray Polytech (Nantong) Co., Ltd. (TPN), TAK Advanced Film (Nantong) Co., Ltd. (TFN) and Toray Fibers & Textiles Research Laboratories (China) Co., Ltd. (TFRC), the five Toray Group companies located in Nantong, together donated 100,000 yuan to a charity fund in Nantong for coping with the COVID-19 pandemic.
We hope that not only China but the world will soon defeat this virus and we will together create a wonderful future under the same blue sky!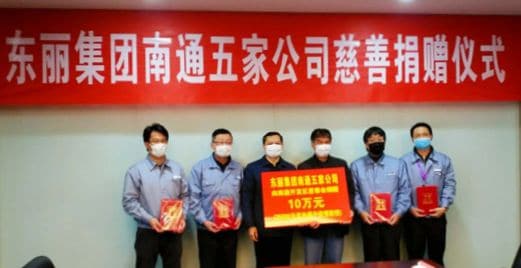 Ceremony held to hand over the donation from the five Toray Group companies in Nantong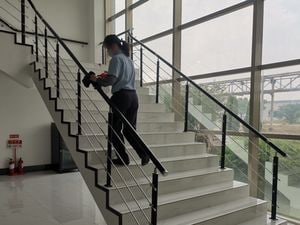 Genesis HealthCare Administrator and the Director of Nursing stand outside their facility with the donated supplies from Decatur Plant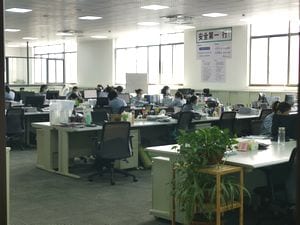 Decatur Plant employees stand behind the Barrels of Love donation items