Jun. 16, 2020
[Republic of Korea] Toray Advanced Materials Korea Inc. (TAK)
TAK Donates 300 Million Won to Fight the COVID-19 Pandemic
On March 8, 2020, TAK donated 300 million won to the Hope Bridge National Disaster Relief Association, a relief organization, for preventing the spread of the COVID-19 infection and supporting the victims.
"All our employees will actively cooperate to overcome this crisis and prevent the spread especially as all the citizens of this nation are facing a hard time. As we have a business base in Gyeongsangbuk Province, we would like to be of help to the people of Daegu located in the province as much as we can," said TAK President Jeon Hae-sang. The donated fund will be used for epidemic prevention and sanitation goods such as masks and daily necessaries and for the medical workers battling the infection to prevent further spread of the virus in the Daegu area, which has been hit hard by the pandemic.
TAK is carrying out its business activities by giving utmost priority to health and safety by implementing measures such as enhanced epidemic control at all business bases including the Seoul Head Office, telecommuting and flexible workstyles, and social distancing in the workplaces to prevent the spread of the virus infection within the company. As a company that produces electrostatic meltblown non-woven fabric for masks, which have been out of stock, we are doing our best to ensure stable supply and thus contribute to combating the COVID-19 infection.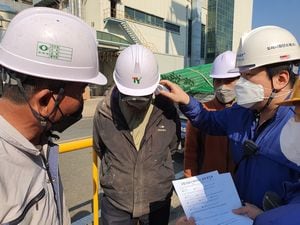 Temperature of employees is checked every day (at Gumi Plant)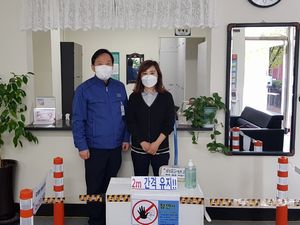 A fence has been set up at the infirmary at the Gumi Plant to ensure social distancing