Jun. 16, 2020
[Bangladesh]TM Textiles & Garments Limited (TMBD)
TMBD Donates Ventilator System to Fight the Spread of COVID-19
The healthcare situation in Bangladesh is poor, and in a place which to begin with has insufficient number of hospitals, doctors and facilities, the spread of COVID-19 has led to loss of many lives.
In response to this situation, TMBD donated a set of ventilator and peripheral equipment as well as a bed to the Yamagata-Dhaka Friendship General Hospital on May 12, 2020, hoping to save as many lives as possible. The hospital located in Dhaka was started in 1997 by Dr. Ekhlasur Rahman, who graduated from Faculty of Medicine of Yamagata University in Japan. After a new ward opened in 2019, it became a general hospital. As the doctors speak Japanese, many Japanese expats use the hospital.
"I would like to express my gratitude for the gift of such a sophisticated equipment. Although our hospital is not so large, many patients come to us. We will use this great gift given to us with utmost care amid the growing COVID-19 pandemic in Bangladesh," Dr. Rahman said.
TMBD is determined to continue with its efforts to become a company with close ties to the local community so as to become a public institution of society in Bangladesh.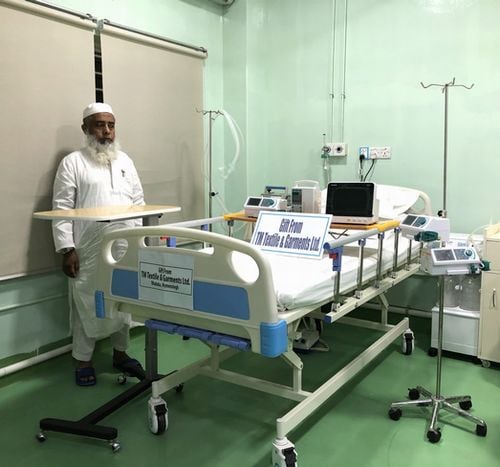 Dr. Rahman with the gift from TMBD