Oct. 6, 2020
Toray Composite Materials America, Inc. (CMA)
COVID-19 Safety Procedures and Donations
While the COVID-19 pandemic continues to develop, CMA's focus on health and safety remains constant. CMA has kept the safety of employees and their families as top priority through newly adapted procedures and additional personal protective equipment (PPE).
These procedures include committed social distancing via telecommuting, staggered work hours, and modified social behaviors. Signs and markers have been installed in common areas to encourage social distancing. Hand sanitizer stations have been added to allow employees to refill personal containers. Machine washable cloth facemasks have been provided by CMA to every employee. Active testing and taking employees' and vendors' temperatures before entering the facility using a "no touch" method. Frequent cleaning of common areas such as cafeterias and office spaces. Decreased meeting sizes and opting for video conferencing tools as an alternative. Use of an app to enable production workers to clock-in/clock-out from their own cell phone to maintain safe distances at all times and avoid touching same time clock by multiple people. Finally, our Decatur Plant in Alabama has begun producing facemask extenders using 3D printing technology not only for its employees but also to be shared with family and friends. So far, it has made several hundred extenders.
Employees are allowed to wear their own work-appropriate masks and have been wowing us with their creativity! We understand the importance of masks for the local community, therefore our headquarters and plant in Tacoma, Washington partnered with the local school district to partake in a Mask Drive. Thanks to the generosity and creativity of our employees, we were able to donate 496 masks to their volunteers, teachers, and administration.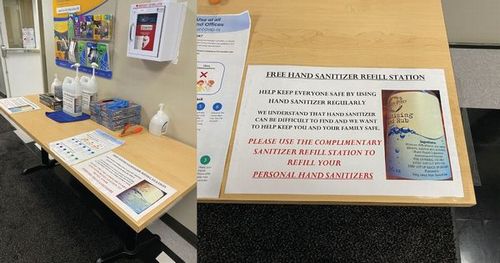 One of the hand sanitizer stations at the Tacoma Plant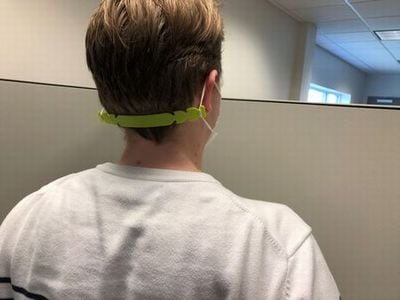 Mask extender made at Decatur Plant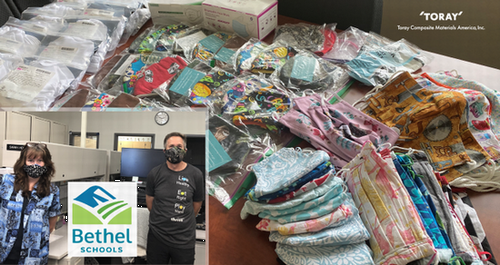 Masks donated from CMA to Bethel School District in Washington state