Nov. 10, 2020
Toray Advanced Materials Korea Inc. (TAK)
Nonwoven Fabric LIVSEN™ Wins 2020 National Brand Award
On June 26, 2020, TAK's spunbond nonwoven fabric LIVSEN™ won the grand prize in the industrial hygiene product category at the awards presentation ceremony of the 2020 National Brand Award held at the Millennium Hilton Seoul.
The National Brand Award is a system, supported by the Ministry of Trade, Industry and Energy and Ministry of Science and ICT of the Republic of Korea, to certify brands with outstanding brand power, and this year marked the fifth time for the event. Since starting the country's first spunbond nonwoven fabric business in 1990, TAK has been contributing to the development of nonwoven fabric industry in the Republic of Korea through continuous investments and enhancing its global competitiveness. As the shortage of masks worsened around the world due to the COVID-19 pandemic, the company's sales, production, and research divisions worked as one and developed electrostatic meltblown nonwoven fabric, an innovative epidemic prevention product. This innovative technological capability contributed to the smooth supply of masks and played a significant role in solving the national emergency, which led the brand power of LIVSEN™, Asia's most produced nonwoven fabric, to be evaluated from various perspectives, resulting in the award.
Senior Vice President Park Seo-jin, who is also the General Manager of SB Business Division, received the award on behalf of TAK. "I am happy that we can contribute to the citizens' hygiene with our spunbond nonwoven fabric. We will continue to strive to fulfill our corporate social responsibility through material innovation," Park said.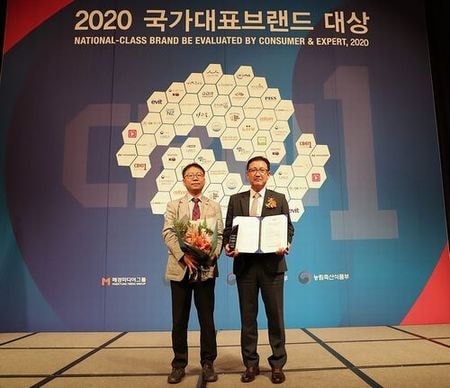 Park (right) and Vice President cum SB Business Department General Manager Kim Seongyeop (left) at the ceremony