Medium-term Management Program
Medium-term Management Program
In the medium-term management program, "Project AP-G 2022" (AP-G 2022), Toray Group will work on basic strategies of "global expansion in growth business fields," "strengthening competitiveness," and newly added the concept, "strengthening the management foundation, " in order to increase cash flow and improve asset efficiency.
We will maximize the value we create in the medium- to long-term and will build a structure that will enable us to achieve sustainable growth in the future.
Basic strategies of "Project AP-G 2022"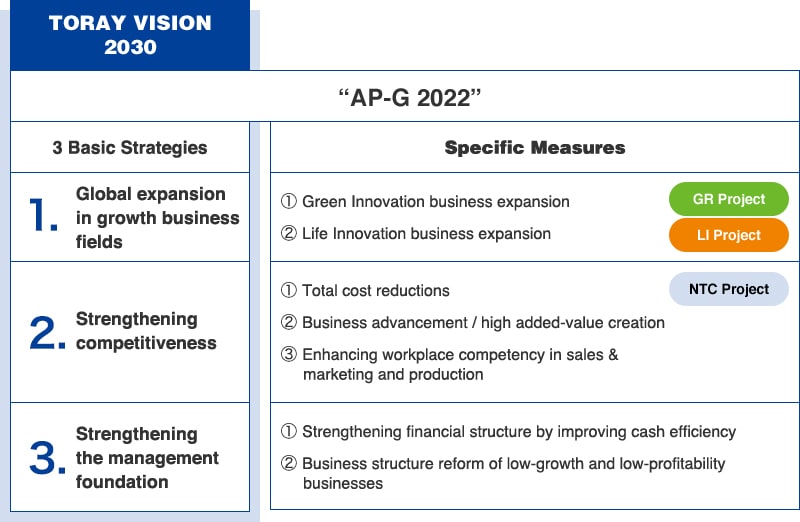 Basic Strategy 1

Global expansion in growth business fields

Utilizing its advanced materials and core technologies to contribute to solving social issues on a global scale, Toray Group will expand its business not only by meeting rising demand, but also by creating new demand. Through a group-wide project, we will promote GR businesses, which help solve global environmental, resource and energy issues, as well as LI businesses, which contribute to better medical care and longevity, foster public health, and support personal safety.
1. Expansion of Green Innovation (GR) businesses : Sales Revenue Target in FY 2022 1 trillion yen
Contribute to solving global environmental, resource and energy issues
Toray Group will implement the GR Project as a group-wide project. We will actively expand business by prioritizing resource use for capital expenditures and R&D to large-scale initiatives such as lightweight materials, biomass-origin materials, recycling materials, lithium-ion battery separator films, large tow carbon fiber for wind turbine blades, water treatment membranes, and materials related to hydrogen and fuel cells.
Net Sales / Revenue from Green Innovation Businesses
In FY 2020, revenue decreased from the previous fiscal year due to sluggish sales in the energy conservation business field including carbon fibers for aircraft, despite growth in the recycling and the new energy business fields.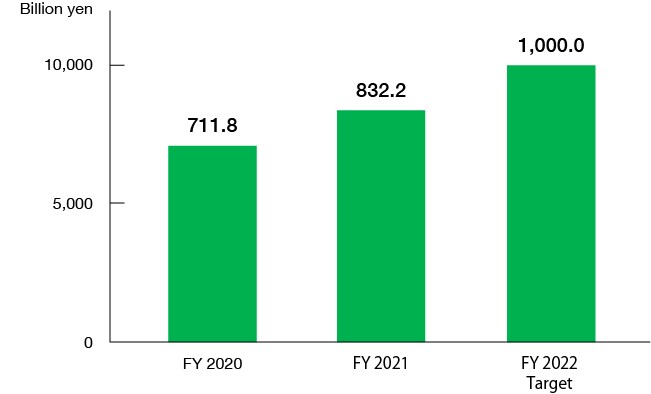 Main business domains in Green Innovation businesses

Energy conservation
Lightweight materials such as carbon fiber for aircrafts, resins for automobiles
Materials related to energy-saving displays such as OLED
Warm innerwear, Cool innerwear etc.

New energy
Carbon fiber for wind-turbine blades
Battery separator film for lithium-ion batteries
Materials related to fuel cells and hydrogen infrastructure etc.
Low Environmental Impact
Non-fluorine water-repellent material
Toray Waterless Plate™ etc.

Water Treatment
RO, MBR, MF/UF membranes etc.
Recycling
Fiber recycling
Film recycling etc.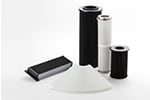 Air Purification
Dust collecting filter / Air filter etc.
FY 2020 Revenue of Green Innovation Businesses Breakdown by Business field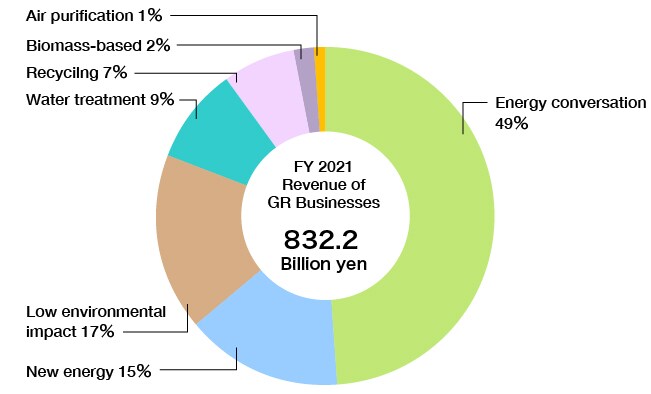 2. Expansion of Life Innovation (LI) businesses : Sales Revenue Target in FY 2022 300 billion yen
Contribute to better medical care and longevity, foster public health, and support personal safety
In addition to the conventional concepts of contributing to health maintenance and longevity and improving the quality of medical care, will broaden the definition to include products for "personal safety" to respond to threats on society such as recently increasing natural disasters and extreme weather, and aim for business expansion through a group-wide approach.
Net Sales / Revenue from Life Innovation Businesses
With the addition of the "personal safety" business field, revenue in FY 2020 increased due to rise in shipments of nonwoven fabrics for applications including medical gowns and masks.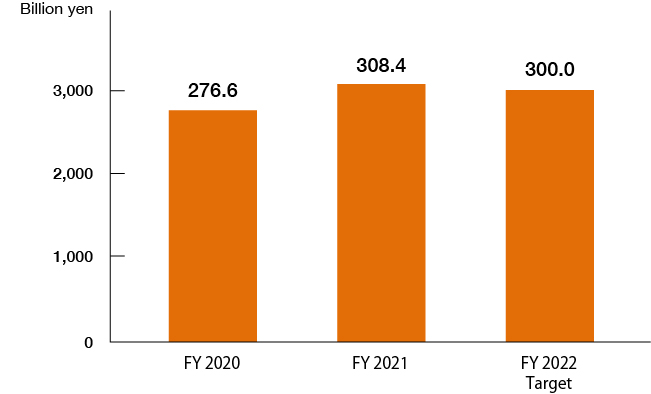 Main business domains in Life Innovation businesses
Support health and longevity
Nonwoven fabric for hygiene products

Materials for facilitating access

Sportswear fabrics

Home water purifiers

etc.
Improve quality of medical care, Ease burdens on medical professionals
Dialyzers

Catheter

Medical-use hitoe™

Pharmaceuticals

etc.
Support personal safety
Heat-shielding/light shielding/UV protective SUMMER SHIELD™

Nonwoven fabric with flame-shielding property, GULFENG™

Protective clothing LIVMOA™

etc.
FY 2020 Revenue of Life Innovation Businesses Breakdown by Business field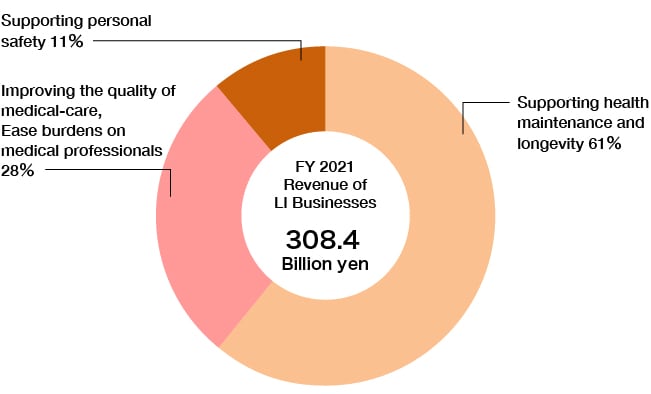 Initiatives for Supporting Future Growth
Toray Group will proactively implement capital investment, work on research and technological development, and create new businesses, in order to pursue business expansion in growth business fields.
Capital Investment

Proactively implement growth investments in growth business domains
Research & Technological Development

Invest resources to future large scale themes, contribute to the realization of the Sustainability Vision
Further leverage comprehensive capabilities by integrating fundamental technologies with original technologies
New Business Creation

Future TORAY-2020s Project (FT Project)

Continue to promote the group-wide "FT Project" under "AP-G 2022," to generate revenue sources that will drive the next growth stage
Will invest resources selectively to large scale themes for the next growth stage, and accelerate product development and the establishment of business models, with the aim to achieve total sales of around 1 trillion yen in the 2020s
Examples of themes in "AP-G 2022" 
Hydrogen-fuel cell related materials

Biomass-utilization products and processing technologies

Environmentally-friendly printing solutions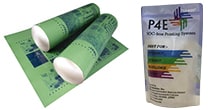 Hygiene, Health-care products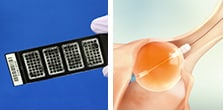 Sensing devices related materials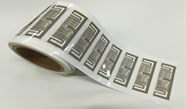 Basic Strategy 2

Strengthening Competitiveness

Toray Group will continue with the group-wide project "total cost reduction," and will add specific measures of "business advancement, high-added value creation," and "enhancing workplace competency in sales & marketing and production."
1. Total Cost Reduction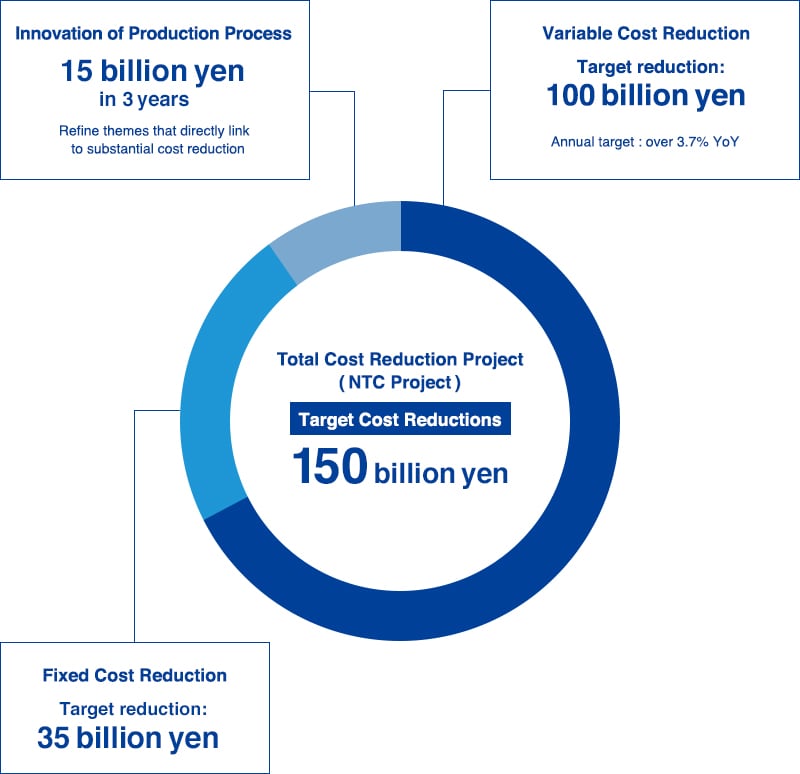 2. Business Advancement / High Added-value Creation
Achieve advancement in products
Add high-value by integrating and combining products and services
Create new value in collaboration with external partners
Pursue innovation in the value chain using Information and Communication Technology (ICT)
3. Enhancing Workplace Competency in Sales & Marketing and Production
Lead the maximization of value-adding by strengthening the ability of the sales force to gather information, provide supply chain insight, the ability to make comprehensive sales proposals, and the ability to resolve issues
Continually improve labor productivity by strengthening the ability to maintain equipment, resolve onsite problems, and the ability to resolve issues in order to meet customer requirements
Basic Strategy 3

Strengthening the Management Foundation

To expand cash flow and enhance asset efficiency, Toray Group will strengthen its financial structure by improving capital efficiency, and conduct business structure and organizational structure reforms of low-growth and low-profitability businesses.
1. Strengthening financial structure by improving cash efficiency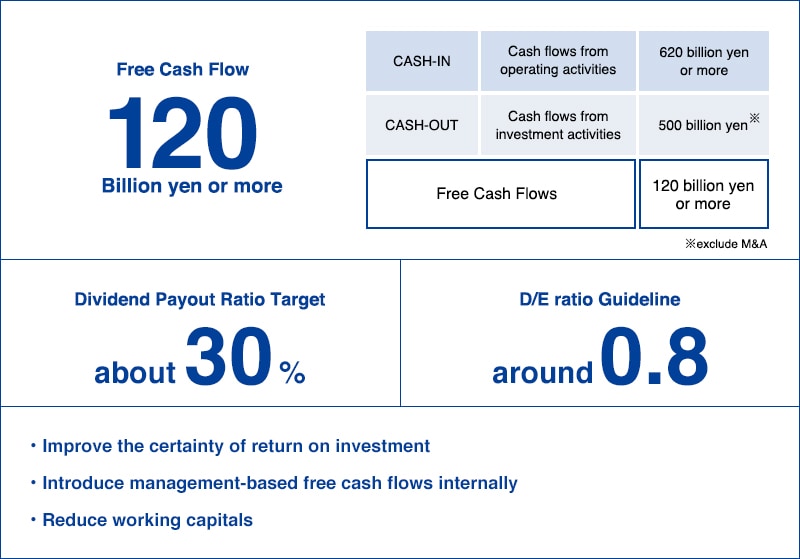 2. Business structure reform of low-growth and low-profitability businesses
Conduct business structure and organizational structure reforms of low-growth and low-profitability businesses
Will consider options including reducing or withdrawal from businesses with low market growth potential or where it would be difficult to make the most of Toray Group's strengths in the future

Determine once a year of target businesses and companies that fall below boundary value for "sales growth" and "profitability", and conduct business structure and organizational structure reforms
Revenue Targets in FY 2022
Billion yen
FY 2020 Actual
FY 2021 Forecast
FY 2022 Target
Revenue
1,883.6
2,220.0
2,600.0
Core Operating Income
90.3
130.0
180.0
Core Operating Margin
4.8%
5.9%
7%
ROE
3.9%
about 7%
about 9%
ROA
3.2%
about 5%
about 7%
Free Cash Flow
113.7
Positive
120 billion yen
or more (total of 3 years)
D/E Ratio
0.79
Management in accordance with the guideline (around 0.8)
around 0.8
(guideline)
Dividend Payout Ratio
31%
28%
about 30%
Exchange rate for "AP-G 2022" target : 105 yen / US$
ROA = Core Operating Income / Total Assets
ROE = Net profit Attributable to Owners of Parent / Owners' Equity
Sustainability Targets in FY 2022
FY 2013 Actual
(baseline year)
(J-GAAP)
FY 2020 Actual
(compared with FY 2013)
(IFRS)
FY 2022 Target
(compared with FY 2013)
(IFRS)
GR Net sales / Revenue
463.1 billion yen
711.8 billion yen
(1.5 fold)
1,000.0 billion yen
(2.2 fold)
LI Net sales / Revenue
119.6 billion yen
275.6 billion yen
(2.3 fold)
300.0 billion yen
(2.5 fold)
Avoided CO2 emissions
38.4 million tons
6.4 fold
5.3 fold
Contributed Annual water filtration throughput
27.23 million tons/day
2.0 fold
2.4 fold
Greenhouse gas emissions per unit of sales in production activities
3.37 thousand tons /billion yen
2.90 thousand tons /billion yen
(14% reduction)
20% reduction
Water consumption per unit of sales in production activities
152 thousand tons /billion yen
125.2 thousand tons /billion yen
(18% reduction)
25% reduction