Feb. 5, 2020
Toray Industries, Inc.
Toray wins nano tech 2020 Grand Award
Tokyo, Japan, February 5, 2019 – Toray Industries, Inc., announced today that it won the Grand Award at the 19th International Nanotechnology Exhibition & Conference (nano tech 2020) at Tokyo Big Sight on January 29 through 31. This honor was in light of the company's efforts in leveraging nanotechnology to develop many different new materials. These have included the artificial fiber based on observing silk thread cross-sections, the stretch film that combines 200% stretchability and high resiliency, and the nano-laminated film that controls light precisely. Toray previously received the Grand Award in 2014.
Toray's booth explored the company's super-smart society contributions and sustainability vision, showcasing the innovative technologies and advanced materials stemming from its ongoing research and technical development. Toray representatives exchanged views with numerous attendees. The company will draw on such information to enhance its research and technical development efforts.
Toray will leverage core technologies in organic chemistry, polymer chemistry, biotechnology, and nanotechnology to progress in conceiving innovative technologies and advanced materials. At the same time, it will endeavor to materialize its corporate philosophy of contributing to society by creating new value through innovative ideas, technologies, and products.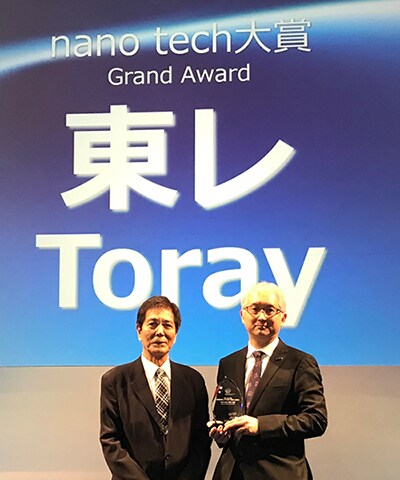 Professor Tomoji Kawai, chairman of the nano tech Executive Committee (left), and Yoshiki Manabe, Toray director
Business Segment Exhibits
Fibers & Textiles

・NANODESIGN®, an innovative composite spinning technology
・NanoSlit Nylon, a durable water-repellent textile
・Kinari, a new feeling polyester textile

Performance Chemicals

・"SHINAYAKA" Tough Polymer applying NANALLOY® technology
・Truely spherical polyamide particles
・PICASUS® VT, a vertical transmission and oblique reflection nano-multilayer film
・PICASUS® , a UV-cut・nano-multilayer film
・Ultra-flexible, high-restoration Stretchable film
・High modulus & flexibility clear aramid film
・Low Shrinkage Torelina® PPS film for 5G circuit boards
・Printed RFIDs
・RAYBRID® photosensitive conductive material for touch sensor panel

Carbon Fiber Composite Materials

・Prepreg with NANOALLOY® technology

Environment & Engineering

・Highly selective separation nanofiltration membrane

Life Science

・Highly Sensitive DNA Microarray 3D-Gene®
・Ultra-hydrophilic thin-layer coating technology

Other

・Porous carbon fiber
・Organic Photovoltaics, an ultra-thin lightweight solar cell for Self-powered IoT and mobile devices
・High Analysis Techniques: Elemental Analysis of Nano-Region by NanoSIMS
・Nanomaterials safety assessments
・DNA of Toray's research and development –constant pursuit of the ultimate limits-
・R&D Innovation Center for the Future, opened at the Shiga Plant in December 2019