Global Alliances
Toray Fibers &
Textiles Research
Laboratories (China)
Co., Ltd. [TFRC]
Toray Fibers & Textile Research Laboratories (China) Co., Ltd. is an set up by Toray in Nantong, Jiangsu, China, in March 2002. The research and development carried out here is integrated into the R&D activities of the entire Toray Group, and the Laboratories function as a polymer science R&D base that produces value in expertise through the talents of high-level Chinese researchers working with Toray's proprietary technologies. With the establishment of TARC (p. 47) in January 2012, this facility was renewed as a base specializing in fiber R&D. Research and development efforts in textiles at Nantong range widely from polymer design to polymerization and yarn-making, advanced processing, and product development - primarily for apparel and industrial materials - leading to a steady stream of next-generation polymers, fibers, textiles for apparel, and industrial materials. Going forward, it will continue to make efforts as an R&D base to globally market the fiber products of the Toray Group, by making use of Toray's integrated system for fiber production/R&D in Nantong.
Polymerization and Yarn-Making Research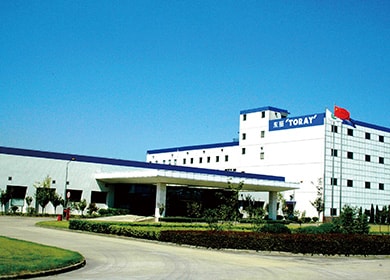 Photo of fiber cross-section
The focus here is on R&D related to polymerization and yarn-making, primarily polyesters, with efforts ranging from basic research to the development of pilot-scale production technologies. The Laboratories also conduct research microfiber at the limits of fiber structure and pursue environmental initiatives (plant-derived materials, low environmental impact processes, etc.).
Textile Research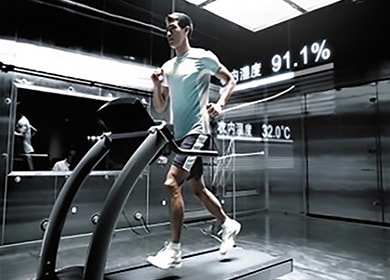 Snow in weather laboratory
The Laboratories carry out a full range of steps from basic research to applied development with regard to fiber processing, denaturation, woven fabric, and dye finishing for apparel and apparel-related uses. These efforts also extend to new product planning.
Industrial Materials Research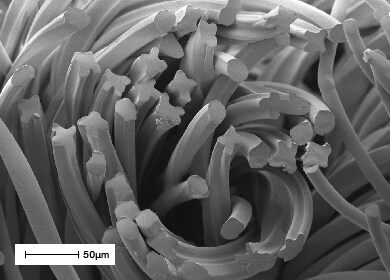 Filter bag
To expand the fiber-based industrial materials business in China, TORCON® PPS fiber is being developed to make heat-resistant filter bags for collecting dust in coal-fired plants, along with air filters. Applied research will continue to be carried out in the fields of Environment & Amenities and Energy.