Reserch & Development Organization
Global Environment
Research Laboratories
The Global Environment Research Laboratories were first launched in 1991 as the Global Environment Research Laboratory, and then re-established as the Laboratories in 2002.
These laboratories develop and commercialize all Toray membrane products in the water treatment field, based on the foundation of Toray's organic synthesis technology, polymer technology and nano-processing technology.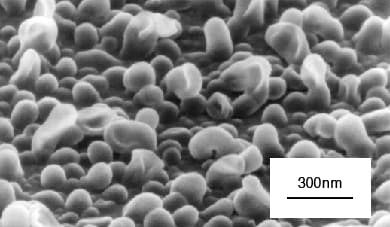 Surface of high boron rejection seawater desalination reverse osmosis (RO) membrane.
*Winner of the 2008 Nikkei Global Environmental Technology Award
While the global water demand is growing increasingly, the depletion and deterioration of water resources are getting serious problems worldwide. Therefore, water treatment technology is needed to secure sustainable water resources.
Global Environment Research Laboratories carry out researches which meet many kinds of customer's requirements with deepening and expanding polymer separation membrane technology based on our nanotechnology.
Up to now, we have developed all types of separation membranes for water treatment to solve water resource problems. The membranes include reverse osmosis (RO), nanofiltration (NF), ultrafiltration (UF) and microfiltration (MF) membranes. RO membranes are used for the production of ultrapure water, seawater desalination, and sewage water treatment and reuse.
In addition to water treatment, we also address fermentation and separation/refining technologies, using the membranes integrated with biotechnology of New Frontiers Research Laboratories.
Recently, we have successfully developed high-performance RO membranes for the world's largest membrane-based seawater desalination plants. These membranes simultaneously achieve enhanced boron removal performance and a high water production rate by using Toray's unique technology to control the pore diameter and other aspects of membrane fine structures at the subnanometer level (angstrom = 1×10-10 m). Boron is known to cause reproductive disorders, and it is one of the regulated substances in drinking water.
Toray's RO membranes for seawater desalination keep the high rejection rate against these harmful substances and provide high-quality water over the long-term.
Regarding UF and MF membranes, PVDF hollow fiber membranes in which the pore structures were controlled at the level of a few nanometers or tens of nanometers have been recognized for their high separation performance in applications such as drinking water, industrial water, pretreatment of seawater desalination or sewage water reuse . Furthermore, Toray's PVDF submerged MF membranes for membrane bioreactor (MBR), which realized the coexistence of excellent antifouling property and high permeability by controlled their surface pore size far smaller than activated sludge particles and increased the number of pores, have already been operated in several hundred wastewater treatment plants in the world.
And also, we are conducting R&D on Integrated Membrane System (IMS), which is membrane-based water treatment system by combining membranes with dissimilar functions, such as RO, NF, UF and MF, to reduce water production cost and to provide superior performance.
As one example, Toray has promoted a "Water Plaza", in collaboration with Kitakyushu City, the New Energy and Industrial Technology Development Organization (NEDO), Hitachi Plant Technologies( now Hitachi,Ltd.,Infrastructure Systems Company) and etc.. In this project, energy-saving and environment-friendly water production system, which is integrated sea water desalination and sewage recycling system, was developed.
We are also collaborating with Toray Singapore Water Research Center[TSWRC], established in Singapore with the aim of accelerating global research and development of water treatment technology based on Toray's water treatment membranes, and Water Treatment Research Laboratories of Toray Advanced Materials Research Laboratories (China) Co., Ltd. to create cutting-edge technology of water treatment using membrane.
Hamma Seawater Desalination Plant, the largest in Africa, using Toray's RO membrane elements (Algeria) *The membrane elements won the Monodzukuri Nippon Grand Award, Special Prize in 2009
Point Lisas Seawater Desalination Plant, the largest in the western hemisphere, using Toray's RO membrane elements (Trinidad and Tobago)
Largest membrane-based water purification facility in Korea, employing Toray hollow fiber membrane modules (Gongju)
*The PVDF hollow fiber membrane modules were the winner of the 2007 Technology Award of the Society of Chemical Engineers, Japan
Laboratory of Toray Singapore Water Research Center, established in August 2009
Milestones in Toray R&D
1981
Commenced production of Toray ROMEMBRA® reverse osmosis membrane.
1991
Global Environment Research Laboratory opened in Shiga.
1998
Commenced production of TORAYFIL® PAN hollow fiber ultrafiltration membrane.
2002
Changed name to Global Environment Research Laboratories.
2005
Established production technology of TORAYFIL® PVDF hollow fiber membrane.
Established production technology of MEMBRAY® PVDF membrane for MBR.
2009
Opened Toray Singapore Water Research Center [TSWRC].