Realizing a Circular Economy
CSR Activity Report (CSR Guideline Activity Reports) - Contributing Solutions to Social Issues through Business Activities
Realizing a Circular Economy
As a manufacturer of a wide range of materials, Toray Group has been promoting various recycling initiatives to ensure that the earth's resources are efficiently utilized. In the Toray Group Sustainability Vision, the Group outlines "a world where resources are sustainably managed," as one of the perspectives of the world as envisioned in 2050. Conventional societies face a variety of problems, including the depletion of resources, marine pollution caused by large amounts of waste, and CO2 emissions. In order to solve these problems and realize a sustainable, circular economy that makes effective use of resources, the Group facilitates recycling of plastic products, switching to biomass for raw material, adopting renewable energy and hydrogen, and reusing water, across its various technologies. In its Medium-Term Management Program, Project AP-G 2022, Toray Group has identified realizing a circular economy as a key issue, and examples of initiatives in this area include material recycling1 and recycling within operating processes, both of which reuse plastic products such as fibers/textiles, resins, and films. In addition, chemical recycling,2 which converts unrecyclable plastics back into basic chemicals such as monomers and gases, is already implemented for nylon fiber/textile products.
Toray Group is also working to develop materials that use plant-based instead of petroleum-based raw materials, and membrane bioprocess technology, which efficiently produces these raw materials. Toray technology is also used in the materials for the wind turbine blades and hydrogen production equipment that utilize renewable energy sources to generate electricity and hydrogen used in manufacturing processes, as well as in the water treatment membranes for the reuse of wastewater.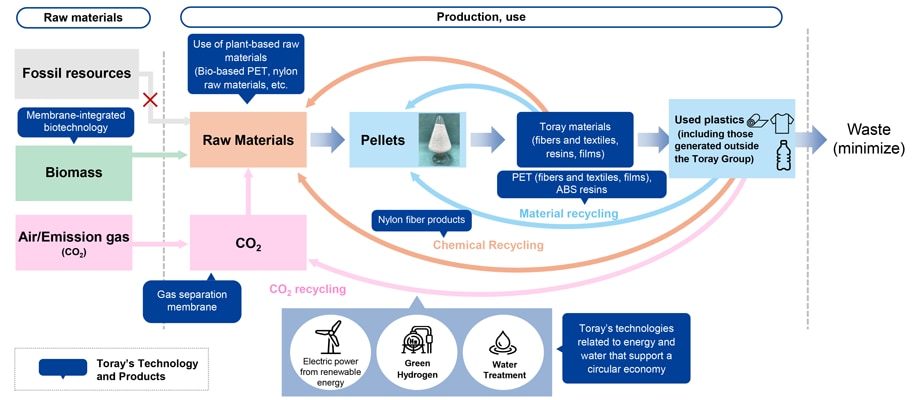 1 Material recycling is a recycling process that uses heat to convert used plastic bottles and remnants produced during manufacturing processes into yarn, staple fiber, and other materials.
2 Chemical recycling is a recycling process that breaks down through depolymerization used products and remnants produced during manufacturing processes into monomers that are manufactured back into chips and then recycled into yarn, staple fiber and other materials.
Related Information
For more information on Toray Group waste reduction, chemical substance management, energy conservation, and climate change measures, please visit the website below.
Recycling Activity PrinciplesEstablished in March 2004
We shall design, produce, and sell products that reduce our impact on the environment.
We shall purchase and use materials and products which will help reduce our impact on the environment.
We shall disclose information related to recycling programs and recycled goods.
We shall voluntarily cooperate with customers to recycle or otherwise appropriately dispose of our products.
Biomaterials Business
Toray Group is developing plant-based materials made from plant-based raw materials instead of petroleum-based raw materials. For example, in the segment of biomass-based fiber, Toray Group mass produces partially bio-based polyethylene terephthalate (PET) fibers that are made from plant-based ethylene glycol, which is also used to make Ultrasuede™PX ultra-microfiber non-woven fabric with suede texture. Toray Group is also prototyping a 100% bio-based PET fiber and developing membrane bioprocesses.
100% Bio-Based PET Fiber, Membrane Bioprocesses
Toray Group is promoting a fully bioPET material made from plant-based ethylene glycol and bio-para-xylene produced at its pilot plant, as its flagship eco-friendly products. Toray Group seeks to launch mass production of these materials for sportswear and automotive interior applications in the early 2020s.
Toray Group is also developing a membrane bioprocess to enable plant-based raw materials to be manufactured with greater efficiency. This membrane bioprocess combines separation membrane technology and biotechnology to create new applications for water treatment separation membranes in processes such as saccharification, conversion, and refinement. The technology significantly improves the manufacturing of raw sugar from non-edible biomass and increases fermentation efficiency, thereby fostering a non-fossil raw material. Toray Group is currently operating a technology demonstration project for a saccharification process that produces sugars from nonedible biomass. Toray Group will work to commercialize the technology, in order to build a supply chain that produces materials and chemicals from non-edible biomass.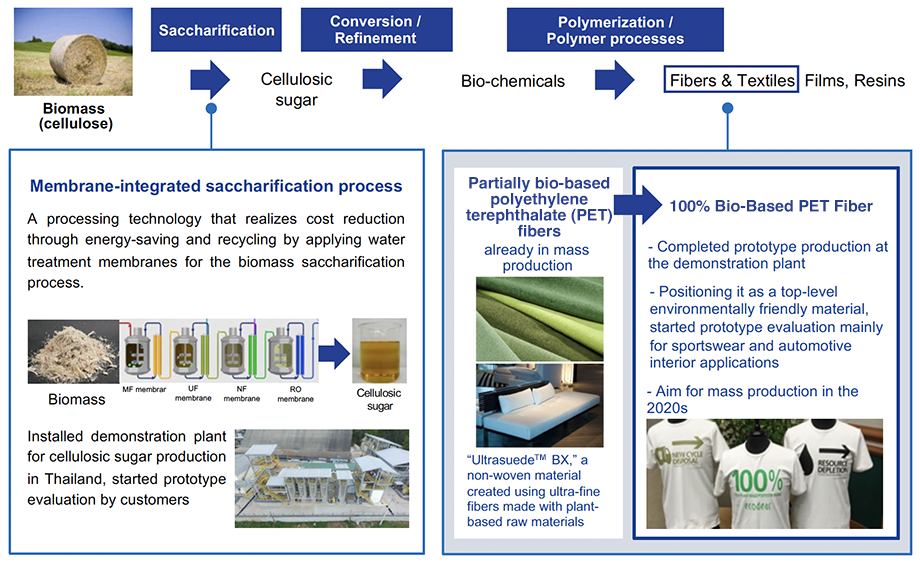 Promoting Recycling
Toray Group applies the unified Ecouse™ branding to its recycled materials and products across a wide range of business segments including fibers & textiles, plastics, and films. These products include fibers made by recovering and recycling discarded PET bottles and scrap ends generated from manufacturing processes, and films made by recovering and recycling films that have been used in customer processes.
In the fiber segment, Toray Group offers the CYCLEAD™ recycling system for the recovery and circulation of used fibers. In 2019, Toray Group introduced the &+™ ("And plus") brand of recycled fibers that include Toray's original traceability function. These fibers are made from discarded PET bottles and use filtering and cleaning technologies to remove foreign matter, resulting in a fiber with high whiteness that can be made into a wide variety of products.
In addition, Toray promotes circular economy efforts that involve developing unique chemical recycling systems to, for example, recover and recycle used fibers and resin.
Fiber and Textile Recycling
Recycled Materials ECOUSE™
ECOUSE™ is a textile mainly for corporate uniforms, made from reusing byproducts such as film and thread scraps from internal manufacturing processes.
Collection and Circulation Type Recycling with CYCLEAD™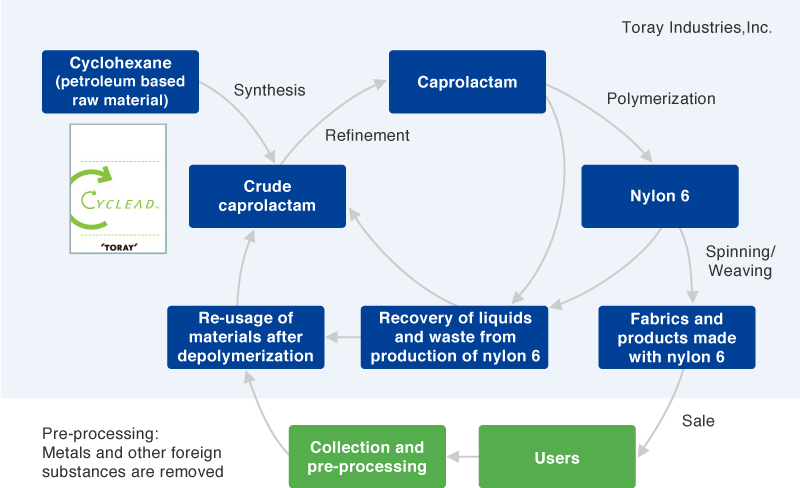 &+™ Fiber Brand Made from Recycled Plastic Bottles
Previously, plastic bottle derived-fibers were limited in variety due to contaminants mixed into raw materials, which made it difficult to produce special cross-sections and fine fibers, as well as issues posed by fiber whiteness being impaired by yellowing from plastic bottle degradation. In response, Toray together with Kyoei Industry Co., Ltd. developed contaminant filtering technology and advanced plastic bottle cleaning techniques to stabilize the supply of raw materials that are impurity-free. Combining these technologies with Toray's fiber production technology, it is possible to achieve diverse fabric applications with a degree of whiteness equivalent to fibers materials made directly from petroleum source. Moreover, Toray has commercialized its highly reliable polyester fiber under the &+™ brand by incorporating its proprietary traceability technology that can detect special additives premised in with plastic bottle-based raw materials. In January 2020, Toray Industries began full-scale sales of &+™ brand products. Going forward, the goal is to expand the scale of the brand by utilizing a diverse supply chain that includes textiles and sewn products, as well as fibers, and involves production sites around the world.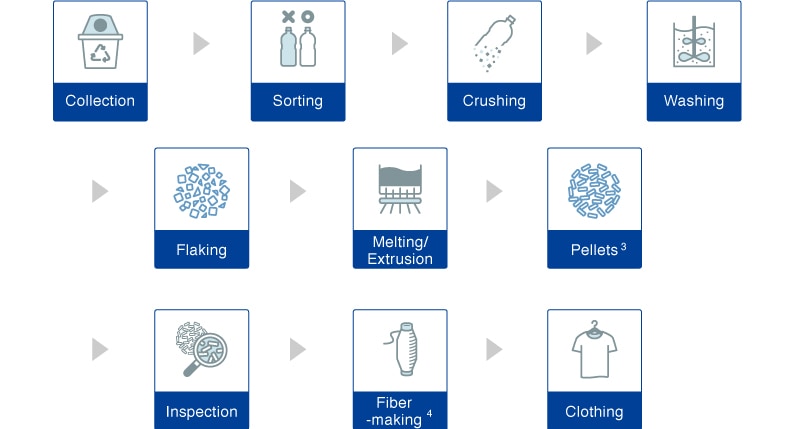 3 &+™ raw pellets have better whiteness than typical recycled plastic pellets due to Toray's cleaning and filtering technologies.
4 &+™ fiber has a high degree of whiteness and can be made in a wide variety of textiles. It is therefore used in a wide range of clothing including fashion garments and sportswear, by meeting diverse needs for functionality, texture, and color variation. Clean PET bottles that have been properly sorted are transformed using various recycling processes into high-quality &+™ PET fiber.
Promoting Recycling with UNIQLO
Together with UNIQLO CO., LTD., Toray is promoting new initiatives for sustainable products, with Toray supplying &+™ fibers made from recycled plastic bottles for UNIQLO's quick-drying wear DRY-EX brand polo shirts starting in 2020.
In addition, UNIQLO stores are collecting used down items from customers to recycle the feathers. Conventionally, the stuffing in duvets and other objects incorporating down is manually removed. Such processes are arduous with Ultra Light Down items because of their thin outer fabric and complex construction. By developing special extraction machinery, Toray has fully automated cutting, stirring and separating, and recovery, for 50-fold the process capacity of manual processes, thus greatly alleviating workloads. Toray and UNIQLO are jointly developing new recycling-based down products from recycled feathers.
Resin Recycling
Recycling Pre-Consumer and Post-Consumer Materials
Toray Group is developing recycled plastic based on a proprietary formulation design that actively engages in both pre-consumer recycling, utilizing such byproducts as film and fiber scraps from manufacturing processes, and post-consumer recycling, utilizing scraps from recovered products such as PET bottles and PC resin products. The Group will continue to procure a diverse range of recycled resources.

Recycling Post-Consumer Materials and Practicing Closed Loop Recycling with Customers: Horizontal Recycling of Air-Conditioner Components
For post-consumer recycling, the Group is working with customers to establish a material recycling system for reusing fans from indoor air conditioners collected under the Home Appliances Recycling Law as new fans.
Fans installed in indoor air conditioners use glass fiber-reinforced acrylonitrile-styrene resins, and Toray's unique collection and foreign substance removal system and materials blending method solve such problems as contamination and glass breakage during recycling as well as realize physical properties nearly equivalent to virgin materials.
The Group is currently looking at ways to work with customers to recycle in other sectors, as well.

Film Recycling
Toray Industries is promoting pre-consumer recycling, using byproducts from the PET film LUMIRROR™ manufacturing process in textile and resin applications, as well as for environmentally friendly film. In addition, the Company operates a recycling system for collecting waste PET film from customer manufacturing processes to be recycled and reused as raw material for film.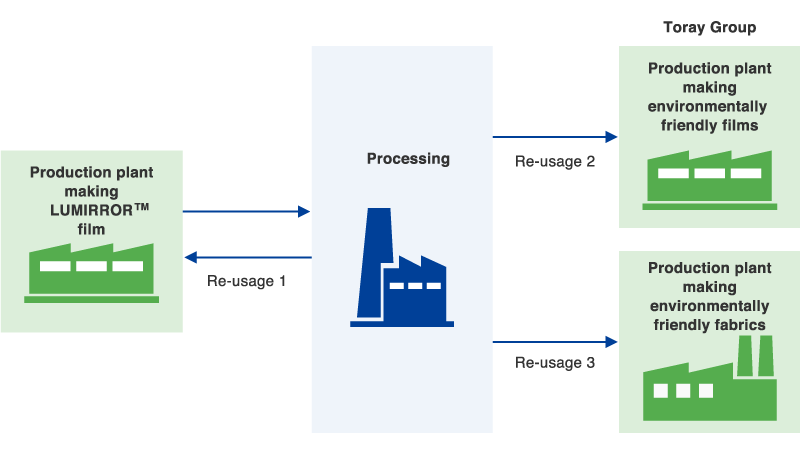 Reusing waste PET film from customer manufacturing processes
Toray Industries has established a recycling system to collect used films from electronic component applications and recover them for use in producing eco-friendly films, launching the Ecouse™ series, which helps to build a sustainable economy.
The company combined mechanical recycling process technology, which removes coating materials and resins from film surfaces, with foreign matter removal techniques for each manufacturing process to enable reuse of the recovered materials in films without impairing mechanical characteristics or reliability. The company will continue to make use of this system to help build a circular economy.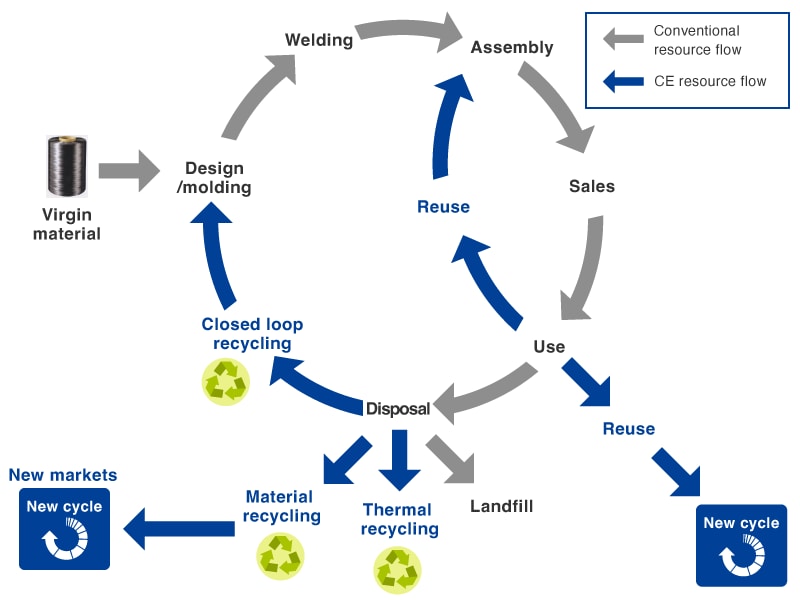 Carbon Fiber Recycling
Carbon fiber is a lightweight material that significantly curbs CO2 emissions over the entire lifecycle of the products in which it is used. It is viewed as an important tool for helping to solve global environmental issues. As a result, demand for carbon fiber is expanding across a wide range of applications, including aircraft and automobile parts. As demand grows, market expectations for the development of carbon fiber recycling technologies are also on the rise.
The successful development of recycled carbon fiber and associated applications requires collaboration with a wide range of customers to explore various possibilities for use in specific parts and materials.
Toray Industries collaborated with Toyota Tsusho Corporation in a program of the New Energy and Industrial Technology Development Organization (NEDO) for the development of a highly efficient recycled carbon fiber manufacturing technology that uses an innovative and energy-efficient thermal decomposition method,5 and completed the project in June 2017. This new technology uses combustible gas from matrix resin as the energy source for the thermal decomposition process, which is the process that consumes the most energy in this type of carbon fiber recycling. As a result, the companies have significantly reduced the amount of energy consumed in the recycling process. As a result, the companies have significantly reduced the amount of energy consumed in the recycling process to less than one-tenth of the energy consumed in the production of virgin carbon fiber.
With an eye towards future commercialization, Toray Industries had constructed a pilot plant to test energy-efficient recycled carbon fiber manufacturing technologies, and began to operate it in July 2017. In addition, Toray Group will promote the development of new applications for recycled carbon fiber.
Through these efforts, the Group aims to establish a circular flow of carbon fiber that will help drive a circular economy. (See chart below.)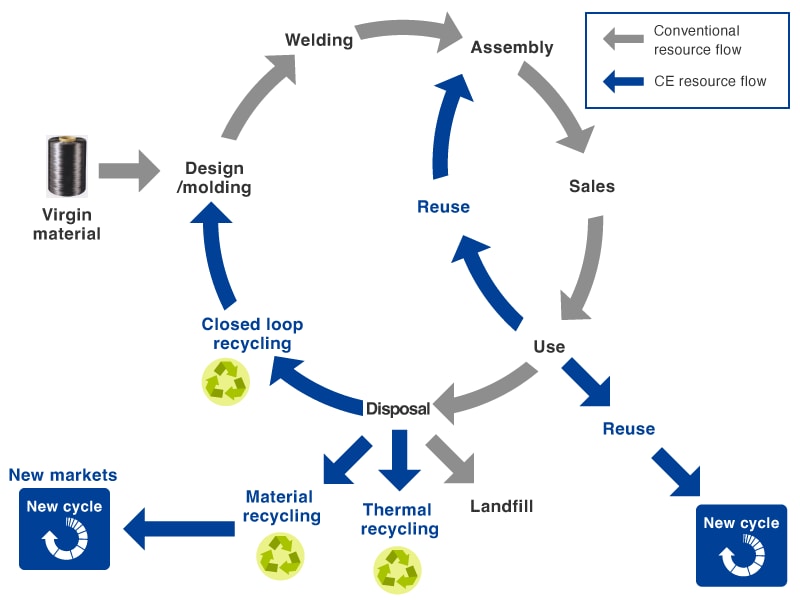 5 Thermal decomposition method: A recycling method in which carbon fiber is recovered by heating carbon fiber composite materials and thermally decomposing the matrix resins.
Click here for the main initiatives for CSR Guideline 7, "Contributing Solutions to Social Issues through Business Activities" in CSR Roadmap 2022.