CSR Guidelines & Activity Reports - Human Rights Promotion and Human Resources Development
Promoting Diversity
Social Initiatives
Toray Group is committed to promoting employee diversity to help build thriving workplaces where each individual's abilities can flourish.
Fostering an Organizational Culture Conducive to the Career Advancement of Women
Women in management positions (%)
■Reporting scope

Toray Industries, Inc.
Result in fiscal 2018
4.9%
(As of April 2019)
Toray Industries, Inc. has long encouraged women in the workplace and implemented policies to support women to build fulfilling careers. The Company promoted its first female manager in 1958 and introduced employee provisions for taking parenting leave nearly 20 years before parenting leave became mandatory in Japan. In 2003, a woman became president of a Toray Group company. Then, in 2004, the Company launched the Advancement of Women Project. As of April 2019, women held 9.3% of unit manager or higher positions and 4.9% of section manager or higher positions. In June 2015, the Company welcomed its first female director (riji), a position that is equivalent in scope and level of responsibility to senior management.
In fiscal 2016, Toray Industries developed an action plan to increase the percentage of female employees promoted to managerial positions by focusing on individualized career plans and awareness of career development based on Japan's Act on Promotion of Women's Participation and Advancement in the Workplace, which was enacted on April 1, 2016. Under this action plan, the Company has set the following target, on average, for the five-year period from fiscal 2016 to fiscal 2020: ensuring a women's promotion rate that is at least 80% that of men.1 This figure is the Japanese Ministry of Health, Labour and Welfare's yardstick for determining whether or not excessive discrepancy exists based on gender. Specifically, Toray Industries will take the following measures to achieve this goal:
Request individualized career plans each year to be faithfully followed;
Conduct morale surveys every other year and follow up on issues requiring attention; and
Bolster training designed to raise awareness of career building.
1 Promotion rate of women to managerial positions compared to that of men = Percentage of female employees promoted to managerial positions / Percentage of male employees promoted to managerial positions
Percentage promoted to managerial positions = Individuals promoted to managerial positions / No. of employees who were initially hired into the G Course who are eligible for promotion to managerial position that year
Promoting Communication Among Women in the Workplace
Toray Group supports the voluntary initiatives of women in the workplace to create venues for communication about ways to resolve the issues and difficulties that they may face when trying to balance work and family life.
The outcomes of these communication events give the Group a glimpse into the current conditions facing women at work and their own opinions. Toray Group believes that resolving these issues one at a time will foster greater participation by women at work, and will steadily continue its efforts.
Holding Career Advancement Seminars for Women Serving as Managers and Occupational Specialists, and Discussion Meetings
In fiscal 2014, women serving as general managers at Toray Group developed and initiated a career advancement seminar for women serving as managers and occupational specialists, and it has now been held four times as of fiscal 2018. These seminars were developed and launched with the hope that they would help women learn about diverse career paths and leadership and the importance of forming personal networks and learning from one another, particularly now. Participants in past seminars have been encouraged by this chance to hear about the wide range of conditions in which women in management and occupational specialties work and to interact with diverse role models.
In fiscal 2016, the second seminar was held in January, and subsequently the seminar participants organized discussion meetings for women at all of Toray Industries' offices and plants in Japan to more broadly ascertain the views of women in non-management positions and younger workers at all plants. (In 2017, an additional discussion meeting was also held at the newly established Nasu Plant.)
The meetings offer an opportunity for women in workplaces of various ages and at various stages of life to talk honestly about balancing work and home life, sharing and educating each other about the challenges and issues they face. Men are also included in the conversations at some of these discussion meetings.
In addition, in fiscal 2017, follow-up meetings were held in 16 locations (plants), and women employees held group discussions on several themes chosen in the discussion meetings for women. In session one (information sharing), 1,039 employees participated, including 426 men, and 439 women participated in session two (group discussion). At session two (group discussion), a theme that fit the situation at each plant was chosen for discussion from among the themes compiled at the discussion meetings. Talking about a theme of interest to the participants allowed the discussion to go deeper, and issues that should be addressed at plants were identified. There have been several cases in which, based on the views obtained in the follow-up meetings, these discussions have led to improvements in the workplace environment or to facilities that enhanced working conditions for both men and women. In some cases, the discussions sparked the start of regular lunch meetings. These discussion meetings, led by women, will continue to be held at all plants in fiscal 2019 and beyond.
Career Advancement Seminars for Women Serving as Managers and Occupational Specialists, and Discussion Meetings
Fiscal 2015
First career advancement seminar for women serving as managers and occupational specialists
February 13 – 14, 2015
Build networks among participants, and share their diverse situations. Help participants to recognize what they need to do in order to further advance their careers, and foster a perspective that develops leaders who will manage organizations. In addition, discuss the direction of future seminars.
Second career advancement seminar for women serving as managers and occupational specialists
January 29 – 30, 2016
Enable participants to examine their career plans integrating career and personal life, by studying the experiences of accessible role models. Encourage each participant to draft a statement of intent about what she needs to do now and in the future to realize her career plan and help her organization achieve its medium-term goals.
Discussion meetings for women
From August through December 20161
The meetings were held at plants; women shared their opinions on work situations and the issues they face, and these were summarized.
1 With the Nasu Plant's incorporation, a discussion meeting was also held there in September 2017.
Fiscal 2016
Third career advancement seminar for women serving as managers and occupational specialists
February 28 and March 1, 2017
Problems faced at work were analyzed and recommended solutions provided, based on opinions from the discussion meetings for women and the results of a questionnaire given to all women in the workforce at Toray Industries before the meetings. This series of initiatives is intended to reinforce the problem-solving skills required for managers and occupational specialists. Participants followed up on the progress on the statements of intent they each made at the second seminar.
Fiscal 2017
Follow-up discussion meetings
From December through March 2017 (22 meetings at 16 sites)
Held as a follow-up to the discussion meetings for women. Of the themes discussed at these meetings, group discussions were held on: (1) the need for female advisors in balance work and personal life; (2) the need for seminars on systems for childrearing and caregiving; (3) the ease of use of the telecommuting program; and (4) the need for women's training for employees on the S course2 track and for raising interest in participating. Measures to improve these issues were considered and proposed in line with conditions at each plant.
2 An abbreviation for Specified Assignment Course, the S Course is the career path for employees who wish to pursue a career as a manager, supervisor or expert in a specified occupation.
Group discussion
Fiscal 2018
Fourth career advancement seminar for women serving as managers and occupational specialists
July 13– 14, 2018
Before the meeting, men in management positions and male occupational specialists were interviewed about their thoughts on the issue of promoting career advancement for employees regardless of gender. Using results of the analysis, major issues facing the career advancement of diverse employees were identified, in order to enhance their ability to arrive at and implement solutions. Using assessment tools, employees learned about their own strengths and weaknesses and become more aware of their leadership styles.
(This seminar was held for women who had been promoted to managerial and occupational specialist positions after the third seminar, as well as women who were not able to participate in the past three seminars.)
Analysis and discussion of questionnaire results

Comments by the general manager of the Personnel & Industrial Relations Division

Comments by Harumi Horinouchi, director (riji)
The Company set up a babysitting space in the training center during the career advancement seminars for women serving as managers and occupational specialists so that women who are also raising children could participate with peace of mind.
Sharing Stories via the Women's Empowerment Intranet
The Company provides specific examples on its corporate intranet of how employees who have given birth to and raised children did so while still working. This intranet site was set up in January 2016, and since March 2019 it has been accessible via smartphone or tablet.
By the end of fiscal 2018, the stories of 19 employees were posted on this website under the title of "Does This Help? My Story." These stories are intended to provide hints that help other employees achieve better work-life balance.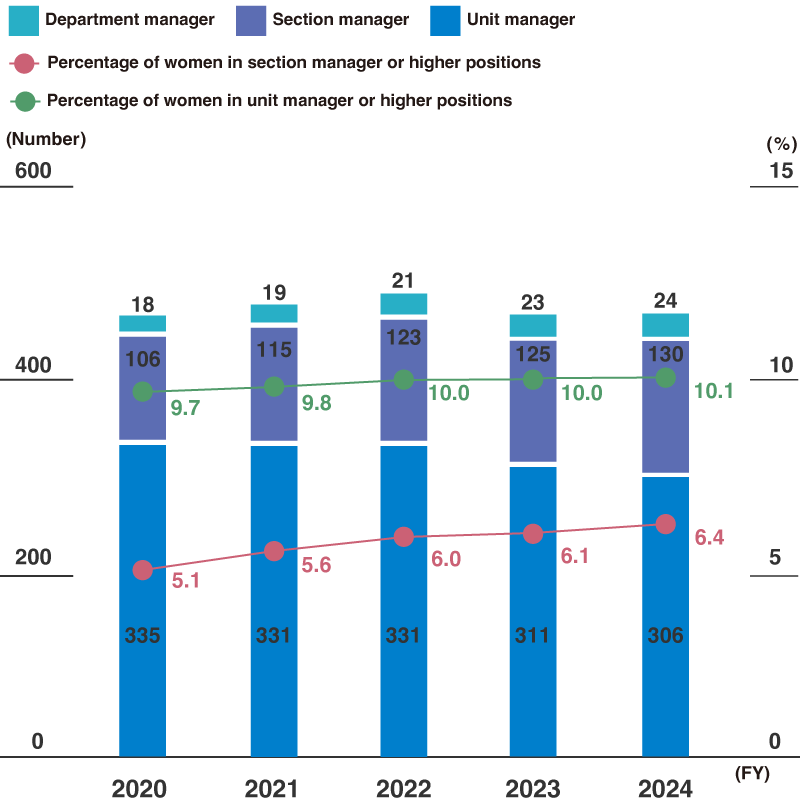 Note: As of April each year
Employment of Persons with Disabilities
Group companies that have achieved legally mandated employment rate of persons with disabilities
■Reporting scope

Toray Group (Japan)

■Target in fiscal 2018

100%
Result in fiscal 2018
50.0%
Toray Group hires and employs persons with disabilities, from those with physical challenges to persons with intellectual and mental challenges. The Group is making workplace improvements to remove physical barriers for persons with handicaps as well as instituting safety measures. Additionally, the Group provides comprehensive training upon work placement and gathers feedback from persons with disabilities to make workplace improvements.
Further, Toray Industries meets Japan's legally mandated employment rate of persons with disabilities, as do 50.0% of Toray Group companies in Japan. Group companies actively seek to hire persons with disabilities through public organizations and job placement agencies. However, some individual group companies do not meet the mandated legal requirement. Toray Group will continue to focus on this issue moving forward.
Note: As of June 1 each year
Re-employment System
As part of Toray Industries' initiatives to encourage full utilization of skilled individuals over 60 years of age, in fiscal 2001 the Company introduced a re-employment system open to all of its unionized employees who wish to continue working. In fiscal 2005, the scope of the re-employment system was expanded to include managers and occupational specialists who wish to continue working.