CSR Guidelines & Activity Reports - Facilitating CSR Initiatives Throughout the Supply Chain
Toray Group Distribution Initiatives
Social Initiatives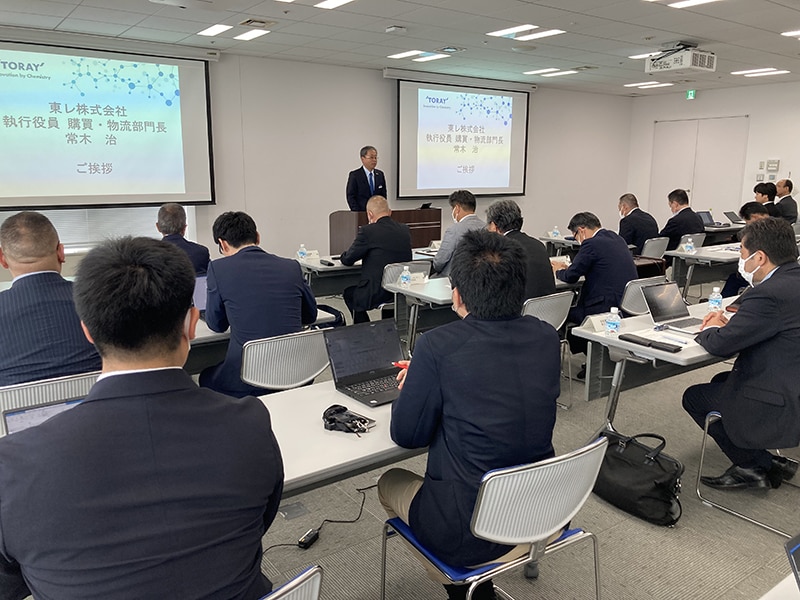 Basic Distribution Policy Briefing
Toray Industries, Inc. holds annual Basic Distribution Policy Briefings as part of its ongoing effort to improve quality and reduce the environmental impact of its distribution process. In 2018, distribution managers from 54 distribution partner companies and 21 Toray Group companies in Japan participated in briefings to promote understanding of Toray Group's distribution policies and improve distribution performance.
Reducing the Environmental Impact of Distribution
Reduction in CO2 emissions per unit of sales from distribution activities (year-on-year)
■Reporting scope

Toray Group (Only specified consigners in Japan)

■Target in fiscal 2018

1.0%
Result in fiscal 2018
1.5%
Toray Group is working hard to reduce CO2 emissions in transport. These initiatives include reducing transport distances, shifting modes of transport to those which have less environmental impact such as sea and rail (modal shift), and raising transportation efficiency.
In fiscal 2018, at Toray Group (only specified consigners1 in Japan), CO2 emissions from distribution activities were 38,300 tons, down 1,500 tons (3.8%) year-on-year, due primarily to a decrease in transport volume. At the same time, the average energy consumption per unit of sales2 decreased by 1.5 points from the previous fiscal year (using fiscal 2014 as the standard). This is equivalent to an approximately 3,000-ton reduction in CO2 emissions.
In fiscal 2018, Toray Industries' CO2 emissions from distribution activities totaled 28,900 tons, down 1,200 tons (4.1%) from the previous fiscal year. This decline from the previous year was primarily due to the implementation of modal shift, increased loading rates and reductions of inefficient transport, which resulted in a 326-ton reduction, and a decrease in the transport volume for film products. Energy consumption per unit of net sales2 decreased by 8.7% year-on-year and an average of 3.0% over the past five years, due to the abovementioned reasons and higher net sales. As a result, Toray Industries is meeting its legal mandate as a specified consigner to reduce energy consumption intensity by an average of at least 1% every year over the medium- and long-term.
Toray Group will continue to seek CO2 emissions reductions by pursuing environmentally responsible distribution.
1 Toray Industries, Inc., Dow Corning Toray Co., Ltd., Toray Advanced Film Co., Ltd., and Toray Amenity and Civil Engineering Co., Ltd., which have annual cargo transport totaling 30 million ton-kilometers or more, are "specified consigners" under Japanese law.
2 Energy consumption per unit of net sales refers to CO2 emissions in transport divided by a transport-related index, as shown below:
Toray Industries, Inc., Dow Corning Toray Co., Ltd. = Net sales
Toray Advanced Film Co., Ltd. = Shipping volume
Toray Amenity and Civil Engineering Co., Ltd. = Shipping volume x distance (per ton-kilometer)
Specified consigners are required to endeavor to meet the legal mandate to reduce energy consumption intensity by an average of at least 1% every year over the medium- and long-term.
CO2 Emissions Reduction in Distribution Activities (Toray Industries, Inc.)
| Details of initiatives | CO2 Reduction (1,000 tons) |
| --- | --- |
| Recognized actual reductions more precisely due to improved calculation accuracy for maximum loading capacities, average loading rates, and other values | 0.24 |
| Modal shift | 0.01 |
| Full-load transport (strategic positioning of warehouses, etc.) | 0.04 |
| Shortened transport distances (loading at the nearest port, etc.) | 0.04 |
| Total | 0.33 |
Shortening Transport Distances by Using Regional Ports
Toray Industries is proactively working to reduce transport distances by inventory sites and actively utilizing regional ports and to shift modes of transport to those which have less environmental impact.
Up until now, the imported TORAYCA carbon fiber used at Toray Industries' Ehime Plant and Toray Industries' Ishikawa Plant has been unloaded at the Matsuyama Port. This is the closest port to the Ehime Plant, where a large volume of this carbon fiber is used. For that reason, fiber used at the Ishikawa Plant was transported from Ehime by truck after unloading. However, Toray Industries has been able to significantly reduce the transport distance in Japan by confirming the types and volume of imported TORAYCA carbon fiber to be used at the Ishikawa Plant before import, and using the Kanazawa Port, which is closest to the Ishikawa Plant. As a result, CO2 emissions were reduced by 36 tons annually.
Before

After
Expanding Collection and Reuse of Packaging Materials
Toray Group is establishing a global framework to collect and recycle packaging and shipping materials that are included with products used by customers. Group companies in Japan use an internal bulletin board to inform other companies if they have surplus packaging and shipping materials available for reuse.
System for Reusing Shipping Materials (Toray Industries, Inc.)

Toray Group's Bulletin Board System for Sharing Surplus Shipping Materials
Monetary Amounts Recovered for Packaging Materials (Toray Industries )
Toray Industries recovered 820 million yen for packaging materials in fiscal 2018, down 20 million yen (2.3%) from the previous fiscal year.
The company endeavored to improve the return rate and the reuse rate by prioritizing the recovery of its main packaging materials, but the monetary amount declined due to a drop in the recovery volume resulting from a decline in the shipment volume for fibers and film.
Promoting a Modal Shift
Modal shift to sea or rail for transport across distances for 500 km or more (%)
■Reporting scope

Toray Industries, Inc.

■Target in fiscal 2019

40%
Result in fiscal 2018
29%
Toray Industries laid out its commitment to environmentally friendly distribution in its Basic Distribution Policies (established in December 2004), in which it aimed to balance consideration for the environment in the distribution process with better competition achieved by cost-cutting. Toward this end, The Company has pursued modal shift. In addition, the Company augmented its initiatives to address the recent vulnerabilities in truck transport caused by a shortage of drivers, by using ships for products that cannot be easily transported by rail.
Toray Industries is striving to switch to rail and sea transport to achieve a modal shift target of 40% by fiscal 2019. The modal shift rate to sea or rail for transport in 2018 (January-December) was 28.8%, up 0.7 percentage points year-on-year because, despite a reduction in the transport volume by rail resulting from the prolonged suspension of rail operations due to water damage last summer, the transport of film products by ship increased and the overall transport volume decreased.
Toray Group will continue pursuing modal shift in diverse product and materials transport and will work more closely with distribution partners. Through these efforts, The Group will promote environmentally responsible distribution while taking into consideration the environmental impact of the distribution process.
Acquisition of Eco Rail Mark and Eco Ship Mark
Toray Industries has certified as an Eco Rail Mark Company by Japan's Ministry of Land, Infrastructure, Transport and Tourism and the Railway Freight Association. This recognizes Toray's active efforts to use rail freight transport, a relatively environmentally friendly means of transportation. The Company also obtained Eco Rail Mark Product certifications for its TORAY TETORON™ fiber and TORAYCON™ polybutylene terephthalate (PBT) resin. Moreover, in fiscal 2017 Toray Industries achieved the Eco Ship Mark certification related to its film products, which are difficult to ship by rail. This program recognizes companies that are switching to ship transport and use maritime transport, which has a low environmental impact, to a certain extent.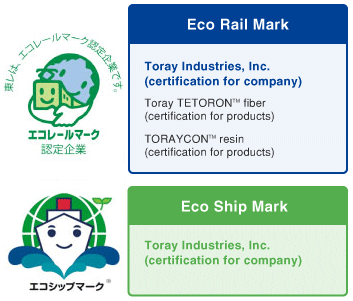 Initiatives to Improve Safety and Quality in Distribution
Toray Industries is working on a project to improve transport quality. The project involves sharing accident analysis data, and distribution quality enhancement reports. Partners that make outstanding contributions to improving quality are recognized through annual awards4 These initiatives are aimed at reducing the number of problems such as those involving breakage, and reducing transport delays and incorrect shipments of Toray products. Toray Industries works with distribution partners to improve distribution quality and safety and to reduce the incidence of problems by conducting on-site inspections and holding quality control meetings with partners.
4 Distribution-partner companies receiving awards in fiscal 2018 (alphabetical order): Daiichi Storehouse & Refrigeration Co., Ltd., Daisei Warehousing & Transportation Co., Ltd., Fuji Logitech Hamamatsu, Inc., Ichimiya Logistics Co., Ltd., Iyoshoun Co., Ltd., Masuda Transportation Co., Ltd., Meitetsu Transportation Co., Ltd., Shikoku Meitetsu Transportation Co., Ltd., Toyo Logistic Service Co., Ltd., Yamada Unso Co., Ltd.
Distribution Incidents
Toray Industries worked to reduce the number of incidents in fiscal 2018. Not only did the number of shipments decline; the Company also set incident reduction targets and reinforced on-site inspections, particularly at the distribution companies where incidents had been high in the previous fiscal year. As a result, incidents in route transport and area transportation, which account for about 90% of incidents, fell by 8%, and the overall number of incidents fell by 4% (27 incidents) from the previous year. Toray Group will continue working with partner companies to improve distribution quality.
Recommending that Distribution Partners Acquire Third Party Certification
Toray Industries recommends that its distribution partner acquire external certifications such as ISO 9001, ISO 14001, Green Management Certification5 and G Mark.6 These certifications require companies to achieve legal compliance, improve quality, and practice environmental conservation in distribution processes. Toray Industries also pursues CSR initiatives in collaboration with distribution partners.
5 Green Management Certification is awarded to companies that demonstrate a certain level of environmental improvement activities based on a manual for implementing green management (business management with a low environmental impact).
6 The G Mark is awarded to companies that meet certain criteria and demonstrate excellent safety, based on an assessment of proactive initiatives for legal compliance and safety.
Yellow Card Emergency Response Measures
Drivers of shipping vehicles carry a yellow card7 detailing emergency measures to be taken to minimize damage in the event of an accident. Toray Industries has also established an emergency communication system and carries out emergency training. In the unlikely event of such an accident, the Company has procedures in place enabling the necessary staff to be dispatched as swiftly as possible to the accident site for assistance.
7 Cards summarizing the names of any hazardous substances, applicable laws and regulations, hazardous properties, emergency accident procedures, emergency reporting and contact information, methods for minimizing the spread of damage, and other accident response information.
Initiatives to Prevent Overloading
The overloading of trucks causes vibration, noise, damage to roads and facilities, and also creates driving hazards. Consequently, Toray Industries is putting considerable effort into the prevention of overloading.
Compliance and Security Measures for Importing and Exporting
As a measure to ensure the legality and safety of imports and exports as part of Toray Group's expanding global operations, a US subsidiary of Toray International, Inc. enrolled in the Customs-Trade Partnership Against Terrorism (C-TPAT)8 with the aim of strengthening global supply chain compliance. In order to realize more efficient imports and exports of materials and to strengthen supply chain compliance and security measures, Toray Group is also encouraging its worldwide distribution partners to obtain Authorized Economic Operator (AEO)9 status.
8 A voluntary program introduced by United States Customs and Border Protection in November 2004. The aim of the program is ensure and strengthen security through the global supply chain, based on international cooperation with private operators importing goods into the US.
9 A status implemented by the EU in December 2006 that gives priority in customs procedures to importers and exporters with a high level of compliance for cargo security. The Japanese Customs Act was also revised in 2007, and a similar qualification system was established to provide priority in customs procedures to highly compliant operators.