CSR Guidelines & Activity Reports - Safety, Accident Prevention, and Environmental Preservation
Conserving Energy and Curbing Global Warming
Environment
Addressing Climate Change
With a view to helping realize sustainable, low-carbon societies, the Toray Group has been pursuing initiatives for reducing greenhouse gas emissions. Toward this end, the Group is working to reduce CO2 emissions and save energy during manufacturing by improving manufacturing processes, increasing utilization of renewable energy and reducing coal consumption in accordance with its Fifth Medium-Term Environmental Plan, which was launched in fiscal 2016.
Toray Industries' Energy Conservation Activities
Toray Industries, Inc. has set a goal of reducing its per-unit energy consumption1 by 2% annually. In fiscal 2018, the Company's energy consumption was down 4.7% year-on-year due mainly to a decrease in production volumes. Meanwhile, its per-unit energy consumption rose 2.1% year-on-year (16.8% below the base year of fiscal 1990).
1 Energy consumption per converted production volume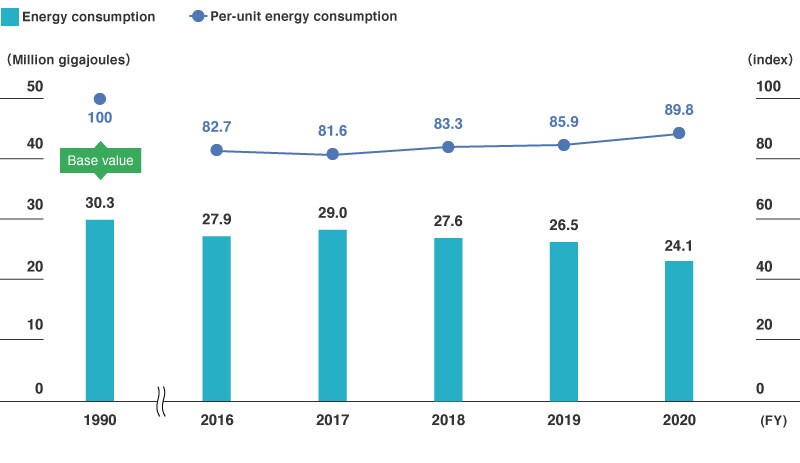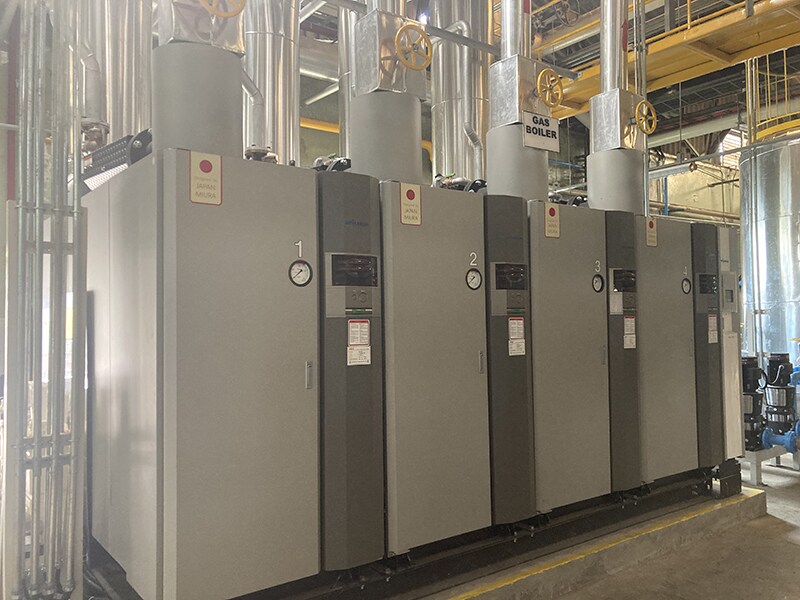 Review for energy conservation diagnostics at Toray Plastics Precision Co., Ltd.
Toray Group organizes energy conservation teams to help carry out annual energy conservation diagnostics at plants in Toray Industries and its group companies around the world. In fiscal 2018, these activities were conducted at 4 of Toray Industries' plants, along with 2 group company plants at in Japan and one outside Japan. Thanks to these proactive energy-saving initiatives, the Group reduced greenhouse gas emissions by about 39,600 tons-CO2 equivalent.
Toray Industries' Efforts to Fight Climate Change
Reduction of greenhouse gas emissions per unit of sales
■Reporting scope

Toray group (Japan)

■Target in Fiscal 2018

At least 15% lower than fiscal 1990
Result in fiscal 2018
30%
Toray Industries systematically works to reduce greenhouse gas emissions, with the goal of maintaining greenhouse gas emissions at least 15% lower than the 1990 level by 2020. In fiscal 2018, the Company's CO2 emissions decreased by 74,000 tons year-on-year. Greenhouse gas emissions were down 3.8% year-on-year at 1.95 million tons, which was 23.2% below the 1990 level, continuing to meet the reduction target (11% below fiscal 2013 level).
Moving forward, Toray Industries will endeavor to meet its reduction targets despite the higher production volumes projected due to business growth.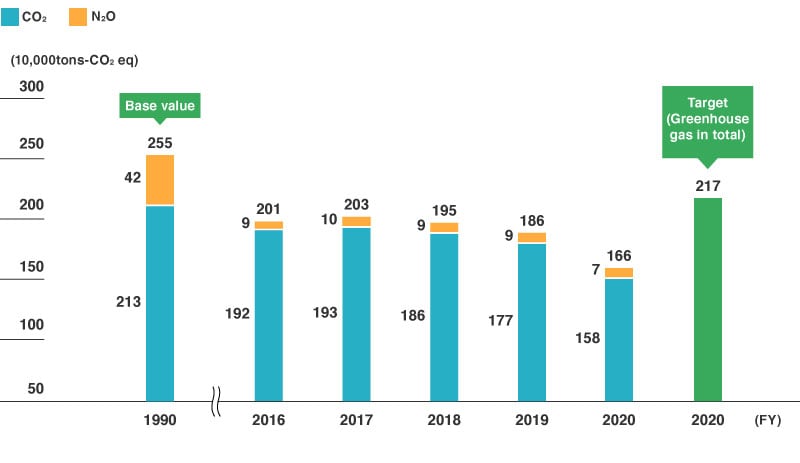 Related Information
Toray Industries has obtained third-party assurance of its greenhouse gas emissions from Lloyd's Register Quality Assurance Limited (LRQA) for Scope 1 (direct emissions from plants, offices, vehicles, etc. owned by the Company), Scope 2 (indirect emissions from the generation of energy), and Scope 3 (other indirect emissions). 2
Scope 1: 1,610,000 ton
Scope 2: 340,000 ton
Scope 3: 740,000 ton
2 Scope 3 emissions are calculated for Category 2 (capital goods), Category 3 (fuel and energy-related activities not included in Scope 1 or Scope 2), and Category 4 (upstream shipping and distribution).
Installing Renewable Energy Systems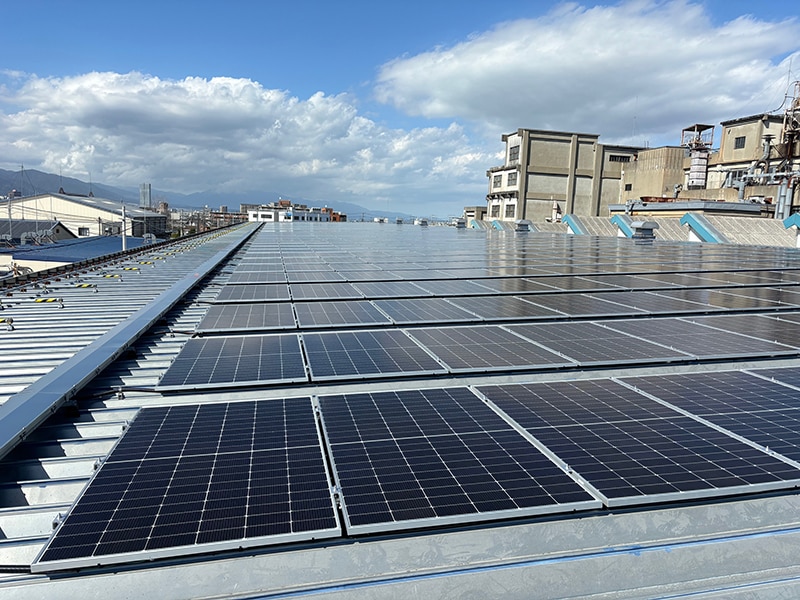 Facility for co-combustion of sludge fuel at Tokai Plant (Toray Industries, Inc.)
Toray Group is systematically installing renewable energy systems. Toray Industries installed and started to operate a small hydroelectric system that generates power using the incoming industrial water pressure in Nagoya Plant in fiscal 2016, and installed a solar power generation system in Seta Plant in fiscal 2017. Both systems have been operating. In addition, the Tokai Plant began co-combusting sludge fuel, which is carbon neutral, as boiler fuel from fiscal 2017.
Renewable energy generated in fiscal 2018

10,325 MWh
Toray Group has installed solar power generation facilities at the following plants:
Toray Industries, Inc.
Seta Plant
Ehime Plant
Mishima Plant
Okazaki Plant
Nasu Plant
Group companies in Japan
Toray Textiles, Inc.
Toyo Plastic Precision Co., Ltd.
Toray Advanced Film Co., Ltd.
Toray Fine Chemicals Co., Ltd.
Soda Aromatic Co., Ltd.
Toray Carbon Magic Co., Ltd.
Toray Engineering Co., Ltd.
Toray Construction Co., Ltd.
Toyo Jitsugyo Co., Ltd.
Group companies outside Japan
Toray Membrane USA, Inc.
Toray Plastics (America), Inc.
Thai Toray Synthetics Co., Ltd.
Penfabric Sdn. Berhad
Toray Polytech (Nantong) Co., Ltd.
Toray Advanced Materials Korea Inc.
Greenhouse Gas Emissions (Toray Industries and Its Group Companies in Japan)
Toray Industries and its group companies in Japan are addressing climate change under a goal of reducing emissions by 15% on a per-unit-of-sales basis by fiscal 2020 compared to the fiscal 1990 level.
Greenhouse gas emissions were down 4.3% in fiscal 2018 compared to the previous fiscal year. Greenhouse gas emissions per unit of sales improved by 6.2 points compared to the previous fiscal year and were 29.7% below the base year.
Greenhouse Gas Emissions (Toray Group)
Fiscal 2018 greenhouse gas emissions for Toray Group worldwide were 5.63 million tons-CO2 equivalent, an increase of 2.9% compared to the previous year. All Toray Group manufacturing companies and plants will continue to work to achieve the Group's goal of reducing the per-unit energy consumption rate by 2% each fiscal year.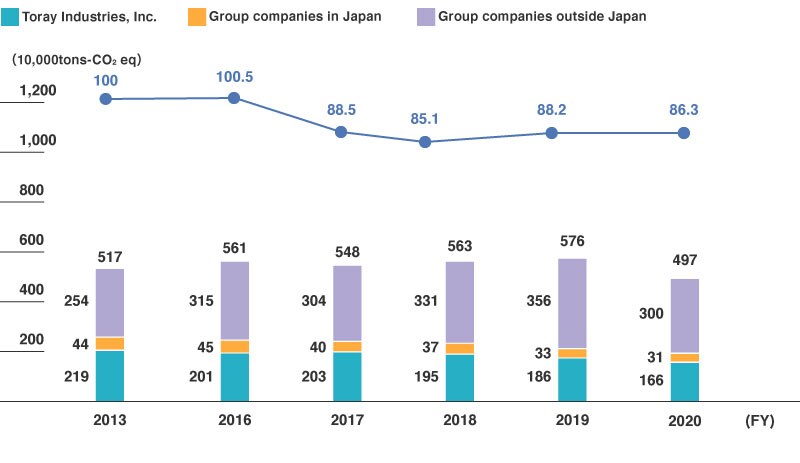 Initiatives to Protect the Ozone Layer
Toray Industries successfully ceased using chlorofluorocarbons (CFCs) in all manufacturing processes in 1994. The Company has also stopped purchasing CFCs for use in refrigeration equipment and will finish upgrading refrigeration equipment that uses CFCs by fiscal 2019.