CSR Guidelines & Activity Reports - Safety, Accident Prevention, and Environmental Preservation
Initiatives to Reduce Waste
Environment
Waste recycling rate
■Reporting scope

Toray Group

■Target in fiscal 2018

At least 86%
Result in fiscal 2018
85.7%
Toray Group is carrying out zero emission initiatives as it works toward the realization of a sustainable, recycling-based world. Under the Fifth Medium-Term Environmental Plan, the Group worked to achieve its fiscal 2020 targets for rates of simply disposed waste,1 landfill waste2 and recycled waste,3 which have been set as indicators for measuring progress toward attaining zero emissions.
1 Simply disposed waste rate = (incineration +landfill) / total waste
2 Landfill waste rate = landfill waste / total waste
3 Recycling rate = (recycled resources + resources with monetary worth) / (total waste + resources with monetary worth)
In recent years, Europe in particular has embraced a business model aligned with the concept of a circular economy, which is a resource circulation policy aimed at reducing the procurement of natural resources and the production of waste. Adding to its previous initiatives, Toray Corporate Business Research, Inc. now publicizes its survey results regarding the circular economy as part of its economic trends survey.
Results in Fiscal 2018
Simply Disposed Waste Rate
The simply disposed waste rate for Toray Industries, Inc. increased by 0.2 percentage points year-on-year to 0.6% because the total waste volume (the denominator in the equation) declined by about 2,000 tons. The rate for Toray Group as a whole improved 0.2 points year-on-year to 21.6%, more than meeting the Group's 22.5% target. The Group will continue to work on bringing its simply disposed waste rate down.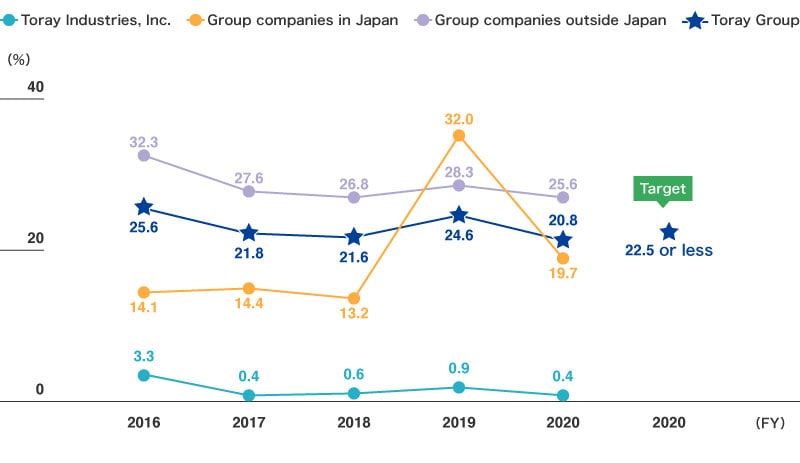 Landfill Waste Rate
The rate of landfill waste at Toray Group fell by 0.2 percentage points to 1.0% from the previous fiscal year. This progress was due to Toray Group companies' efforts to recycle resources and turn them into valuable resources, which more than offset negative factors such as the disposal of some recycled resources as landfill waste at a group company in Japan due to the impact of a fire at a waste plastic processor.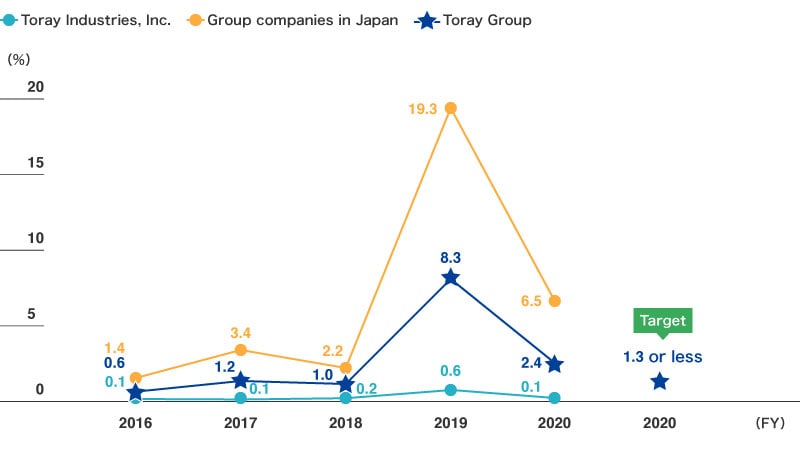 Recycling Rate
Toray Group's recycling rate decreased by 0.1percentage points year-on-year to 85.7% as a result of efforts to promote recycling at Toray Group companies outside Japan.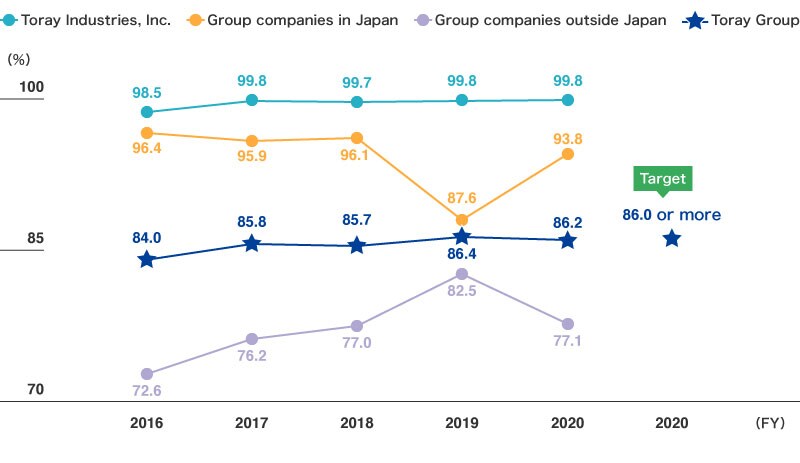 Zero Emissions Initiatives at Companies and Plants
Toray Group considers a plant to have achieved zero emissions when the amount of simply disposed waste accounts for 1% or less of the total waste it generates. The Group works on its fiscal 2020 target of achieving zero emissions at 45 or more plants. However, in fiscal 2018, the number of plants with zero emissions decreased by one, bringing the total to 44 plants, at 22 companies, just missing the target.
Companies and Plants with Zero Emissions Status in Fiscal 2018
| | |
| --- | --- |
| Toray Industries, Inc. | Shiga Plant, Seta Plant, Ehime Plant, Nagoya Plant, Tokai Plant, Aichi Plant, Okazaki Plant, Mishima Plant, Chiba Plant, Tsuchiura Plant, Gifu Plant, Ishikawa Plant, Nasu Plant |
| Group companies in Japan | Ogaki Fuso Spinning Co., Ltd. [Fuso], Toray Coatex Co., Ltd., Maruichi Fiber Co., Ltd., Toray Monofilament Co., Ltd., Toray Hybrid Cord, Inc., Toray Engineering Co., Ltd. [Shiga, Seta], Toray Precision Co., Ltd., Dow Corning Toray Co., Ltd.[Chiba, Fukui, Komatsu], Soda Aromatic Co., Ltd. [Koriyama], Toray Opelontex Co., Ltd., Du Pont-Toray Co., Ltd. , Toyo Plastic Seiko Co., Ltd. [Okazaki, Mishima, Koriyama], Toray Advanced Film Co., Ltd. [Nakatsugawa, Mishima, Takatsuki, Fukushima], Toray Fine Chemicals Co., Ltd. [Moriyama, Tokai, Matsuyama], Toray Medical Co., Ltd. |
| Group companies outside Japan | Toray Plastics (America), Inc. [Rhode Island], Toray Plastics (Shenzhen) Ltd., P.T. Toray Polytech Jakarta, Toray Chemical Korea Inc. [Anseong, Yugu], Toray Advanced Film Kaohsiung Co., Ltd, Toray Kusumgar Advanced Textile Private Limited |
Note: Information in brackets refers to the names of the plants.