From downcycling to upcycling: next-generation recycled materials and the future of apparel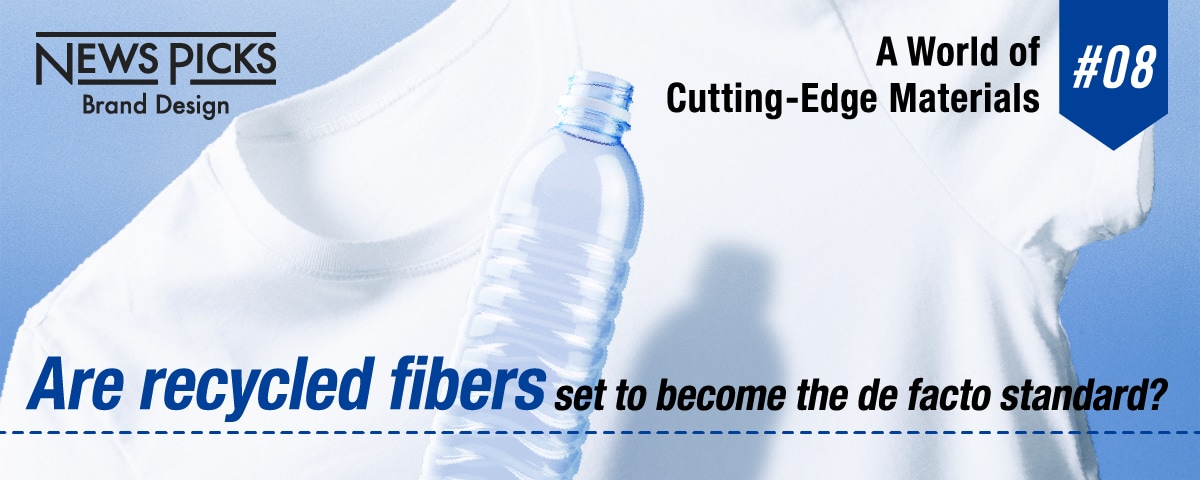 From downcycling to upcycling: next-generation recycled materials and the future of apparel
Since 1950, the world has produced 8.3 billion tons of plastic. Of this total, some 6.3 billion tons has become waste, and just 9% has been recycled.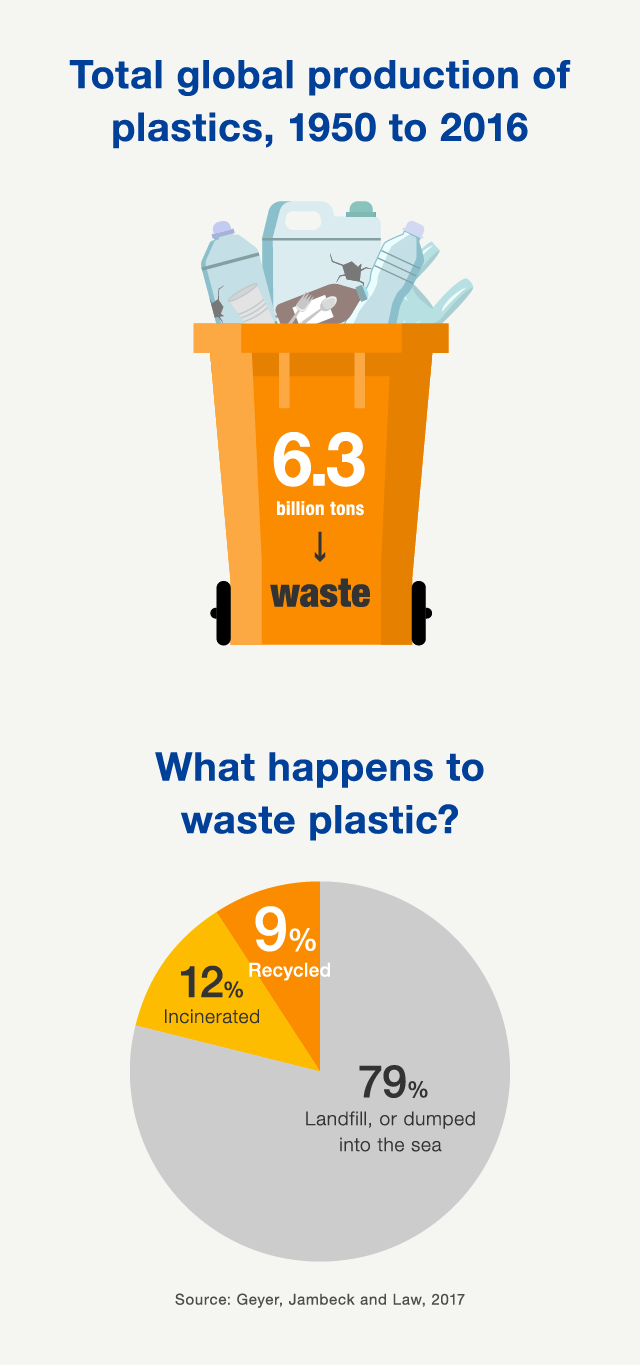 One of the reasons recycling rates remain low is the inconvenience factor: both consumers and businesses are required to separate plastic from other waste. Impurities must be carefully removed and the plastic washed, otherwise the material begins to deteriorate over the course of multiple recycling processes.
This means that to fully resolve this problem, consumers and other parties must be encouraged to participate in the recycling process, the quality of recycling must improve, and high-quality products must be created. What is required is a system of "up-cycling."
Toray Industries Inc. ("Toray") recently announced a new recycled fiber made from PET bottles, which have high recycling rates. It has named this new fiber "&+," pronounced "And plus." But how did Toray manage to create this high-quality recycled fiber? What properties must a recycled fiber have to contribute to a sustainable society?
We listened in on a conversation between Kenichiro Miki, head of Toray's Fibers & Textiles Division, and NTT DATA INSTITUTE OF MANAGEMENT CONSULTING's Yuki Matsuzawa, who works as a consultant on the environment and recycling, to find out more.
■How is recycling today different from the recycling of the past?
──I have been familiar with the idea of "recycling" since I was a child and I, like many people, know that recycled fibers can be made using PET bottles. But how has recycling changed over the years?
Kenichiro Miki: To begin with, recycling now has different goals.
In the past, recycling prioritized cost reductions, so environmental considerations weren't always given the weight they deserved.
But now the situation has reversed. Businesses are thinking first and foremost about how they can protect the global environment, and they're even willing to bear increased costs if they have to.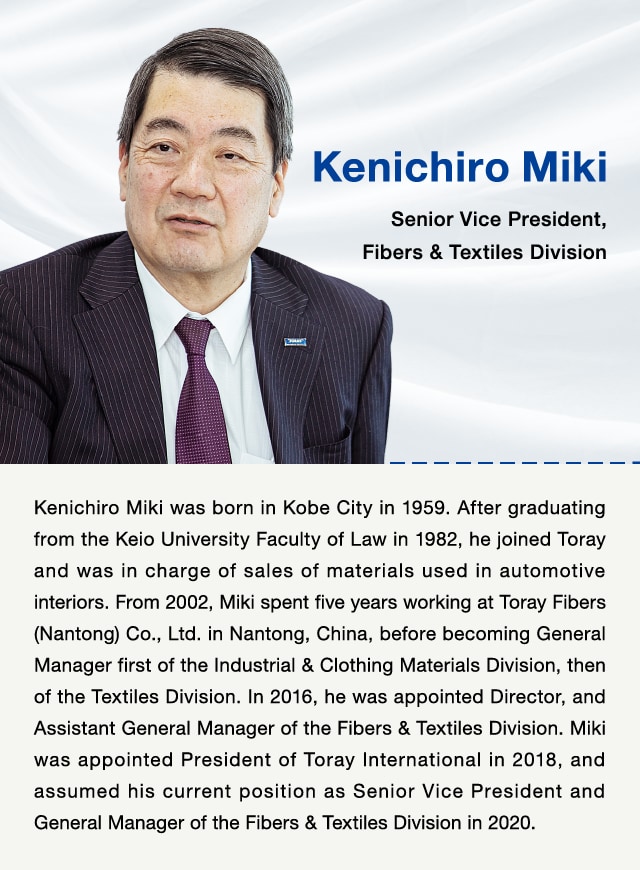 Yuki Matsuzawa: Previously, many manufacturers were coerced by laws and regulations into establishing resource recovery systems. There were also instances of companies engaging in recycling as a means of self-promotion, as an extension of their social contribution activities.
But as Miki-san points out, right now we're at a turning point. Manufacturers are starting to take responsibility for environmental issues, and they're proactively engaging in recycling.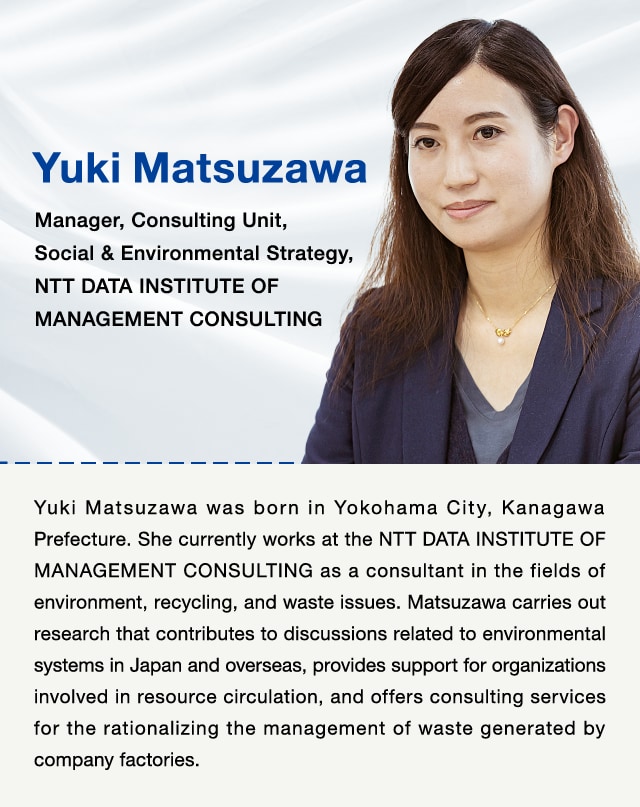 ──So the tide is beginning to turn?
Miki: Not everyone has been influenced by the environmental activist Greta Thunberg, but societies at large are beginning to recognize that—unless changes are made—the world is at serious risk.
Companies must realize that we've entered an age where, regardless of whether a product is profitable or not, and regardless of how good a product is, consumers won't buy it if it's not eco-friendly and sustainable.
Matsuzawa: Manufacturers understand these consumer needs. In recent years recycling technologies have become increasingly sophisticated as a result.
Previously, what's known as "cascading" or "down-cycling" was the norm. This is when the recycled material is of lower quality than the original material.
Now, though, horizontal recycling systems are starting to emerge—for example, used PET bottles can be recycled into new PET bottles with no loss in quality. The concept of "up-cycling" is also becoming more widespread.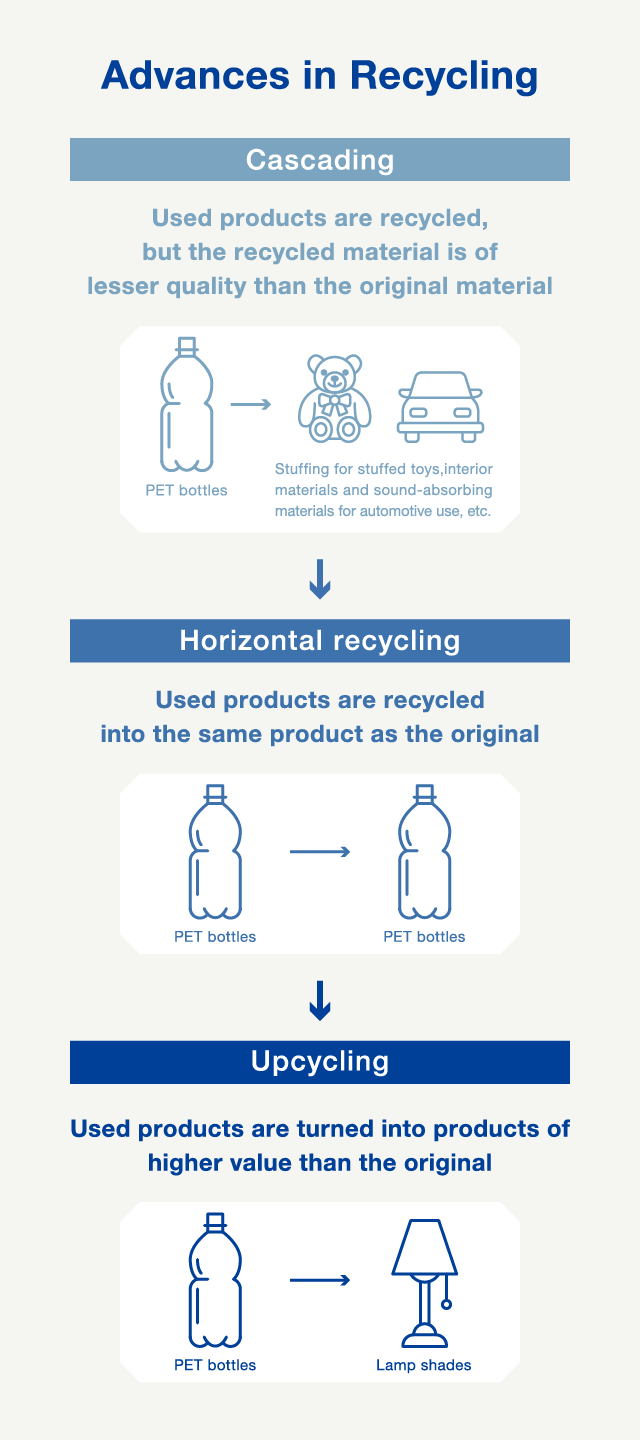 Previously, up-cycling meant turning materials that would ordinarily become waste into new, more desirable products, through creative designs or applications.
A discarded PET bottle might be covered with traditional fabric, for example, then sold as a lamp shade.
──In 2019, Toray announced "&+," which it promotes as an up-cycled fiber. What makes &+ different to other recycled fibers?
Miki: "&+" is a new form of recycled fiber made from used PET bottles.
We developed it in collaboration with Kyoei Sangyo, which possesses advanced PET bottle cleaning technologies. At Toray, our contribution was to develop filtering technologies capable of removing foreign matter.
Impurities cause subtle changes in the properties of synthetic fibers and lead to a fall-off in quality—they cause threads to become more prone to breaking, for example. The finer the thread, the worse it gets.
Once synthetic fibers are contaminated, they can't be used to make specific cross-section profiles or fine threads. Foreign bodies also diminish the whiteness of fibers. Of course, issues like these limit the applications of these recycled fibers.
But if we use filtering technologies to raise the quality of the recycled material, we can produce all manner of threads—we can make them extremely fine, and we can create a variety of cross-section profiles. These technologies are also able to deliver the same levels of whiteness as virgin materials derived from petroleum. This is &+ in a nutshell.
Previously, recycled fibers required compromises in terms of design or functionality, but we don't have to do that with &+. That's why it's capable of meeting many of the requirements of apparel manufacturers.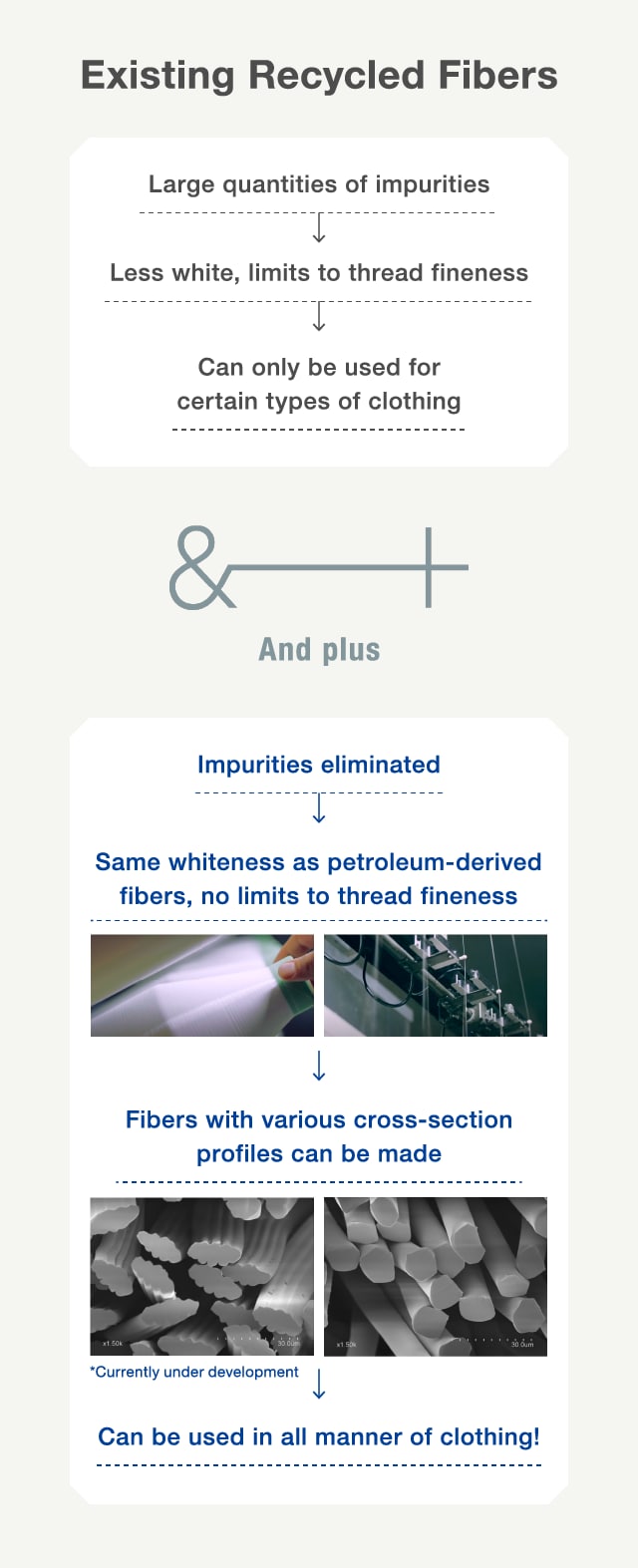 We believe that &+ will come to be used in high-performance sportswear as well. This is a category of clothing that has resisted the use of recycled materials in the past.
Matsuzawa: &+ is the result of a form of up-cycling completely different from what we've seen before. It involves improving the quality of the material itself to create higher-value recycled products.
In fact, it subverts conventional wisdom regarding recycling. You might call it "next-generation up-cycling."
Miki: With &+, our goal was to create a recycled fiber that was indistinguishable in quality from virgin material.
To kick-start the cycle of use to re-use, the quality of the collected material is extremely important. We also wanted a way to differentiate &+ from petroleum-derived virgin PET materials and other recycled materials.
That's why we developed the proprietary Toray Recycling Identification System. We used traceability technologies to make it possible to trace &+ fiber all the way back to the PET flakes used as the raw material.
We believe that this traceability is extremely important. We're convinced that being able to prove that a material contains our recycled &+ fiber is key to enhancing its brand value.
■Imagining products to promote use of &+
──What issues do you foresee for expanding applications of &+?
Miki: We probably won't provoke much of a reaction if we just approach apparel manufacturers and say, "Here's an environmentally friendly thread."
That's because threads are used for detailed sewing, but textiles account for a much larger proportion of apparel products.
If we want customers to use &+, we have to be in control of the entire process, from raw thread to textile to final product.
We don't live in a world where apparel makers will buy our fiber at increased cost, just because it is environmentally friendly. So we have to think about being cost competitive, and think of ways to ensure &+ is chosen over its rivals.
Recycling is a process that needs the participation of materials and product manufacturers, but it also needs the participation of consumers. It requires an ecosystem that encompasses not only production, but also use and disposal.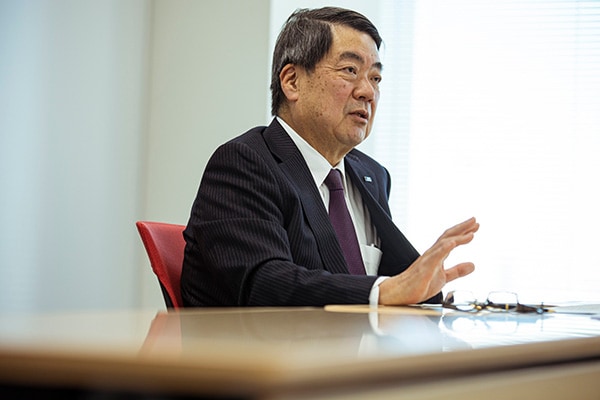 Matsuzawa: Consumers use products ─ but they also throw them away. If we can increase the amount of waste that's recyclable in its disposed form, and if we can expand the applications and the range of recycled products, then we can reduce the cost of recycling.
Miki: Exactly. But on top of that, if we sell &+ in thread-form, it costs 1.5-times as much as chemical fibers derived from petroleum. But if we deliver &+ in final product-form, it costs just 1.1-times as much as the equivalent petroleum-derived product.
If we want society to play a part in expanding the scope of recycling, then in addition to new technologies, we also need to develop new applications for recycled materials, and we need to coordinate supply chain management with partner companies.
Matsuzawa: Right, the people around the world are starting to recognize the importance of these initiatives. In the future, as demand for environmentally friendly products grows, I hope to see high-quality recycled fibers such as &+ become more widely used.
■Toward a world in which recycled fibers are the norm
── In part due to shared international goals such as SDGs, as Matsuzawa-san suggested the day when &+ is used as a matter of course may not be far away.
Matsuzawa: ESG investing—which recognizes the importance of environmental, social, and corporate governance—already accounts for approximately one-third of all investments.
One of the 17 Sustainable Development Goals is "Responsible Production and Consumption," and interest in the environment and recycling will only accelerate in the future.
Consumer awareness is also starting to change. A few years ago a certain fashion brand decided to incinerate surplus clothing to protect its brand value. People boycotted when they found out.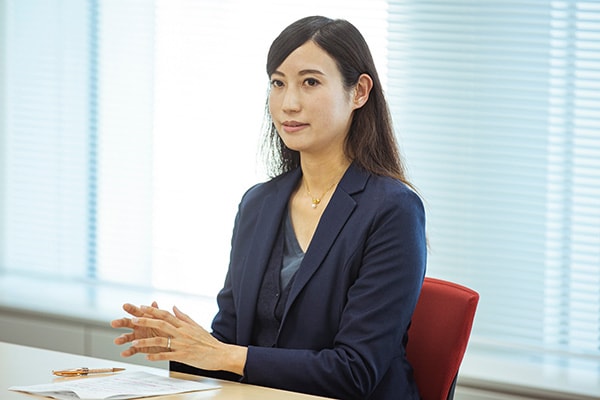 Companies now have to recognize that if they neglect their environmental responsibilities, they'll damage their brand value in the eyes of investors and consumers.
That's another reason why &+ is likely to find support.
Miki: People of all ages—including, of course, Generation Z—now prefer materials that are environmentally friendly.
There didn't use to be a great deal of choice among recycled products, but that's about to change.
I envisage a scenario where, sometime in the near future, someone chooses a product they like, and it just so happens to use recycled fibers. If companies, investors, and consumers band together, we can create a future where that's the norm, I feel.
──Matsuzawa-san, what hopes do you have for fiber manufacturers like Toray?
Matsuzawa: Technologies now exist that make "PET bottle-to-fiber" recycling possible—as we have seen with &+. The next step is to improve the quality of "fiber-to-fiber" recycling.
Unlike electrical appliances or cars, there are no systems in place for the collection and recycling of used clothing. And since clothing tends to be made from a variety of different materials, it's not easy to recycle. So there are major technical obstacles that web have to overcome.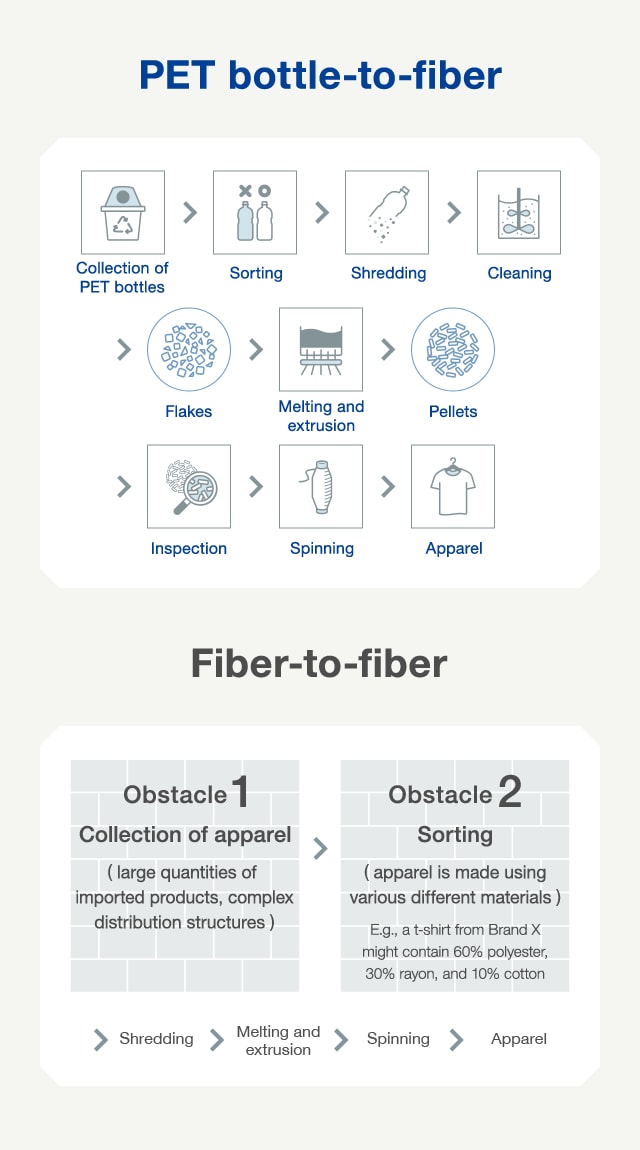 Miki: PET bottles are made from a single material, there are huge volumes in circulation, and there are established systems for their collection. By contrast, fiber-to-fiber recycling is exceptionally inconvenient.
That said, if initiatives like &+ gain support and become widespread across society, in the end, we might be able to resolve all these issues with new ideas and technologies.
But we can also explore ideas that are entirely unrelated to recycled fibers—at Toray, for example, we're developing 100% plant-derived polyester fibers.
We believe that materials have the power to change society.
The recycling process begins with collecting used materials. If consumers who choose to buy products made from recycled materials are participants in the recycling process, then consumers who dispose of products in recyclable form are also participants in the creation of recycled materials.
We hope that our &+ project will encourage this kind of consumer participation on a global scale.
Produced by: NewsPicks Brand Design
Edited by: Koji Uno
Written by: Tetsuya Saito
Photographs by: Junko Yoda, Kazushige Mori
Design by: Kana Tsutsumi