Electronic & Information-Related Technical Departments
Electronic & Information-Related Technical Departments
The division is comprised of the Electronic Materials Division and the FPD Materials Division. The division drives growth in advanced materials in the field of Information, Telecommunications and Electronics–one of the four major growth fields at Toray–and carries out the timely development of materials that meet the performance requirements of customers for use in smartphones, flat panel TVs, automobiles, printed materials, and more.
Electronic Materials Technical Dept.
This department develops mounting materials, such as adhesive sheets for semiconductors and adhesive sheets with high thermal conductivity, as well as technologies for advanced materials FALDA™, including electro-coatings such as PHOTONEECE™ photosensitive polyimide coating and SEMICOFINE™ polyimide coating for semiconductors.
LCD Materials Production & Technical Dept.
This department promotes product development with the aim of offering total solutions. It develops TOPTICAL™, a color filter that is indispensable for small- and medium-sized color LCD panels used in smartphones and displays for automobiles, while also developing paste materials for color filters, touch panel coatings, clear coatings (NS series, PHOTOCLEAR™), and other materials. It also develops technologies for processing equipment.
Graphic Materials Production Sect.
The Graphic Materials Production Sect. develops printing technologies for a diverse lineup of products that can meet customer needs, including TORELIEF™, a photosensitive relief printing plate developed based on Toray's wealth of technologies in the fields of high polymer chemistry and resins. Its other technologies include the TORAY WATERLESS PLATE™, an environmentally friendly offset printing plate that does not require dampening water in the printing process and thus does not produce waste liquid.
It also develops products and processes such as the photosensitive functional material RAYBRID™, plastic optical fibers RAYTELA™, ceramic products TORAYCERAM™, and more.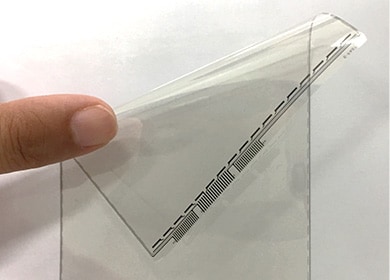 Flexible touch sensor panel utilizing RAYBRID™
Compared with the existing electrode, this panel has features such as 1) low resistance, 2) excellent visibility, 3) good flexibility, and is focused as an unprecedented flexible electrode.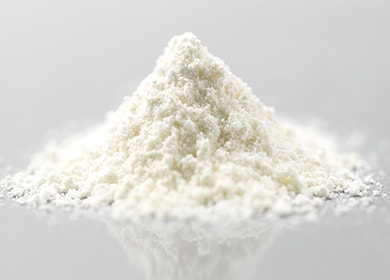 Light-emitting Materials for Organic EL
Our electron transport materials and hole transport materials have features such as low power consumption, high luminous efficiency, and long service lives.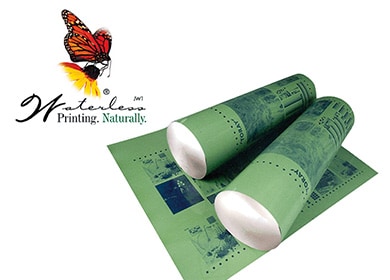 TORAY WATERLESS PLATES™
A printing plate material which enables offset printing without the use of dampening water. It can easily realize high-quality printing, and thus is extremely effective for improving productivity and reducing cost. It also helps protect the environment because no waste fluid is produced during the printing process.