New Frontiers Research Laboratories
New Frontiers Research Laboratories
The New Frontiers Research Laboratories was established in May 2003 to strongly promote advanced basic research focusing on biotechnology and nanotechnology. The laboratories is conducting research in areas such as bio-production (biomass conversion processes), innovative cancer immunotherapeutics, bio-devices (DNA chips, multiplex protein chips) and nanomaterials.
Research Principles
Leading research to create new values
Expanding research fields through active collaboration (Strong interdisciplines, and NO "reinvention of the wheel")
Promoting research through creative thinking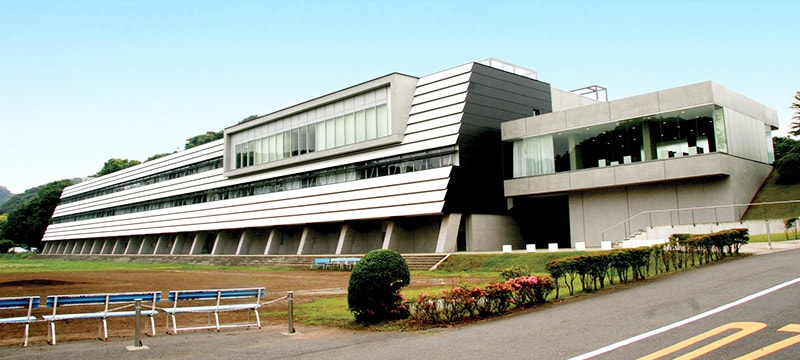 Toray's New Frontiers Research Laboratories were established based on the above three research principles with the primary aim of strengthening/enhancing basic research and promoting bio/nanotech research to help create businesses that will support our growth in the 21st century. The Laboratories are actively conducting research on biotechnology, nanotechnology, and domains integrating the two. Specific research subjects include: innovative cancer immunotherapeutics, bio-devices (DNA-chips, multiplex protein chips) that aim at next-generation diagnostics with disease biomarkers, and high-performance nanomaterials (sensitive detection technology) for healthcare; and green bioprocesses (biomass conversion processes integrating our bio and membrane technology) for environment/energy issues. As one of the fruits achieved from these research endeavors, we have commercially marketed highly-sensitive DNA chip 3D-Gene® for research, and created TRK-950, a therapeutic antibody for several cancers, for which we have commenced clinical trials. Another role of the New Frontiers Research Laboratories is to meet new challenges in the growing fields(Sustainability Innovation Business and Digital Innovation Business). The laboratories also have an important mission to cultivate "seeds" of innovative technology in order to provide them for further development to our core business fields of the fiber and chemical products.
At these Laboratories, we actively promote collaboration with research institutions outside through an annual symposium on new frontiers research held with top-level speakers and guests in the related fields.
Research Fields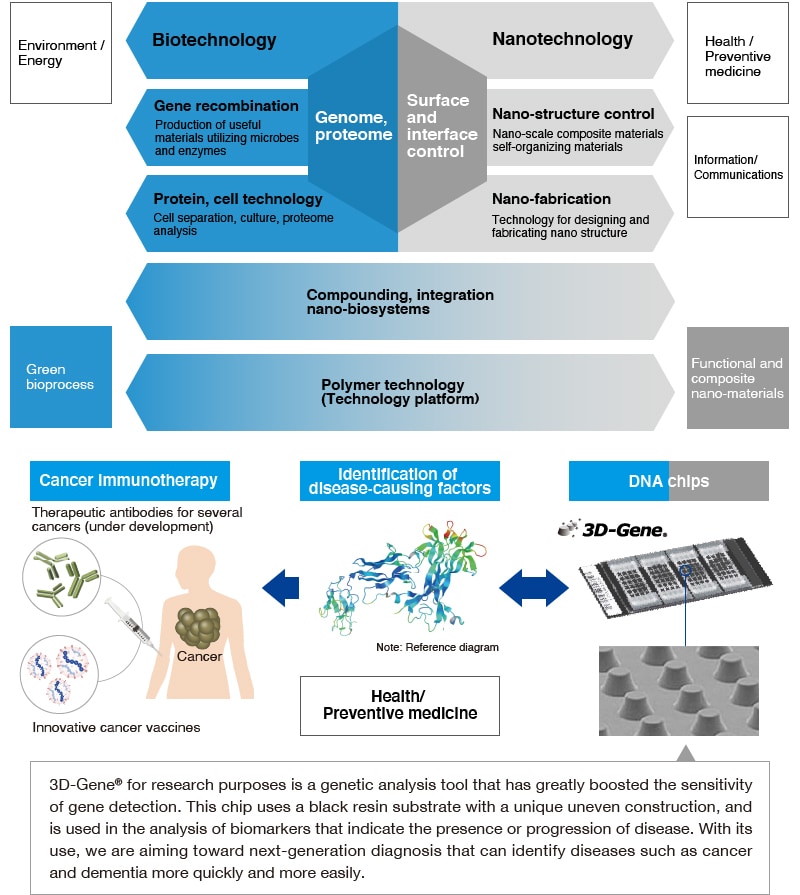 Milestones in Toray R&D
2003
Established New Frontiers Research Laboratories.
Commenced research on bio-polymer raw materials, cancer immunotherapy, DDS, DNA chips, and protein chips.
2004
Commenced research on protein fractionation and proteome analysis.
2005
Commenced research on bioprocesses using Toray organic separation membranes.
Winner of 19th Fuji Sankei Advanced Technology Grand Prix, Corporate Industrial Division (Development of highly-sensitive DNA chips).
2006
Commercialization of highly-sensitive DNA chip 3D-Gene® (for research use).
Winner of 11th CSJ (Chemical Society of Japan) Award for Technical Development (Development of highly-sensitive DNA chips).
2007
Winner of 12th CSJ (Chemical Society of Japan) Award for Technical Development
(Protein fractionation device/Proteome analysis).
2009
Winner of 14th CSJ (Chemical Society of Japan) Award for Technical Development (protein chip).
2010
Established basic technology for fermentation process using membranes.
Winner of the Topic Prize of the Annual Meeting of JSBBA (Japan Society for Bioscience, Biotechnology, and Agrochemistry) 2010 (D-lactate fermentation by yeast).
2014
Winner of 20th CSJ (Chemical Society of Japan) Award for Technical Development (membrane-based saccharification process technology).
Commenced large-scale research on blood microRNA for detection of cancer and dementia.
2016
Commenced demonstration of membrane-based saccharification process technology in Thailand.
Commenced clinical trials of TRK-950, a therapeutic antibody for several cancers.
2018
Completed construction of membrane based saccharification demonstration plant in Thailand and commenced demonstration operation (supported by NEDO).
2020
Established Toray Thailand Research Laboratory (biomass conversion process)