Facilitating CSR Initiatives Throughout the Supply Chain
CSR Activity Report (CSR Guideline Activity Reports)
Facilitating CSR Initiatives Throughout the Supply Chain
Promote CSR initiatives in areas including environmental preservation and human rights throughout the entire supply chain by working closely with suppliers, processing vendors, customers and distribution companies.
Basic Approach
Toray Group operates a wide range of businesses in countries and regions around the world. As a result, its procurement of raw materials and supplies and the locations and industries of its contractors and suppliers are diverse.
At the same time, CSR initiatives in today's global society are increasingly important. They have become more diverse and advanced in the effort to address climate change, environmental protection, respect for human rights and improvements to the labor environment. These initiatives can no longer focus solely on a single company, and are being extended to encompass its entire supply chain.
To address this issue and ensure stable and sustainable procurement, the CSR Procurement Guidelines specify the Group's commitment to building a supply chain that not only ensures quality and stable supply of products, but also incorporates ethical, social, environmental, and human rights considerations. The Group seeks the understanding of suppliers in this effort.
Related Policies
CSR Procurement GuidelinesRevised December 2004
Establish an internal CSR organization and be committed to CSR
Work to enhance corporate ethics and comply fully with all laws and regulations
Position safety, accident prevention, and environmental preservation as a management priority and practice green procurement and purchasing whenever and wherever possible
Put crisis management systems into place, including capabilities for responding swiftly in unexpected situations, and disclose accurate information
Encourage dialogue and cooperation among all stakeholders
Ensure product safety as a precondition for supplying products
Respect human rights, eliminate discrimination, and improve workplace environments; prohibit forced labor, slave labor, child labor, and unfair low-wage labor
Maintain the confidentiality of information and respect others' intellectual property rights
Policies on Purchasing and Distribution
As a manufacturer of advanced materials that supplies a wide range of materials and products, Toray Group must expand CSR initiatives into upstream management, including production facilities and the procurement of raw materials and products. It has therefore established Basic Purchasing Policies together with Basic Distribution Policies. The entire Group works to fulfill its social responsibilities relating to procurement, purchasing, and distribution. These include measures to ensure fair and equitable transactions, legal compliance, environmental protection, respect for human rights, and quality improvement.
Related Policies
Basic Purchasing PoliciesRevised December 2004
Toray does its utmost to select suppliers and determine actual purchases fairly and on the basis of economic rationality, with consideration for price, quality, capability to provide stable supplies, technological capabilities, reliability, and other factors.
In selecting suppliers, Toray opens its doors to a wide range of companies inside and outside Japan. Toray does not rely solely on vendors it has existing or past relationships with, or on members of its corporate group.
In making purchases, Toray complies with relevant laws and regulations while taking environmental preservation and fulfilling corporate social responsibility (CSR) issues into account. Toray actively pursues green procurement and purchasing as part of its environmental efforts.
Toray works to maintain and improve the quality of purchased products through cooperation with its suppliers.
Toray works to uphold its corporate social responsibilities on a company-wide basis.
Basic Distribution PoliciesRevised December 2004
We shall select our transport and warehousing providers and determine individual agreements impartially and based on factors such as economic rationality with consideration given to price, quality, supply stability, technological capabilities, reliability, and efforts to reduce environmental impact.
We shall be open in selecting our transport and warehousing providers, rather than relying exclusively on companies with which we have done business in the past or companies affiliated with Toray Group.
We shall comply with relevant laws and regulations, consider environmental preservation, and fulfil our corporate social responsibilities in outsourcing our transport and warehousing operations.
We shall cooperate with our transport and warehousing providers in gauging and reducing the environmental impact of our transport and warehousing operations.
Structure
To ensure socially responsible procurement across the Group and address today's increasingly globalized procurement risks, Toray Industries, Inc. has established a working group to lead a group-wide risk management initiative. The working group strives to ascertain the status of CSR practices at suppliers, responds to customer inquiries about Toray Industries' CSR practices, and supports group companies in this area. The working group also regularly reports on the progress of socially responsible procurement and related risk mitigation initiatives across the Group to the Risk Management Committee, which oversees overall risks. The issues reported are discussed by the committee members.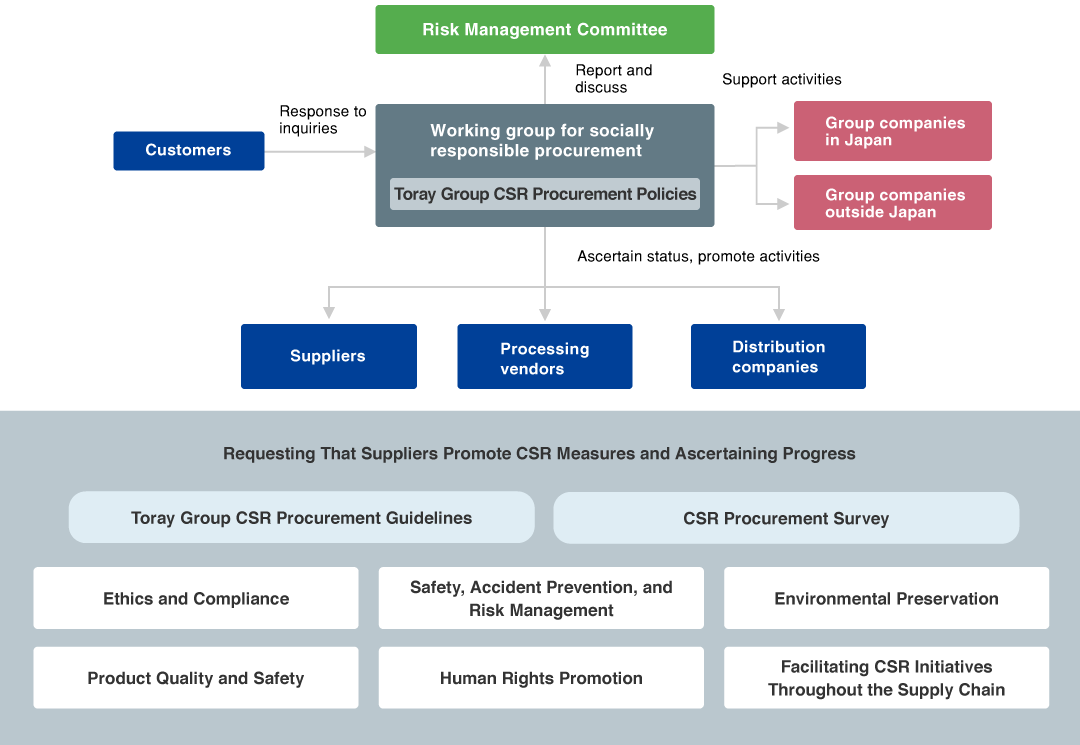 Further, initiatives are taken to ensure that the concept of socially responsible procurement permeates and is upheld throughout the entire Toray Group. Toray Industries, Inc. provided e-learning on CSR, including content on socially responsible procurement, for every executive and employee, including contracted, part-time, and dispatched workers, in November 2020 and February 2021. The training was taken a total of 13,947 times.
Toray Industries is also engaged in activities to spread awareness to group companies in and outside Japan by distributing internal educational materials that describe the necessity of socially responsible procurement, required activities, and examples of risks.
CSR Roadmap 2022 Targets
CSR Roadmap goals
To ensure socially responsible procurement by the Toray Group, request major suppliers and business partners to practice CSR and work with suppliers to promote greater awareness of human rights, social, and environmental issues
Main Initiatives and Key Performance Indicators
| | |
| --- | --- |
| | KPI |
| ⑴ Request suppliers to practice CSR, including by conducting CSR surveys and audits, and having them make pledges, and strive to understand the status of each company's CSR initiatives | 9-❶❷ |
| ⑵ Address issues in the supply chain such as human rights challenges and conflict mineral issues | - |
| ⑶ Reduce CO2 emissions intensity from distribution activities | 9-❸ |
| ⑷ Promote modal shift1 across distances of 500 km or more | 9-❹ |
| ⑸ Continually work to reduce the environmental impact and improve the quality of distribution activities | - |
| ⑹ In accordance with the Declaration of Voluntary Activities for the White Logistics Movement,2 contribute to sustainable logistics, for instance by selecting logistics companies that are engaged in working style reform, etc. | - |
Key Performance Indicator (KPI)
Target
Fiscal 2020 Result
Fiscal 2020
Fiscal 2021
Fiscal 2022
At least 80%
At least 90%
At least 95%
85%
At least 70%
At least 70%
At least 70%
86%
1%
1%
1%
-9.9%
40% (Fiscal 2022 target)
32%
Reporting scope : Toray Group (9-❶ and 9-❷)
Toray Group (Only specified consigners) (9-❸)
Toray Industries, Inc. (9-❹)
1 The shifting of freight transportation by truck or other vehicle to railways and ships, which have a smaller environmental impact
2 A movement aimed at ensuring stable logistics function necessary for people's lives and for industrial activities while also contributing to economic growth in response to the shortage of truck drivers
Related Materiality for CSR
Managing social and environmental impact of suppliers
Click here for a PDF summary of materiality-related CSR Roadmap 2022 main initiatives, KPIs and progress (PDF: 1.6MB).PDF
Looking to the Future
In recent years, there has been an increasing demand for companies to address social issues such as human rights and environmental problems throughout the supply chain. Toray Group believes that socially responsible procurement must be pursued together with suppliers. It will continue to identify and evaluate progress on CSR practices in all processes, including the procurement of raw materials and supplies across the entire Group, as well as production activities by contractors and processing vendors. Toray Group will promote greater awareness of human rights, social, environmental, and other CSR issues while mitigating risks across the supply chain.
Fiscal 2020 CSR Activity Report
Click below on activity reports for fiscal 2020