Business Risks
The following is a list of major risks that could have a significant impact on Toray Group's financial conditions, results of operations, and cash flows. Please note that the risks described below are those identified by Toray Group, and do not represent all the operational and other risks that could affect the Group.
Uncertainties in business operations are increasing due to the spread of COVID-19, increase in the occurrence of large-scale natural disasters, and rising geopolitical risks such as military invasions and economic security. Toray Group established a system to respond quickly to rapidly emerging risks and crises, and a dedicated organization oversees risk management during normal times and immediate response in the event of a crisis. However, if any risks were to occur, they could affect the Group's results of operations and financial conditions.
1. Risk management in Toray Group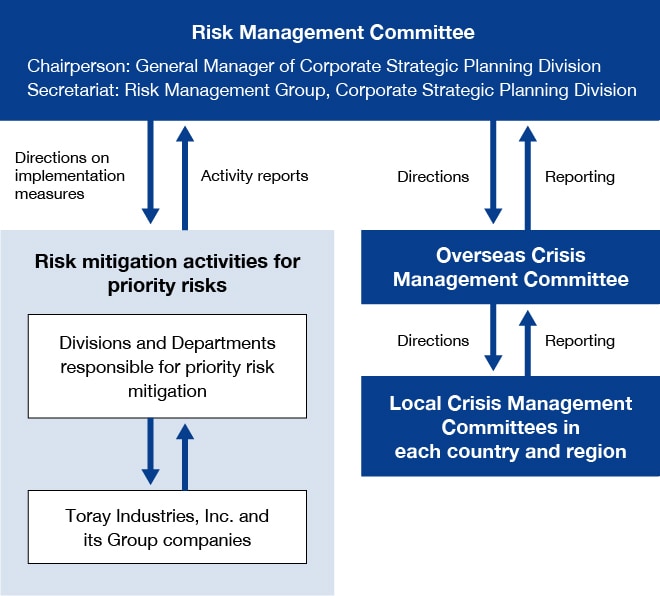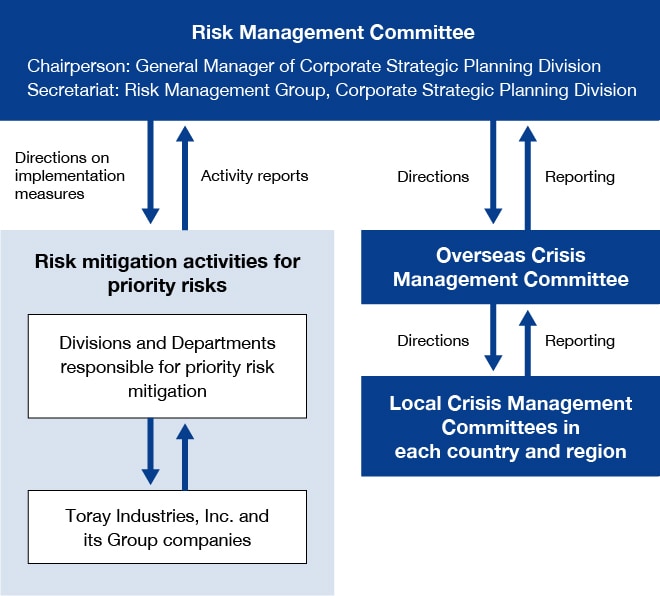 In order to respond to risks that rapidly emerge due to changes in the surrounding environment and to respond immediately in the event of a crisis, Toray Group has a dedicated organization within the Corporate Strategic Planning Division to communicate closely with the Board of Directors and top management and to pursue risk management as an integral part of the management strategy. The General Manager of the Corporate Strategic Planning Division periodically reports on the progress of risk management to the Board of Directors, and reports on important emergency matters whenever such occur to the Board of Directors without fail.
Toray Group has the Risk Management Committee, chaired by the General Manager of the Corporate Strategic Planning Division, tasking it with reviewing, discussing, and promoting shared awareness of risk management across the entire Toray Group (see Figure 1). This committee primarily carries out priority risk mitigation activities as part of regular risk management. In addition, the Overseas Crisis Management Committee and Local Crisis Management Committees, which manage employees' overseas travel under normal conditions and compile information on overseas risks, have also been made subordinate to the Risk Management Committee. Matters deliberated at and reported by the Risk Management Committee are periodically reported to the Board of Directors by the General Manager of the Corporate Strategic Planning Division.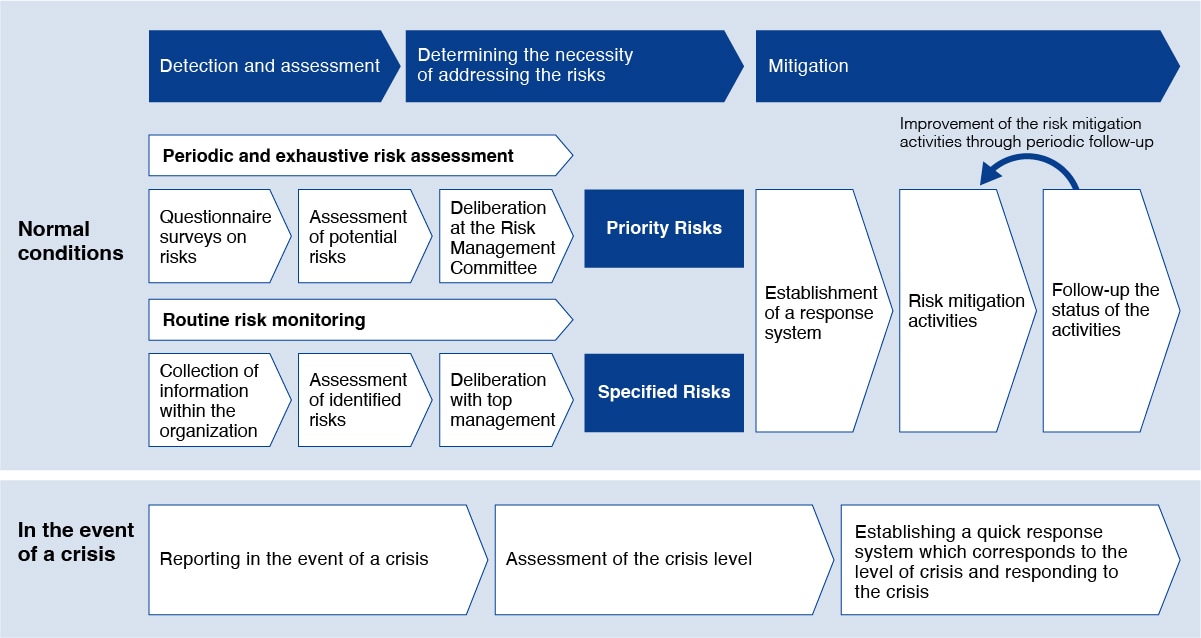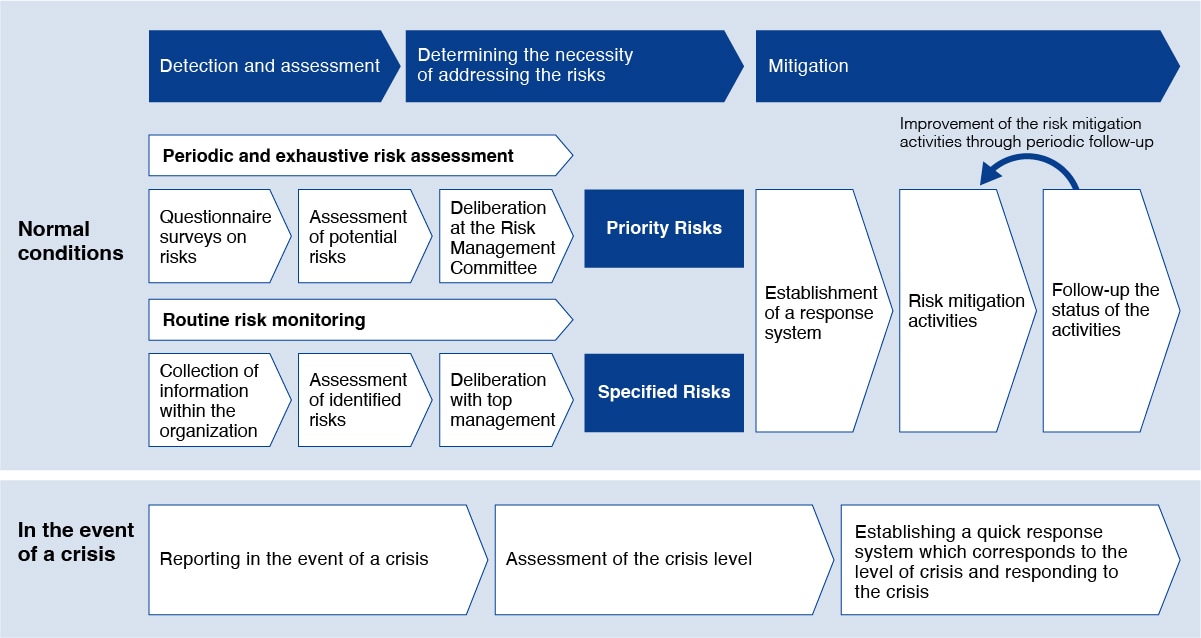 The Group defines risk management as overseeing risk management during normal times and immediate response in the event of a crisis. Risk management in normal times consists of priority risks as periodic risk management and specified risks as routine monitoring (see Figure 2).
According to periodic (once every three years) assessment of risks that have been exhaustively identified, priority risks are set based on those with a high degree of potential risk (probability of occurrence × degree of impact), and the division or department responsible for mitigating each risk focuses on risk mitigation (see Figure 3).
Specified risks are determined by a dedicated department in the Corporate Strategic Planning Division that routinely monitors domestic and overseas trends, conducts surveys and analyses, identifies and assesses risks that may have a major impact on management, and consults with top management (see Figure 4). Specified risks include risks arising in a short period of time, and have a complementary relationship with priority risks, which are three years as one term.
Figure 3. Priority Risks: Periodic Risk Management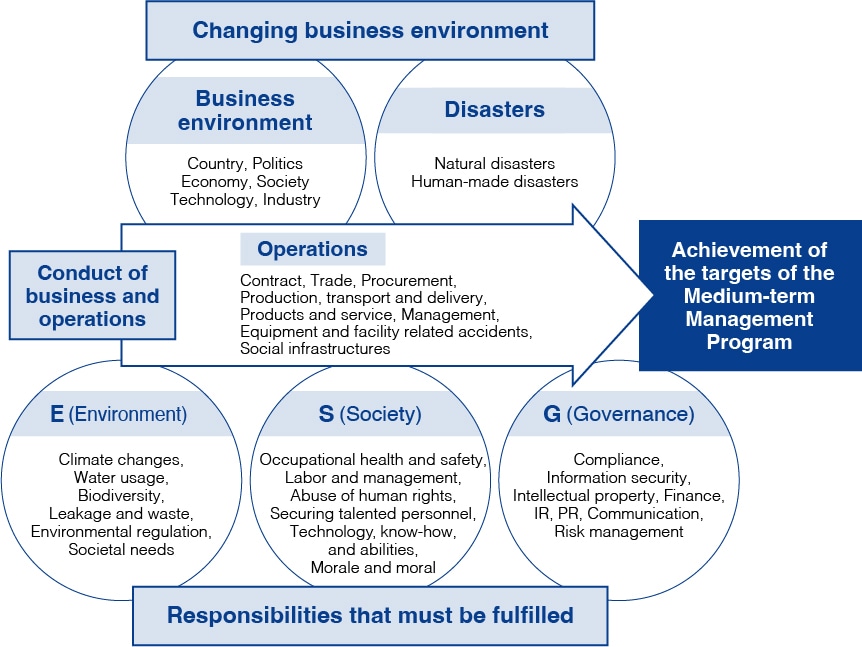 Figure 4. Specified Risks: Periodic Monitoring
2. Major risks
(1) Risks related to environmental issues such as climate change, water shortages, and resource depletion
Toray Group has been committed to providing solutions to various global issues such as climate change, water shortages, and resource depletion, by establishing the Global Environment Committee in the 1990s. Toray Group Sustainability Vision stipulates that the Group will make every effort to prevent negative impacts on global sustainability, including KPIs for 2030. In 2021, we established a Sustainability Committee to further accelerate our efforts to achieve this goal. However, the following risks may increase due to concerns about global climate change measures and higher expectations for companies.
Deterioration of corporate brand value due to worsening reputation of the petrochemical industry
Promotion of substitute materials with low environmental burden
Introduction of carbon pricing on a global scale
If any of these events should occur, the Group's results of operations and financial conditions could be negatively affected.
(2) Risks related to internal controls
Various laws and regulations apply in the countries and regions where Toray Group conducts its business. These laws and regulations include regulations related to the environment, commercial trading, labor, intellectual property, taxation and foreign exchange, investment approval protocols and import/export controls, and policies on competition based on antitrust laws. Through the establishment and maintenance of internal control systems, Toray Group endeavors to comply with all such laws and regulations. However, if any of the following events should occur, the Group's results of operations and financial conditions could be negatively affected.
When there is a change to such laws and regulations, including the introduction of new environmental regulations and taxes, as well as a change to the corporate income tax rate
When the Group is judged as having violated various laws and regulations
When the Group is subject to government sanctions initiated by a fair trade commission
When a notice of correction is received from tax authorities
When there is any illicit behavior by an employee
When the Group is unable to uphold internal controls pertaining to financial statements
In fiscal 2021, certain resin products were improperly identified by Toray as receiving certification from Underwriters Laboratories (hereinafter, "UL"), a global third-party safety science organization headquartered in the United States. Regarding UL94 that indicates the flame retardancy performance of resins, we learned the case that certain types of samples submitted to UL for testing were different than the resins certified by UL. We also learned the case that some types of resins, which had different compositions than what was certified by UL, were manufactured and sold to customers. If expenses related to the products subject to these cases were to become large, there may be an impact on Toray Group's results of operations.
(3) Risks related to product demand, market trends, and business plans
As a supplier of basic materials to a broad range of industries, Toray Group is exposed to various factors that could cause a sharp drop in demand for its products. These include changes in both worldwide and regional supply-demand conditions, increased use of substitute materials, and changes to the purchasing policies of business partners. Risks in individual business areas are as follows.
In the fibers & textiles business, there is a possibility that the supply chain and production bases will change globally due to the development of e-commerce (electronic commerce) in the final consumption, changes in the retail industry, and changes in consumer interests due to the increase in teleworking.
In the performance chemicals business, the transition from reciprocating engines to xEVs in automobiles, expansion of the 5G market, and the progress of the digital revolution may lead to major changes in the materials currently supplied.
In the pharmaceuticals and medical products business, in addition to price fluctuations stemming from the reduction of NHI drug prices and reimbursement prices, there is a possibility of a decrease in volume due to the entry of generic versions.
As common risks, Toray Group's various businesses are exposed to severe competition from other companies and threats such as the entry of new players and the decline of the Company's relative advantage due to the improved technological capabilities of companies in emerging countries. In addition, as we are mainly engaged in B-to-B transactions, some of our products are affected by the market presence of our customers. Although the Group is continuously striving to secure a competitive advantage, the Group's results of operations and financial conditions could be negatively affected if demand for these products declines or prices fall, or if the credit risk of suppliers materializes.
Amid these risks related to changes in product demand and market conditions, Toray Group makes capital expenditures in a wide range of business fields. Its other activities include formation of various joint ventures or strategic alliances with third parties, as well as business acquisitions. When Toray Group becomes involved in capital expenditures, joint ventures, alliances, and acquisitions, it considers the potential for profitability and return on investment. However, there is not necessarily any guarantee that the outcome will be consistent with expectations. If unforeseen market changes or significant discrepancies between actual results and initial business plans occur due to sudden changes in the operating environment, there could be a loss on impairment of fixed assets or equity in losses of unconsolidated subsidiaries and affiliated companies which could have an impact on Toray Group's results of operations and financial conditions. In the event of a business acquisition, the Group's internal controls may not function effectively at the acquired company, which could lead to compliance issues.
(4) Risks related to procurement of raw materials and fuel
The prices of petrochemical raw materials and fuel can fluctuate significantly due to the movement of investment funds in line with the changes in crude oil prices, supply constraints at petrochemical manufacturers, and environmental regulations in China. We must be aware of environmental aspects such as climate change and social elements such as human rights in our procurement supply chain, but there are risks related to stable procurement and price fluctuations. If these supplier risks were to occur, or if we are unable to pass on the rise in raw material prices to the sales price, or if it is difficult to improve profitability by changing product types, the Group's results of operations and financial conditions could be negatively affected.
(5) Risks related to information security and cyber threats
Toray Group's information systems and networks are fundamentally essential elements in the execution of the Group's business operations and every security precaution is taken in their development and operation. However, if such an incident as a work stoppage, a loss of trust in the Group, and a leak of confidential information were caused by unauthorized access, data alteration, theft or deletion, an interruption of system operations, or when confidential information is leaked outside the company, regardless of whether it is intentional or accidental, Toray Group's results of operations and financial conditions could be negatively affected.
(6) Risks related to the COVID-19 infection
Toray Group has organized a Company-wide Emergency Headquarters to deal with the COVID-19 infection, and is working to monitor the health of employees in Japan and overseas, collect information at each operational base, and implement measures to prevent infection, while continuing operations in accordance with the guidelines and instructions of governments and local authorities. The spread of the COVID-19 has resulted in restrictions on economic activities as well as changes in lifestyles and consumer behavior, and it is important to adapt to these changes in the business environment. However, the spread of infection, changes in symptoms due to the outbreak of variants, and the content of regulations by national and local governments may cause a significant impact not only on the global economy but also on the markets to which the Group supplies products. Depending on the depth of this impact, the Group's results of operations and financial conditions could be affected.
(7) Risks related to global business development
Toray Group is developing a broad geographical presence, with operations in various countries of Asia, Europe, and the Americas. However, economic security risks are increasing, as the conflict between the U.S. and China, which has been exposed as an exchange of sanctions and tariffs, has prolonged. Some of the major potential risks associated with various regions, including Russian invasion of Ukraine, are summarized below. If such risks were to become reality, Toray Group's results of operations and financial conditions could be negatively affected.
Unforeseen introduction, changes or abolition of laws and regulations such as changes in taxation systems
Unforeseen economic or political events
Social upheaval, including acts of terror or war
Difficulty in recruiting and securing human resources, etc.
(8) Risks related to natural disasters and accidents
Climate change is raising the risk of natural disasters such as typhoons, floods, and other storm and flood damages. Toray Group places top priority on safety, accident prevention, and environmental preservation. To minimize losses caused by the suspension of production, Toray Group conducts regular accident prevention inspections, maintenance of its manufacturing facilities, and safety activities. However, the advent of unexpected natural disasters, outbreak of infectious diseases, and unprecedented accidents could cause damage to Toray Group's manufacturing facilities, or could cause inadequate supply of raw materials. Also, in the event of a decline in the functioning of social infrastructure, including electric power and logistics, these factors could have a negative impact on its results of operations and financial conditions.
(9) Risks related to foreign currency, interest rate and securities market fluctuations
Foreign currency exchange rate fluctuations affect Toray Group's consolidated financial statements when the financial statements of the overseas operations presented in local currencies are translated into yen. Toray Group takes measures, such as entering forward exchange contracts, to alleviate risks associated with transactions denominated in foreign currencies. However, unforeseen exchange rate fluctuations could have an impact on Toray Group's results of operations and financial conditions.
Toray Group raises funds mainly by borrowing from financial institutions and issuing commercial paper and corporate bonds. However, unexpected and rapid changes in interest rates or other aspects of financial markets could affect the Group's fund-raising and procurement costs, as well as the value of securities and pension assets held by Toray Group, which may have an impact on Toray Group's results of operations and financial conditions.
(10) Risks related to lawsuits
In the course of conducting its wide range of business activities, Toray Group faces the risk of being targeted by legal action pertaining to various matters such as intellectual property, product liability, environmental and labor issues. If Toray Group were subject to a major lawsuit, its results of operations and financial conditions could be negatively affected.
Related Information