Toray's Strengths
Strength 1

Research and Technological Development
1. Strength: "Long-term Continuity" and "Pursuit of the Ultimate Limits"
The phrase, "The Deeper, the Newer," has been passed down as a key phrase at Toray Group, and has become part of the Group's DNA. The concept underlying this is that when you dig deep into something and pursue it to its ultimate limit, the result will be new discoveries and inventions. An example of this would be the pursuit of the ultimate limits of film surface formation technologies. In the past, inorganic particles were added to the entirety of the film to create random projections on the surface, but Toray Group developed a technology that thinly laminates particle-based polymers on the film surface, with the particles aligned and the protrusion height carefully controlled. This technology contributed greatly to the success of the Company's high-quality resolution video film business. While the appearance of DVDs signaled the end of the videotape market, the technology itself has been applied to other applications, including for data tape film and in support of the manufacturing process for polarizers and ceramic capacitors. Our focus on pursuing advanced technology stems from our belief that over time, the most advanced technology will likely be used in an increasing number of applications.

While it is true that it takes a certain amount of time to develop and commercialize advanced materials, the steadfast commitment to long-term continuity which is inextricably linked to the pursuit of the ultimate limits has become a hallmark of Toray Group. As an example, reverse osmosis membranes used in water purification and carbon fiber composite materials, which are among the Company's mainstay products, took nearly a half century from initial research to large-scale market formation.

The strength of our R&D stems from the ability of the Group to recognize the long-term value of materials and the will to follow through, i.e., adhering to the concept of long-term continuity and the pursuit of the ultimate limits. This focus is the source of our hard-to-imitate competitive advantage and the wellspring of true innovation.

Toray Group has continued to invest in R&D without regard to fluctuations in the economy, and for many years has seen no substantial change in R&D costs as a percentage of sales, which serves to illustrate that innovation at the Group is based on the idea of long-term continuity and pursuing the ultimate limits.
2. Four Core Technologies
At first glance, it could appear that Toray Group business portfolio is diversified across a wide range of segments. However, all of these segments are built on our four core technologies. In addition to the organic synthetic chemistry, biotechnology, and polymer chemistry technologies the Company has focused its efforts on since its founding, Toray Group has added nanotechnology, the pursuit to the ultimate limits, as a fourth core technology. Using these four technologies, Toray Group is promoting greater depth and fusion of fundamental technologies such as polymerization, spinning, fibers application processing, film processing, and organic synthesis. The Group is also creating advanced materials and developing businesses in the fields of textiles, films, resins, chemicals, electronic & information materials, carbon fiber composite materials, pharmaceuticals, medical devices, and water treatment. All of these products have the four core technologies in common, which contributes to the likely emergence of technological synergies, and Toray Group is able to produce materials with even higher added value thanks to its various businesses combining the innovative technologies and advanced materials derived from these four core technologies.

Column

Curiosity-driven research producing the seeds of new technologies

Research for innovative new materials starts with the creation of themes in "fuzzy front end" (it literally means vague and uncertain world, and here defined as the period between when a product is first considered and when it is formally judged ready to enter development) . Somewhat similar to trying to dig a well in the vast desert first, it is important in this process not only to have a strong will, but also to have a system that promotes research activities that respect the creativity of those conducting the research.

Toray Group has since its founding encouraged independent research. At present, we believe about 20% of research time should be spent on curiosity-driven research, with each person focused on original basic research with the aim of creating a large-scale theme. This system has been effective in motivating research and has resulted in the creation of a variety of technologies. Researchers focused on this kind of curiosity-driven research were also one of the main reasons Toray Group was able to identify the value of carbon fiber before others and move into full-fledged research in the field. Curiosity driven research also contributed to the development of highly profitable mainstay products such as thin layer laminated polyester film and artificial leather.

An undivided R&D organization

Toray Group has centralized all of its R&D functions into a single organization called the Technology Center. Bringing together specialists from many fields in this undivided R&D organization makes it easier to create new innovations by integrating technologies. Moreover, the system enables the Group to exhibit combined strength by actively exploiting techniques and knowledge from many fields to solve problems in a single business area. It also enables various advanced materials and technologies to rapidly apply to multiple businesses. Especially in Sustainability Innovation (SI) and Digital Innovation (DI) businesses, which are the areas of special focus in recent years for the Group, it is essential to have an organization that facilitates integration through cross-organizational activities, close collaboration, and technical interaction. The key factor for innovation is accurately identifying customer needs and the value of technologies so that the Group's combined strengths can be fully exhibited.

As for R&D strategies, the Group will invest 220 billion yen in R&D expenses over the three years from FY 2023 to 2025, the target years of the Medium-Term Management Program Project AP-G 2025. Allocating over 80% of the R&D expenses to the growth business fields, the SI and DI businesses, the Group aims to maximize the return on the R&D investments. Meanwhile, the Group promotes advancement and improvement of R&D and production efficiency by leveraging digital technologies. At the R&D Innovation Center for the Future, which was opened in 2019, the Group promotes themes including advancement of material technologies, innovative medical materials/regenerative medicine, and digital technologies.
Strength 2

Marketing
Strength: Sharing Visions with Customers while Creating Markets
In addition to commercializing innovative materials, Toray recognizes the critical need to put forward proposals that dramatically increase the value of customers' products. With this in mind, Toray Group moves beyond the simple supply of materials, and works diligently to advance solutions that address customers' issues on the back of commonly shared visions.

Toray began the full-fledged production of commercial carbon fiber in 1971. Given the absence of carbon fiber market when we started, it was imperative that we take steps to create the market from scratch, while developing processing and molding methods, either on our own or in collaboration with customers. At the outset, we focused on the sporting and leisure fields, where a certain level of demand could be expected if the performance of products was high even when materials were a little expensive. As a result, we were successful in creating the market in the fields of fishing rods, golf clubs, and tennis rackets.

In contrast aircrafts, an area Toray Group targeted for carbon fiber sales in the long run, was hit by the first oil crisis in 1973. This set off the ongoing search for lighter weight, energy efficient materials by aircraft manufacturers, demand for carbon fiber reinforced plastic (CFRP) gradually increased for the use in the secondary structures of aircrafts, such as rudders. Based on the track record, The Boeing Company adopted plans to apply CFRP as a primary structural material (for structural parts where damage is directly linked to a crash) in its Boeing 777 in 1980, and requested global manufacturers to step up their development of high-performance carbon fibers as well as CFRP. Against the backdrop of an increasingly competitive environment in the development of new technologies by each company, our product was certified as the world's first and only product which cleared the specification requirements put forward by The Boeing Company in 1990.

Our product has been recognized for its reliability as a material used in the manufacture of aircrafts, as well as for its stable supply and cost performance. Through a process of interactive technology exchange, Toray and The Boeing Company have continued to engage in the development of next-generation aircrafts, while nurturing strong ties of mutual trust. In 2003, both companies commenced the joint development of a CFRP for use in the next-generation medium-sized passenger aircraft the Boeing 787. After executing a fundamental agreement for the supply of materials in 2004, the companies concluded a long-term 16-year comprehensive supply contract in 2006. Spurred by the hope that carbon fiber would be adopted as a core material in the manufacture of all aircrafts, Toray has continued to engage in development. In a major step toward crystalizing visions of Toray Group and The Boeing Company, the Boeing 787, for the first time in the world, entered service across domestic flights in Japan in 2011. Over the ensuing period, the Boeing 787 operations have been expanded to service routes around the world.

Indicative of the widespread growth of the carbon fiber market, and our strong belief that materials have the power to bring about fundamental transformations in society, we are sharing visions with customers while providing broad solutions that help realize those visions as our inherent strength. As a result of these endeavors, we are expanding manufacturing markets in which materials play a leading role.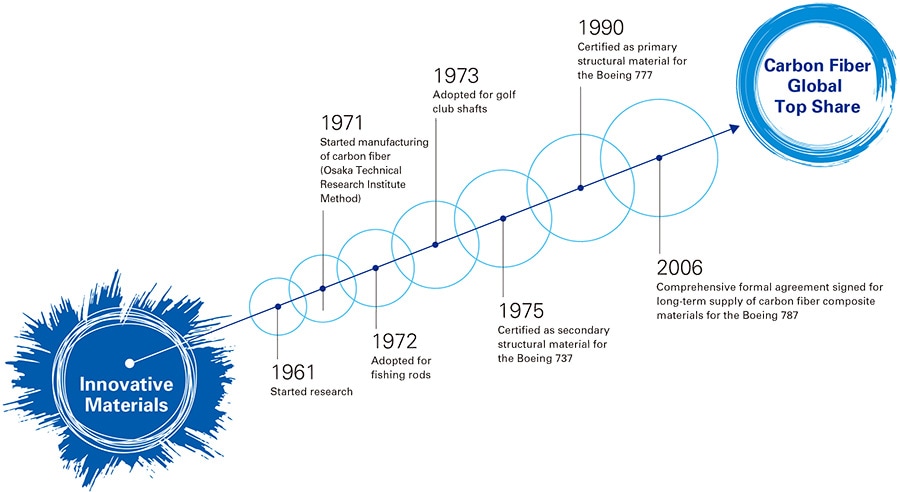 Column

Developing a carbon fiber that realizes both tensile strength and tensile modulus

Recognized as a material that does not rust, carbon fiber is also one quarter the weight of steel while providing approximately 10 times the tensile strength. Among its many merits, carbon fiber can help raise the humidity in aircraft cabins, enhance comfort by allowing the use of large windows as well as other structural benefits, not to mention improvements in fuel consumption.

In 2014, Toray launched T1100G carbon fiber with the world's highest tensile strength and continues to expand the potential of carbon fibers into high-end sporting goods and structural materials in the aerospace field. In 2018, Toray developed the TORAYCA® MX series that realizes both tensile strength and tensile modulus. While the high degree of technological difficulty required to overcome the trade-off relationship between fiber tensile strength and tensile modulus had posed a major impediment to development, Toray was able to find a solution by employing proprietary technology to control the graphite crystal structure of fibers at a nano level. Looking ahead, the Company will upgrade and expand its product lineup and actively promote application proposals inherent in the market.
Strength 3

Supply Chain Management
Strength: Building a Supply Chain Unrivaled in the World with Our Powerful Partners
Since the dawn of the synthetic fibers market shortly after the end of the Second World War, Toray Group has not only supplied materials to primary users such as spinning companies and fiber merchants, but has also focused its energies on promoting the use of new material brands, including "Nylon" and "Tetoron" throughout the supply chain, from wholesalers to distributors. As the market for ready-made garments from brand-name apparel manufacturers increased in the 1960s–1970s, Toray organized its domestic production team, largely in Hokuriku manufacturing region, for the weaving, spinning, dyeing, fiber processing, and knitting segments, contributing to the establishment of an integrated fiber and textile business model. The Group moved to accelerate global operations in the 1980s and 1990s, advancing the establishment of an integrated production system that covered everything from fiber to dyeing, in Southeast Asia and China.

The turn of the century saw strong growth in SPA (specialty store retailer of private label apparel) and fast fashion businesses. The SPA business model is very different from the traditional product-out business model, in which production is maintained at a constant level at each stage. In the SPA business model, production immediately reflects consumer behavior based on data collected at the store, bypassing interim distributors and allowing companies to completely sell out products while avoiding both excess inventories and lost sales opportunities. Toray Group had the production technology capable of mass producing high-quality products, as well as a strategy for the global textile business that was well suited to the SPA mechanism. The Group also had a robust R&D system for the development of new and unique products.

The Company in 2006 agreed to a strategic partnership with UNIQLO CO., LTD. and thereafter reformed the distribution system for fibers & textiles. The two companies moved to bridge the boundaries between a material manufacturer and a specialty store retailer of private label apparel (SPA), establishing an unprecedented business model in the world in which the two operated together as a virtual company that handled planning, development, production, and distribution for everything from raw materials to finished products. This contributed to the establishment of a global supply system, with production bases being located not only in China, but also in the ASEAN countries and Bangladesh. The Company has since continued to expand its integrated fibers, textiles, and garments business. Toray remains focused on building and operating a global supply chain network that can organically tie together a variety of processing stages and quickly deliver products with identical levels of quality thanks to the optimally located, efficient, and cost competitive production bases. Toray's building of a supply chain system unparalleled in the world contributed to the radical transformation of distribution systems in Japan, and appealing Japanese technology to the world, which has added new value to the textile industry.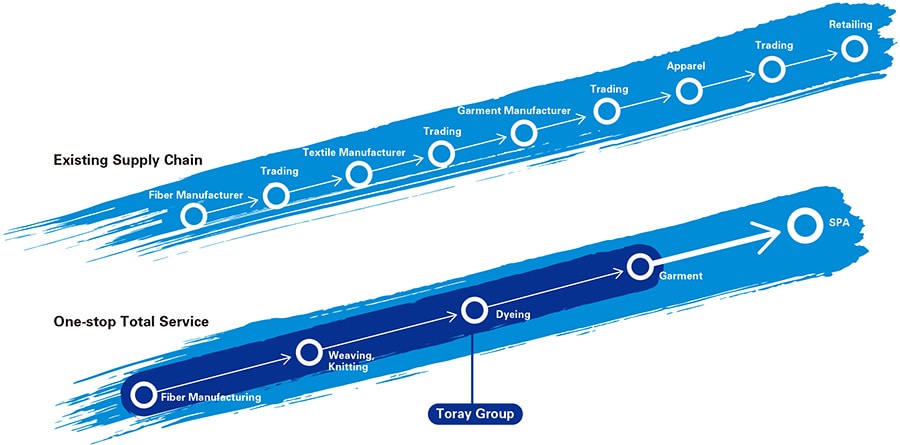 Column

Dramatic Reform of Distribution Systems for Textile Industry

The strategic partnership agreement between Toray and UNIQLO CO., LTD. in 2006 represented the realization of a vertically linked structure based on the "total industry" concept, which integrates planning, development, production, and distribution of everything from materials to final goods. This system allowed the rapid resolution of the problems associated with distribution system inefficiencies in the Japanese textile industry. Distribution systems up to that point had been characterized by multiple levels, in which product flow was different according to material, application, or item. This contributed to a longer supply chain, difficulties in determining consumption at the retail level, uncertainties and speculation at each stage leading to distributor inventory build-ups, increased losses, and thus leading to an impairment of global competitiveness of the industry. The collaboration with UNIQLO CO., LTD. contributed to Toray Group's textile business consolidating its multi-level supply chain into a simple and flexible production system better linked to actual demand trend. The Group aims for the business to achieve sustainability through the sharp reduction of inventory risk as well as production and distribution costs on a global basis.
Strength 4

Global Production System
Strength: Organic Collaboration Among Production Bases
Guided by our basic policy of global management that emphasizes the need to take root over a long period in order to contribute to the economic development of the countries and regions where we operate our businesses, Toray Group's overseas production activities began with the establishment of a subsidiary in Thailand to provide integrated spinning, weaving, and dyeing of polyester-rayon fabric in 1963. As a Japanese company, Toray engaged in local production from an extremely early period. Beginning with Southeast Asia during the 1960s and 1970s, the Company's global network expanded to Europe and the U.S. in the 1980s, and then to the Republic of Korea and China in the 1990s. The Group has established production bases for such items as films and carbon fiber, in addition to fibers and textiles. Today, every effort is being made to promote organic collaboration among Group bases in Japan and overseas. Through these means, Toray is building an optimal global production and supply structure that adapts flexibly to changes in the business environment in line with market, foreign currency, and other trends. Furthermore, successful steps are being taken to create a production system that can supply high-quality products on a stable and continuous basis in any region.

As of the end of fiscal 2020, Toray Group's network expanded to 29 countries and regions worldwide. Accounting for 56% of the Group's total revenue, overseas sales amounted to roughly ¥1,054 billion. In contrast, the Group's overseas production ratio substantially exceeds its sales ratio. More than 75 to 80% of such principal products as fibers and textiles, resins, films, and carbon fibers are manufactured outside of Japan. Drawing on its global production system as a source of considerable strength, Toray Group is implementing a sustainable growth cycle. In specific terms, we are undertaking cutting-edge innovative research and development at our mother plant in Japan, while at the same time adopting a strategy to establish local production systems swiftly and flexibly from the perspectives of demand and cost competitiveness. Complementing these endeavors, we are also promoting the development of applications that cater to local needs at each production base. This in turn enables us to capture new profit opportunities.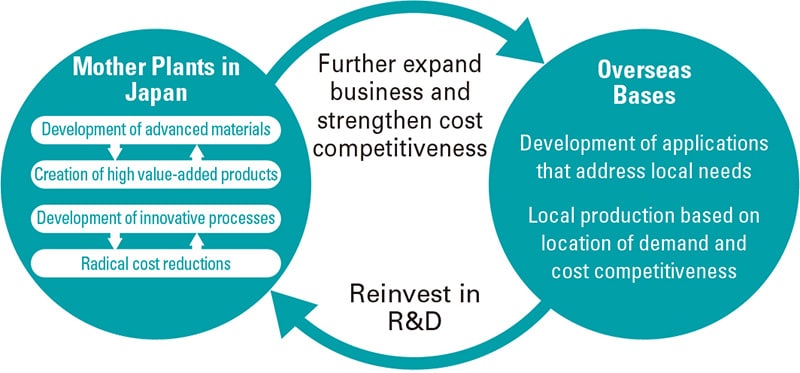 Column

Working to Secure the Leading Position in Airbag Textile through a Global Integrated Production System

The airbag market is exhibiting rapid growth due to upswings in the number of automobiles sold in emerging countries as well as installation rates. In its airbag fibers & textiles business, Toray Group began the integrated production of a wide range of products from fibers to textiles in Mexico from 2018 as a part of efforts to further reinforce its global production system. Currently, Group companies manufacture airbag fibers in three locations and airbag textiles in six locations worldwide, respectively, under the global production system that is capable of providing airbag textiles of a uniform quality in a timely manner across the Group's entire network. As a result of these efforts, Toray Group is highly praised from a business continuity plan (BCP) perspective. Going forward, we are aiming to secure the top market share in the global airbag textiles market where strict quality control and reliability of products are required.