Human Resources Development Policies
Human Resources Development Policies
At Toray, we believe that people are what make an enterprise rise or fall, and it is people who open a path to a company's future. Under our management policy that prioritizes people, the three principles which steer our human resources development are as follows.
Fair-minded individuals who act with high ethical standards and a sense of responsibility
Professionals with advanced expertise, technical skills and originality in problem solving
Leaders who act with foresight and a sense of balance
To produce professional human resources armed with the most advanced, specialist knowledge, who are able to participate on the global stage, we use various human resource systems to promote an energetic corporate atmosphere in which bold personnel are encouraged to play an active role.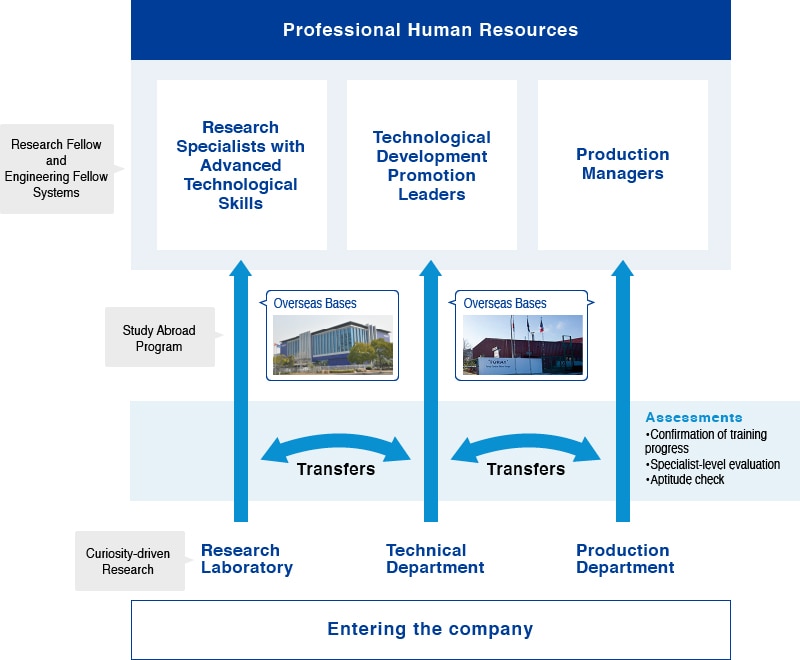 Curiosity-driven Research
For the generation of new projects, Toray encourages employees to spend 10-20% of their work in research with their own motive and discretion at the initial stage (fuzzy front end) of new product research.
Study Abroad Program
Toray has established study abroad programs for our researchers to gain state-of-the-art specialized knowledge and to develop into international businesspeople. Of those, one program dispatches researchers to world-class universities or research institutes across the globe to gain the most advanced knowledge and techniques in each field, or to conduct joint-research. Since 1983, 101 researchers (as of April 2021) have been dispatched under the system, which allows researchers to choose their own destinations and research topics.
Recent Destinations for Study Abroad
Polymer Chemistry, Organic Synthesis
Electronic and Information Materials
Life Sciences
Composite Materials