Toray Fibers & Textiles Research Laboratories (China) Co., Ltd. [TFRC]
Toray Fibers & Textiles Research Laboratories (China) Co., Ltd. [TFRC]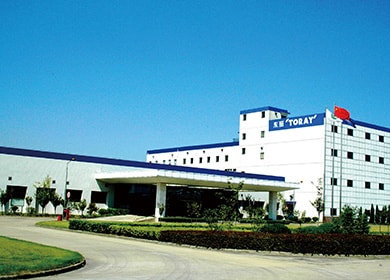 Toray Fibers & Textile Research Laboratories (China) Co., Ltd. is an independent corporation specializing in R&D set up by Toray in Nantong, Jiangsu, China, in March 2002. Utilizing expert local personnel involved in R&D, the facility was established to deploy Toray fiber products worldwide, and to contribute to the development of the Chinese fiber industry. Research and development of fibers at Nantong ranges widely from polymer design to polymerization and yarn-making, advanced processing, and product development-primarily for apparel and industrial materials- leading to a steady stream of next-generation polymers, fibers, textiles for apparel, and industrial materials. Through the creation of these products, we are engaged in the further expansion of the Toray Group's fiber business.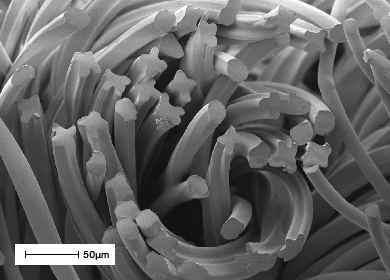 Photo of fiber cross-section
Polymerization and Yarn-Making Research
The focus here is on R&D related to polymerization and yarn-making, primarily polyesters, with efforts ranging from basic research to the development of pilot-scale production technologies. The laboratories also researches microfibers at the limits of fiber structure and pursues environmental initiatives (plant-derived materials, low environmental impact processes, etc.).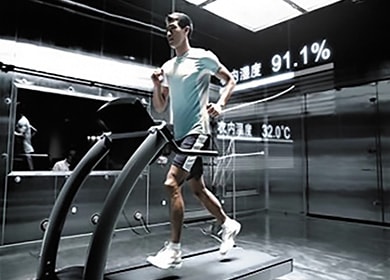 Wear testing in climate chamber
Textile Research
The Laboratories carry out a full range of steps from basic research to applied development with regard to fiber processing, knitting, woven fabric, and dye finishing for apparel and apparel-related uses. These efforts also extend to new product planning.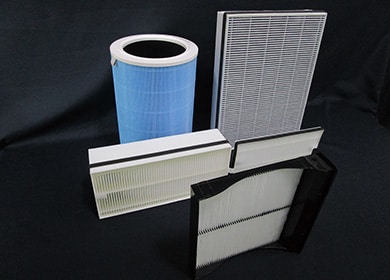 Air filters
Industrial Materials Research
To expand the fiber-based industrial materials business in China, TORCON™ PPS fiber is being developed to make heat-resistant filter bags for collecting dust in coal-fired plants, along with air filters. Applied research will continue to be carried out in the fields of Environment & Amenities and Energy.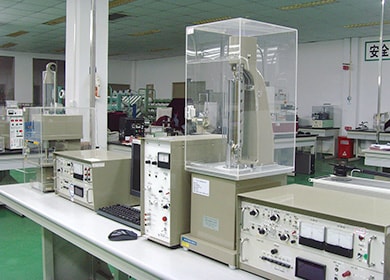 Textile Test Center
Textile Test Center
This center performs testing based on various standards, such as JIS, ISO, ASTM, GB/FZ, and AATCC, primarily for quality evaluation of functional textiles, and provides customers with a variety of services for keeping track of quality in new product development and mass-produced products.