Film-Related Technical Departments
Film-Related Technical Departments
Our Film-Related Technical Departments oversee the development of new products and processes involving high-quality, high-functionality films, including polyester film, polyolefin film, polyphenylene sulfide (PPS) film, and aramid film. Collaborative efforts to develop technologies for polymerization, film formation, and processing by our Japanese sites and eight overseas sites (in the US, France, Hungary, China, Korea, Malaysia, Taiwan, and Thailand) allow us to quickly respond to customer needs, and to market products with outstanding performance, quality, and cost attributes. By actively promoting exchanges between engineers in Japan and overseas, we are systematically working to enhance and develop our fundamental technical capabilities.
Film Technical Dept. Mishima, Film Technical Dept. Gifu.
The Film Technical Depts. in Mishima and Gifu handle the development of new products and processes for Lumirror™ polyester film as well as MICTRON™ aramid film and TORELINA™ polyphenylene sulfide (PPS) film, which is produced worldwide solely by Toray. It also plays a role in supervising the development of polymerization technology used on the raw materials required in the production of Lumirror™ and MICTRON™.
This department develops products for a wide range of applications, including high-recording-capacity magnetic tape materials, displays, highly smooth release films for multilayer ceramic capacitors (MLCC) and dry film resist (DFR), and nano-laminated film with metallic luster.
Tsuchiura Plant Technical Sect.
The Tsuchiura Plant Technical Sect. develops capacitor applications and packaging/industrial material applications of TORAYFAN™ polypropylene film. Extremely thin films of thickness 3 micrometers or less are being used in capacitors for xEVs (hybrid and ordinary electric vehicles), and Toray is exploiting its technological and quality advantages to retain its top market share.
BSF Technology Dept.
Toray was the first in the world to supply battery separator film (BSF) for lithium-ion batteries. Our BSF Technology Dept. is in charge of designing and developing new products which enhance the functionality of BSF SETELA™, and improving product quality. The department is also in charge of developing manufacturing processes and equipment to realize those aims, as well as achieving innovative cost reductions, and developing high-efficiency process technologies.
Functional Nano-multilayer film PICASUS™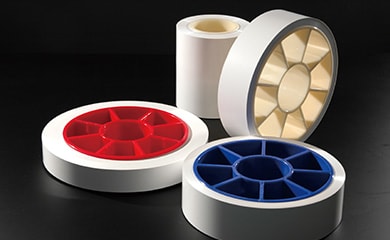 Battery separator film SETELA™
Toray film fundamental technologies and applications