Engineering Development Center
Engineering Development Center
The Engineering Development Center was established in 1960 as the Engineering Laboratory, and tasked with conducting engineering research an unusual approach for a company focused on polymer chemistry. After reorganization, the facility's name was changed to the current Engineering Development Center in 2001. The Center conducts research on basic technologies common to all fields of engineering, develops applied technologies, and deploys these technologies in manufacturing. In this way, it strengthens the competitiveness of each business of Toray and the companies of the Toray Group, creates advanced materials, and contributes to their early commercialization.
The Engineering Development Center develops core engineering technologies for use in production facilities, such as equipment to manufacture high-performance film, CFRP, and display panels. Toray employs these technologies in equipment such as coaters, detectors, CAE software, precision caps and dies, and medical devices. These technologies are also used at other Toray Group companies.
The Center has three development laboratories engaged in developing production equipment and technologies. Fundamental technologies are developed and improved by these labs to achieve timely, steady development. These include not only basic technologies such as mechanical design and mechatronics, but also thermo-fluid analysis, structural analysis, winding, wet coating, vapor deposition, plasma processing, micro-machining, plastic molding, instrumentation and control, image processing, electrostatic control, artificial intelligence, and data mining.
To help solve environmental problems and social issues such as the realization of a healthy society with longevity, we are also focusing efforts on our Sustainability Innovation Business.
We are currently engaged in fundamental technology research and applied technology development, along with development of production processes relating primarily to engineering, CAE, instrumentation and control, image processing, and surface processing, as follows.
(1) R&D on unique machinery, equipment, and production technologies for in-house manufacturing processes
Examples : equipment to produce synthetic fibers, films, carbon fibers, other composite materials, display panels, medical devices, water treatment membrane modules, etc.
(2) Enhancement of CAE (Computer Aided Engineering) technologies and R&D on applied technologies
Examples : CAE to design plastic resins, CFRP, processes, and production equipment, etc.
(3) R&D on instrumentation, inspection and control technologies, and electrostatic and surface processing technologies needed for in-house production processes
Development of instrumentation and inspection equipment for films, carbon fibers, display panels, etc., and R&D on technologies for inspection and image processing, instrumentation and control, and electrostatic/surface processing, etc.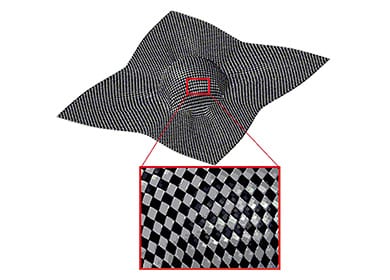 Optimization of forming process using meso-scale simulation
Simulation technology capable of reproducing the motion of individual fiber bundles in woven fabric is useful for clarifying how forming defects like wrinkles occur and for proposing optimal forming processes.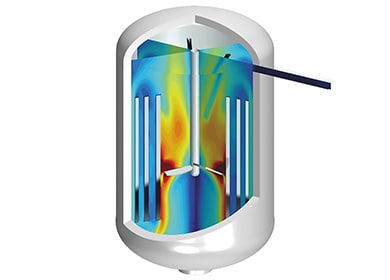 Optimization of mixing through thermo-fluid analysis
Various types of agitation tanks are used for mixing and reacting liquids. Thermo-fluid analysis is useful for optimizing the shape of the agitator blade and process conditions to suit the characteristics of each liquid and the purpose of agitation.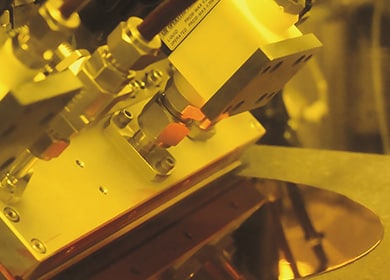 Capillary Coater for round substrates
Our unique slit nozzle design technology applies surface tension, thereby enabling application of liquid not only to square substrates but also to circular wafer substrates with high precision without wasting liquid. This equipment is sold by Toray Engineering Co., Ltd.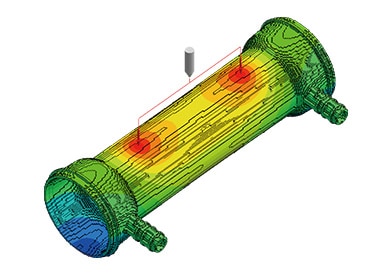 Development of the artificial kidney module
In the design of the artificial kidneys module, Toray applies numerical analysis in the resin flow in the injection molding of the housing as well as a flow of blood and dialysate. We have also developed production equipment based on advanced automation technologies to assemble the modules.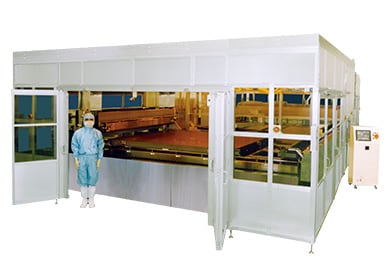 Coating equipment for optical display panels
The center has developed extremely high-speed, uniform paste coating technology for very large glass substrates, and this has been commercialized as coating equipment for optical display panels.