Resin & Chemical-Related Technical Departments
Resin & Chemical-Related Technical Departments
Our Resin and Chemical Technical Departments contribute to global environmental preservation by developing innovative processes and advanced materials using technology in the fields of chemical engineering, nanotechnology, computational science and polymer processing, which are based on our two core technologies, organic synthetic chemistry and polymer chemistry. We deliver competitive products and solutions to customers around the world by collaborating with overseas manufacturing and technology development bases. Toray's business expansion and development of environmental technology and disaster prevention technology are enhanced through chemical engineering technology accumulated from our resin and chemical industry experience and expertise.
Plastics Technical Dept.
This department develops new grades, new applications and production technology for engineering plastics, such as nylon, PBT, PPS, LCP resin and carbon fiber reinforced thermoplastic resin, and possesses molding & processing technology, and analysis and CAE technology. Recently, a tube extruder has been installed, and proposals for total solutions are provided to customers based on integrated material development and molding & processing technology. The department exports technologies to overseas bases, and collaborates with overseas bases to provide support for overseas customers.
Chiba Plant Toyolac Technical Section
This section develops materials, applications and manufacturing technology for Toray's TOYOLAC™ ABS resin. It also provides support to overseas customers, in collaboration with the only overseas polymerization base of any Japanese ABS resin manufacturer.
Shiga Plant PEF Production Department Technical Section
This section develops materials, applications and manufacturing technology for TORAYPEF™ – an electron beam cross-linked polyolefin resin foam. It also provides support to overseas customers in collaboration with Toray's US plants.
Chemical Engineering Dept.
The Chemical Engineering Dept. develops advanced new products and production engineering technology for chemicals and engineering plastics. Sustainability is the core of our corporate philosophy and we are focusing on development of chemical recycling of PA6 and bio-based monomers for various polymers. Our chemical engineering technology, accumulated based on our experience and expertise in the resin and chemical industries enhances the value of Toray's advanced materials and processes, and helps improve environmental preservation and disaster prevention technology across the company.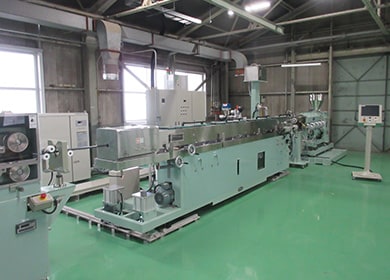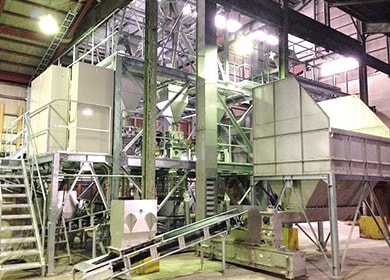 Production plant of new chemical product