Films & Film Products Research Laboratories
Films & Film Products Research Laboratories
The Films & Film Products Research Laboratories was established in 1963 to conduct basic research in Toray's film business. Research is conducted on base films and processed film products here. As a worldwide R&D headquarters, this laboratories expands our scope of activities by creating new products for information and communications, environment and energy, next-generation mobility, and life innovation.
Toray is the manufacturer of Lumirror™, the first biaxially oriented polyester film commercialized in Japan, and with the polypropylene film TORAYFAN™, leads the world in high functionality films. Wide-ranging R&D is promoted here for products such as the biaxially oriented polyphenylene sulfide (PPS) film TORELINA™, the aramid film MICTRON™, and the battery separator film SETELA™.
Examples of research results include: base film for video tape that achieves both smooth running and good recording characteristics through a uniform surface protrusion height, highly reflective film for LCDs in which fine voids are formed by combining polymer alloy technology and drawing technology, and base film for high-density magnetic tape employing nano-order polymer alloy technology.
In recent years, Toray has continued to create innovative new products by integrating nano-technologies such as nano-alloys, nano-lamination, nano surface control and nano-voids, based on each fundamental technology such as polymer molecule design, film-forming processes, film quality design, and film processing. As one example, Toray has created the nanolaminated film PICASUS™ in which light reflection and transmission are controlled by laminating multiple polymers on the nano-order, and this is being used in millimeter-wave radar emblems and blue light cutting film.
Recently, this laboratories has created highly functional films such as PICASUS™ VT, the world's first nano-laminated film able to transmit vertically incident light and reflect obliquely incident light; highly heat and voltage resistant biaxially oriented polypropylene film for automotive capacitors to contribute to dissemination of EVs; and non-porous separators for lithium metal anode batteries that dramatically improve battery capacity. Going forward, we will continue to tackle the challenges of developing advanced materials that contribute to the development of society.
Nano-Multilayered Film PICASUS™
PICASUS™ is a Nano-Multilayered Film in which polymers with different refractive indices are laminated in anywhere from about thousand layers with a thickness of a nanometers order.

Ultra-thin heat durable polypropylene film for electric vehicles
Biaxilally oriented polypropylene film for film capacitor applied Toray's original film structure control technologies to improve insulation properties at high temperature and down gage.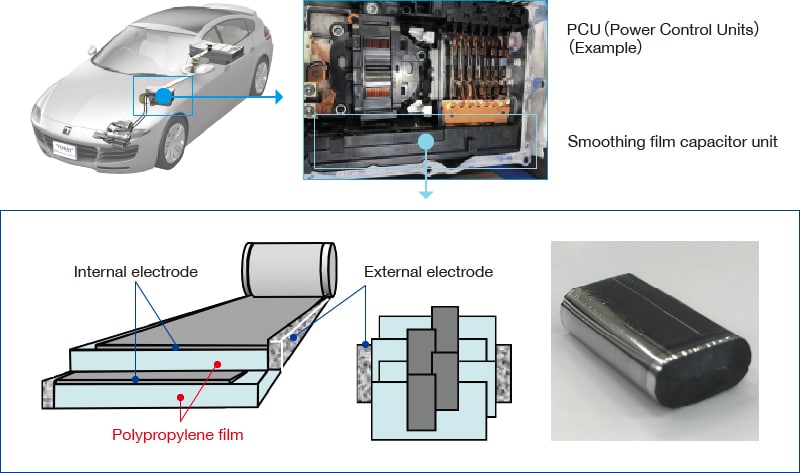 Microporous polyolefin film
SETELA™ has a uniform pore structure with nano level size and it is used for LIB application.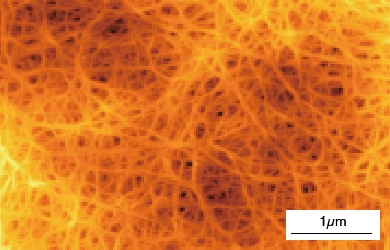 AFM image of film surface of Battery separator film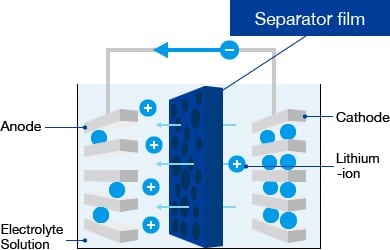 Structure of Lithium-ion battery (LIB)
Film applied NANOALLOY™technology with high heat resistance
Base film for high-density magnetic tape made of highly heat-resistant polyester employing nano-order polymer alloy technology, in which fine surface protrusions are controlled using our unique film compounding method.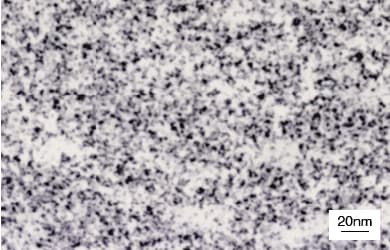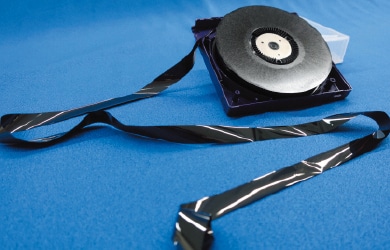 ※ Winner of the Award of the Society of Polymer Science
Milestones in Toray R&D
1959
Commenced full-scale production of Lumirror™ polyester film.
1963
Established Films and Film Products Research Laboratories.
Commenced full-scale production of TORAYFAN™ polypropylene film.
1988
Commenced full-scale production of TORELINA™ polyphenylene sulfide film.
1992
Achieved practical use of Lumirror™ new surface-forming technologies (TOP, PTL).
1995
Commenced full-scale production of MICTRON™ aramid film.
2003
Commenced production of ultra-thin heat-resistant TORAYFAN™ for automotive capacitors.
2006
Commenced production of highly heat-resistant NANOALLOY™ film for high-density magnetic tape.
2008
Commenced production of nano-laminated film with metallic luster.
2012
Shifted to production and expanded range of next-generation films for touch panels.
2017
Commenced full-scale research on SETELA™ battery separator film.
2020
Commenced sales of Eco-Friendly Ecouse™ PET Films.