Collaborating Organizations
Collaborating Organizations
Toray Research Center, Inc. and Kamakura Techno-Science, Inc. which were established as independent entities from Toray, serve as collaborating organizations both inside and outside the Toray Group in the fields of research and technology development. Through this role, they offer solutions based on high-level analysis and evaluation technologies.
Toray Research Center, Inc.
Toray Research Center, Inc. (TRC) was founded in June 1978 by incorporating the analytical division of Toray Industries, Inc. Under the guiding principle of "Contributing to the society through advanced technologies," we have been engaged in proving technical support primarily for cause analysis and problem solving in the fields of research, development and manufacturing, using analytical techniques and physical analyses.
TRC provides not only contract synthesis and sales of analytical data, but also education on analytical technology. These services are widely used by customers from within the Toray Group, and from ordinary companies, universities and research institutes, including those overseas. Our primary and consistent corporate goal has been to help our clients and keep their trust. We have therefore continued to honor our corporate mottoes: "To provide advanced and reliable technology (TECHNOLOGY)" and "To strictly observe complete confidentiality (TRUST)".
TRC provides technical support in various fields ranging from electronics, industrial materials, and environment/energy, to pharmaceuticals and biotechnology. In response to recent trends in society and technology, In recent years, in response to societal changes and trends in science and technology, we have taken up the challenge of technology support for our Sustainability Innovation Business and Digital Innovation Business, including all-solid-state batteries, fuel cells, power semiconductors, water treatment and biomass, advanced medical materials, and regenerative medicine.
To provide more reliable and more sophisticated technical services, TRC conducts technology development activities not only in-house, but is also continually improving its technical capabilities and creating new analysis technologies through participation in national projects, joint research with universities and research institutions, and use of large research facilities such as SPring-8. We are aiming to develop a new service that enables bidirectional prediction by integrating simulation and data science in virtual space, as well as one-way analysis of structures and physical properties by measurement in real space.
Advanced analysis has the power to open up new frontiers in science. We believe that TRC's reason for being lies in the creation of new materials, new functions, new products, and new processes, and the support for problem solving through advanced analysis.
Business fields of TRC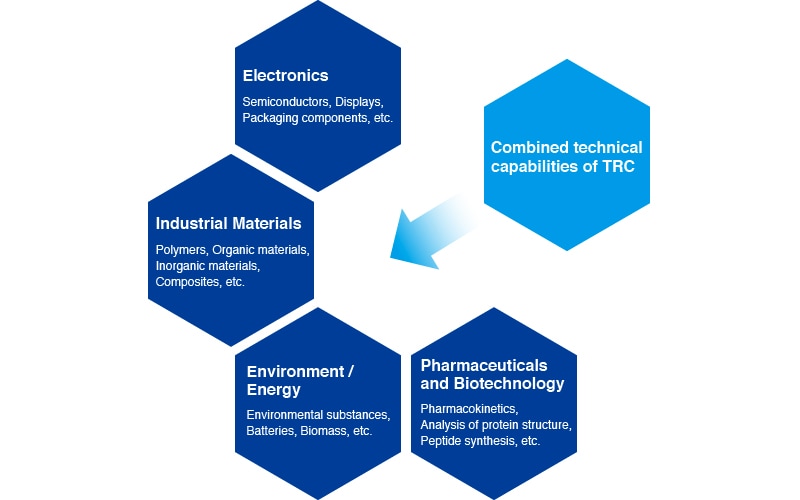 Kamakura Techno-Science, Inc.
Kamakura Techno-Science, Inc. was established in 2002. By maximally exploiting the technology and human resources which Toray has cultivated in its nano/bio research and R&D on pharmaceuticals and medical devices, the company provides novel solutions to meet social needs, thereby contributing to the advancement of R&D by customers both inside and outside the Toray Group and incubating the results derived from Toray's research which do not fall under an existing area of business to create new businesses.
Overview of Kamakura Techno-Science