Toray Group Corporate Social Responsibility

Materiality

In fiscal 2015, Toray Group selected material issues for CSR based on the GRI G4 Guidelines, which are a set of international sustainability reporting guidelines. In fiscal 2017, the Group reevaluated the material issues before launching its Sixth CSR Roadmap.
Materiality Assessment Cycle
Toray Group regularly implements the following process to reevaluate its material issues for CSR, while incorporating recommendations from external thought leaders.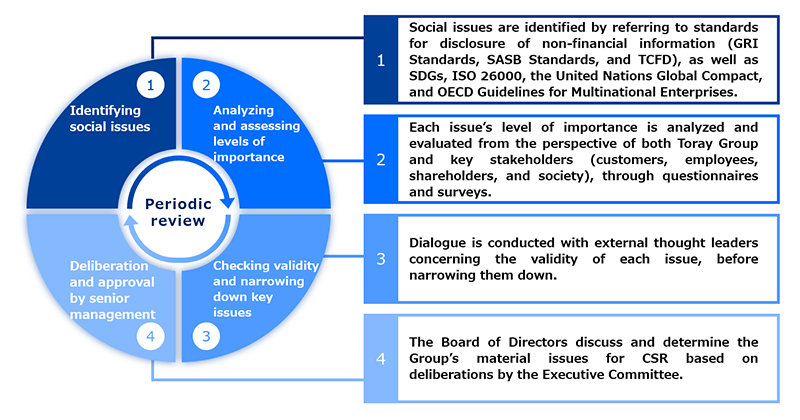 Updated Material Issues and Key Performance Indicators Reflected in the CSR Roadmap
Toray Group addresses the material issues for CSR with specific initiatives under its CSR roadmap. The Group has outlined relationships between material issues, the CSR Guidelines, and roadmap goals in its CSR Roadmap 2022 to facilitate its efforts.
Toray Group's CSR initiatives reflect local circumstances in each country and region, but the Group also pursues shared, group-wide initiatives, which are managed with group-wide targets. Under the CSR Roadmap 2022, the Group has also set group-wide KPIs, and uses the Plan-Do-Check-Act (PDCA) cycle to drive progress on its efforts.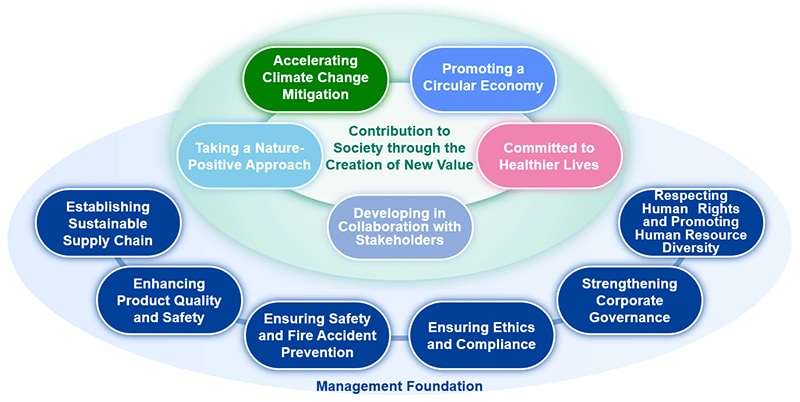 Materiality View of CSR Roadmap
The relationships between materiality, associated CSR Roadmap main initiatives, KPIs, and progress achieved are described in this table.