Developing the Next Generation of Talent
Developing the Next Generation of Talent
Supporting science education to prepare young people for the future
Since 2007, Toray Group has been supporting science education to prepare young people for the future by sending employees to give science lessons at elementary and junior high schools in local communities, as part of its CSR initiatives.
Planting the seeds of new science and technology with children
As competition in science and technology heats up around the world, improving the education of budding scientists and engineers is a pressing task for ensuring future innovation. Toray Group regards this as one of today's most pressing social issues. In Japan, children's interest in science has been on the decline, and more and more young people are pursuing careers in non-technical fields. To address this situation, children must be shown the wonders of science and technology from a young age. Efforts by industry are being encouraged, to supplement what schools can do. Toray Group engages in dialogue with school teachers and offers examples of its technologies for use as teaching resources in class. The Group hopes to open children's eyes to the promise of science and technology for solving the problems faced by humankind today.
Experiencing Science Connected to the Real World
Toray Group instructors provide lessons using advanced materials made by Toray as teaching tools. Young students learn how advanced Japanese nanotechnology is being utilized in everyday life, and how it is being used to help solve global environmental problems. The program aims to enhance the way children perceive and think about science and show them benefits of learning more about it.
Features of the Toray Group science education support programs
Extended programs are based on the school curriculum and designed with teachers
Using actual advanced materials made by Toray to help students see the connection between learning and the real world
Getting students to think about the role of advanced materials in creating a sustainable society
Overview of Toray Group's science education support programs
Topic
 
Target
Program name
Related
subject
Related
official
curriculum
No. of
hours
Scientific
experiments
Instructors sent to schools

Teaching materials provided to schools
Fifth year of elementary school
Thinking about water filtration and the global environment
Science
How things dissolve
2 hours
First year of junior high school
Learning about particles in water
Properties of aqueous solutions
1 hour
Environmental
education
Instructors sent to schools
Sixth year of elementary school
Water treatment membrane and global environmental issues
Science/ Integrated learning
Biology and the environment
1 hour
Third year of junior high school
Advanced materials and global environmental issues : Materials can change our lives
Science, technology and humankind
1 hour
Notes:
Upon request, employees may also be sent to teach classes for high school students.
In science experiment programs, Toray Group supplies schools with lab materials, as well.
Experiment-based teaching materials are provided to teachers free of charge, and they are also used in teacher training courses at universities.
Filtration Experiment Using Toray's Water Treatment Membrane (Hollow Fiber Membrane) (Utilized in all Programs)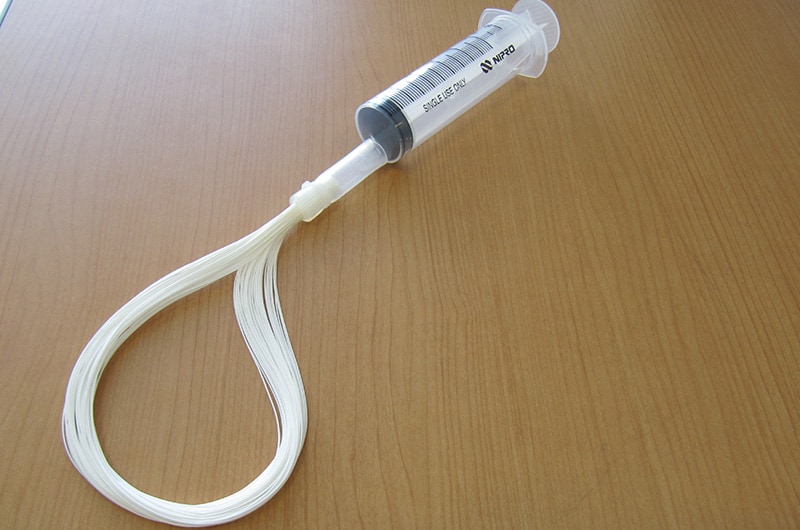 Teaching tool used in class
Hollow fiber membrane:
This is a unique Toray teaching tool utilizing its hollow fiber membrane for water treatment.
Lesson Format (Fifth-Year Elementary School Students: Thinking about Water Filtration and the Global Environment)
Introduction: Review what has been learned so far about removing dissolved material from a solution. Students consider whether color can be taken out of water using filter paper.
Part 1: Experiment to filter color out of water using hollow fiber membrane

Part 2: Saltwater filtration experiment using hollow fiber membrane. Students check if the filtered solution contains salt.
Knowledge application: The use of water treatment membranes by society is explained and students are made aware that global environmental problems such as water shortages are issues that also affect their lives.

Conclusion: Learning about the relationship between filtering technologies and global water problems.
Feedback from Students
I really like science now after this lesson. I'm going to tell my family all about the interesting class I had today. (Fifth-year elementary school student)
Science is amazing because it allows you to make a filtration device with super tiny holes of one nanometer. I hope this filtration device will be widely used so that everyone can get drinking water. (Sixth-year elementary school student)
Today's lesson was really fun. I learned about advanced Japanese technology and expanded my options for a future career. (First-year junior high school student)
I thought there wasn't much we could do about environmental problems like global warming, but now I know that many things can be done with advanced materials. (Third-year junior high school student)
Feedback from School Teachers
As a knowledge application activity rather than a textbook-based lesson, it was a very interesting class. It was an opportunity for students to think rather than just absorb the concept of microscopic particles. It also helped them to better understand the concept. (Fifth-year elementary school teacher)
The lesson gave students the opportunity to take their six years of science learning and form a global perspective. It was a valuable experience for the kids to conduct experiments with tools not usually available in school. (Sixth-year elementary school teacher)
The practical lesson was given by someone from the frontlines of scientific application, which provided great learning motivation to the students. It made me fully realize the benefits of collaboration between schools and companies. I also appreciated the way the instructor actively involved the students. (Third-year junior high school teacher)