CSR Activity Report (CSR Guideline Activity Reports) - Safety, Accident Prevention, and Environmental Preservation
Biodiversity Initiatives
Biodiversity is being destroyed at a dangerously fast pace with the advance of climate change, the depletion of natural resources, the destruction of ecosystems, and the extinction of species. This is one of the most urgent problems facing the world.
Toray Group views conservation of biodiversity as a critical global environmental issue that is of equal importance to reducing greenhouse gas emissions. The Group conducts risk assessments during the facilities design phase as well as the product safety review phase of all products. This encompasses the use of environmental assessment checklists to assess impacts on biodiversity, as part of the Group's commitment to help build a sustainable world.
Working Group Considers Initiatives for Biodiversity
Toray Group develops biodiversity initiatives, which are prioritized and implemented under the guidance of the Toray Group Biodiversity Basic Policy. In fiscal 2020, the Group continued to review raw materials containing bio-based ingredients.
Biodiversity InitiativesEstablished December 2010
Basic Approach
Toray Group appreciates the gifts of nature that biodiversity provides, and strives to realize the conservation and sustainable use of biodiversity. The Group contributes to society through the development and dissemination of products and technologies which advance conservation of biodiversity.
Action Guidelines
We take into consideration the impact of our business activities on biodiversity, and strive to realize the conservation and sustainable use of biodiversity.
We endeavor to develop environmentally friendly technologies and products, and contribute to the conservation of biodiversity by making them available for use.
We practice fair use of genetic resources on the basis of relevant international agreements.
We recognize the influence of biodiversity within the supply chain, and pursue coexistence with nature.
We strive to raise employee awareness on biodiversity, and contribute to the building of a society that nurtures biodiversity through our communication with stakeholders.
Note: Toray Group respects Nippon Keidanren's Declaration of Biodiversity (Guide to Action Policies) and the Japanese Ministry of the Environment's Guidelines for Private Sector Engagement in Biodiversity. The Group is a promotion partner of Nippon Keidanren's Declaration of Biodiversity.
Procuring Raw Materials
Conduct a survey of palm oil contained in raw materials (%)
■Reporting scope

Toray Industries, Inc.

■Target in fiscal 2020

Usage survey of certified products : 100%
Result in fiscal 2020
93%
As one of its biodiversity conservation initiatives, Toray Group conducted a survey of products to determine the usage of bio-based raw materials in product manufacturing. The Group developed rules for checking the biodiversity impacts of products in fiscal 2015, and has applied the rules to all products.
Among them, palm oil in particular has attracted a high level of attention for its environmental impact risk. Accordingly, the Group regards it as a key raw material for follow-up action. It will conduct an investigation into certified products and push to switch over to them in the three years from fiscal 2020 to fiscal 2022.
In fiscal 2020, the Group investigated whether or not raw materials made with palm oil used certified products. Although some suppliers did not respond, a survey of 93% of suppliers was completed.
Going forward, Toray Group will continue its investigation with suppliers that have not responded, determine the feasibility of switching to certified products for each raw material, and push to make the switchover.
Social Initiatives
Toray Group carries out biodiversity conservation through social contribution activities as a good corporate citizen. See the following page for information on the creation of biotopes at a Group plant and the participation of employees in cleanup volunteering.
Increasing Green Areas
Plants at Toray Industries, Inc. and its group companies in Japan are operating greenery policies and plans, guided by the Toray Group Basic Policy for Increasing Green Areas.1 The plans encompass initiatives to conserve green areas, including natural forests2 that have been protected since the plants began operating. Sustainable greenery conservation initiatives also help to conserve the environment for communities.
Efforts to increase green areas by creating environmental conservation forests around Toray Industries' plants began in the autumn of 1973, when about 4,000 employees went to temples and shrines (which in Japan are usually surrounded by greenery) and mountains to collect tree seeds that had fallen there. The seeds were grown into seedlings at each workplace, and employees painstakingly planted them one by one.
Nearly 50 years have passed since then, and the trees grown from seeds, including laurel, camphor, and oak, now cover over 10,000 m2 around the Mishima Plant at Toray Industries.
It is still working to conserve the environment by increasing green areas. Altogether, Toray Industries has created green areas covering approximately 200,000 m² at 12 plants, including Mishima Plant and the Basic Research Laboratories (now the Basic Research Center) through the shrine forest method.3
1 Toray Group Basic Policy on Increasing Green Areas was established in 2012, evolving out of greenery policies that were first established in 1973.
2 Natural groves or forestation by species based on potential native vegetation
3 Modeled after traditional forestry techniques used by Japanese shrines, this greening method reproduces green spaces in a state close to natural forests by using trees that are native to the area. In order to create forests with local genes, Toray employees collected seeds from shrines and forests near plants, grew them into seedlings, and planted the seedings to create forests at the plants.
Toray Industries, Inc. (Mishima Plant)
Immediately after planting (1973)

Current state (photo taken in 2020)
Toray Industries, Inc. (Tokai Plant)
Tree planting (1976)

Current state (photo taken in 2020)
Toray Group's Basic Policy for Increasing Green AreasEstablished June 2012
Toray Group contributes to the preservation of the natural environment by promoting tree planting using planting methods suitable for the biodiversity of local habitats.
Toray Group aims to surround its production plants with greenery by giving priority to tree planting in areas at the boundaries of factory sites.
Toray Group sets goals for making each of its production plants greener while considering how to attain harmony with the surrounding environment as well as regulations concerning green space ratios in each respective country or region.
Toray Group's Approach to the Relationship between Corporate Activities and Biodiversity
Starting from the procurement of raw materials, the entire lifecycle of Toray Group's business activities has a wide range of effects on biodiversity. On the risk side, these effects include the use of water resources and energy resources and emissions into the atmosphere and water, while on the opportunity side, these effects include reductions to CO2 emissions by offering products that reduce the weight of parts for aircraft and other equipment and protecting habitats by offering products that maintain green areas and protect water resources.
The two diagrams below conceptualize the relationship between the Group's business activities and biodiversity in terms of the two aspects of risks and opportunities.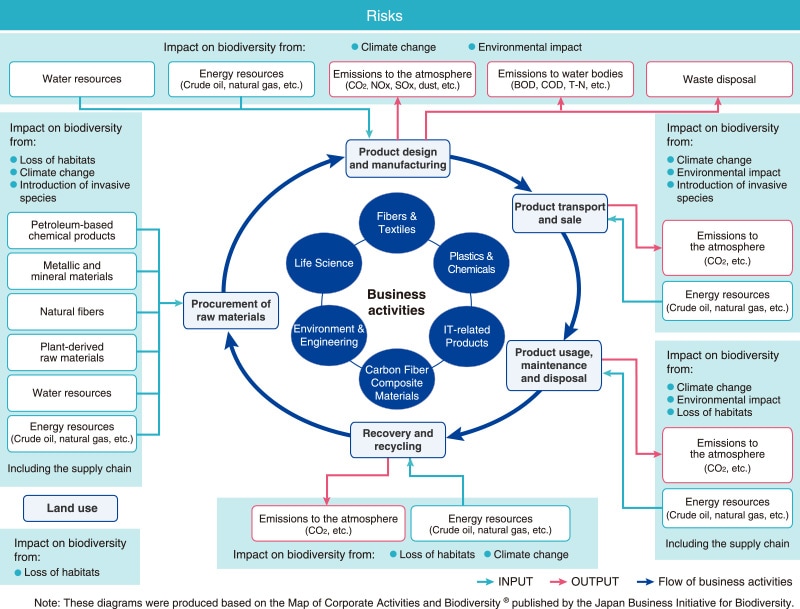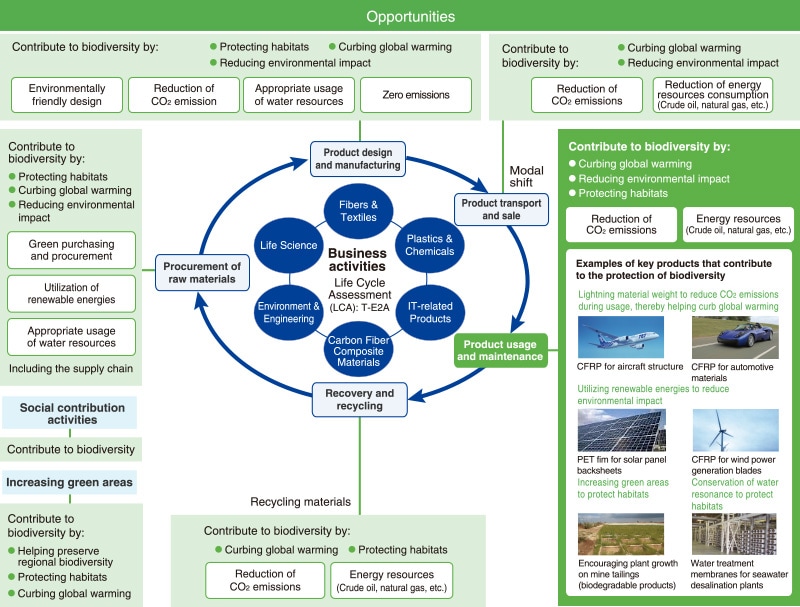 Click here for the main initiatives for CSR Guideline 3, "Safety, Accident Prevention, and Environmental Preservation" in CSR Roadmap 2022.