Activities Carried Out in Fiscal 2019
Fiscal 2019 CSR Activity Report- Social Contribution Activities
Activities Carried Out in Fiscal 2019
Social Initiatives
Supporting Science Education in Schools (Sending
Employees to Teach Classes at Schools)

In order to foster greater awareness of the environment and interest in the sciences, Toray Group has developed environmental education and science experiment programs that employ some of its products. Delivering these programs, Group employees teach classes at local elementary, junior and senior high schools. In fiscal 2019, the Group sent employees to teach classes based on environmental education and science experiment programs to 41 schools in Japan.
The Group also supplied materials and equipment for science experiments and teaching materials to schools throughout Japan and conducted a professional development seminar for teachers in Tokyo. In its environment education program, the Group has increasingly fielded requests to mention its initiatives to help achieve the United Nations Sustainable Development Goals (SDGs), so employees introduced those initiatives alongside the Toray Group Sustainability Vision. Teachers and students have reacted positively to the classes and report that it helps to link what students learn at school to the real world.
This feedback and the opportunity to interact with students whose interest is sparked by the science experiments are both rewarding and motivating for the employees involved, and it remains a driving force for this ongoing initiative.
Questionnaire Results on Classes Taught by Toray Group Employees
Satisfaction among Teachers
How satisfied were you with the class?
Impression of Instructor from Toray Group
Were you glad to teach the class?
Toray Group's involvement in science education extends beyond Japan to other countries where the Group does business. Toray Composite Materials America, Inc. (CMA) has been conducting outreach science experiment programs at local schools since 2012, using science experiments, Toray products, and visual materials to show how the Group and CMA are working to address environmental issues such as water scarcity and global warming. The program benefits communities and helps to build positive relations. In 2019, CMA sent employees to teach classes at three local schools, reaching more than 100 students. The employees who teach the classes find this valuable opportunity to interact with students in their communities highly rewarding.
An employee of Toray Industries conducts a science experiment class

Students listening intently during a workshop
An employee of Toray Composite Materials America, Inc. teaches a class at a local high school

At the professional development seminar for teachers in Tokyo
Collaborating on Science Events
In response to requests from local communities, Toray Group participates in and collaborates on a variety of activities designed to increase interest in science, technology, and manufacturing.
Summer Riko-challe1 2019 Science Event Sponsored by Toray Industries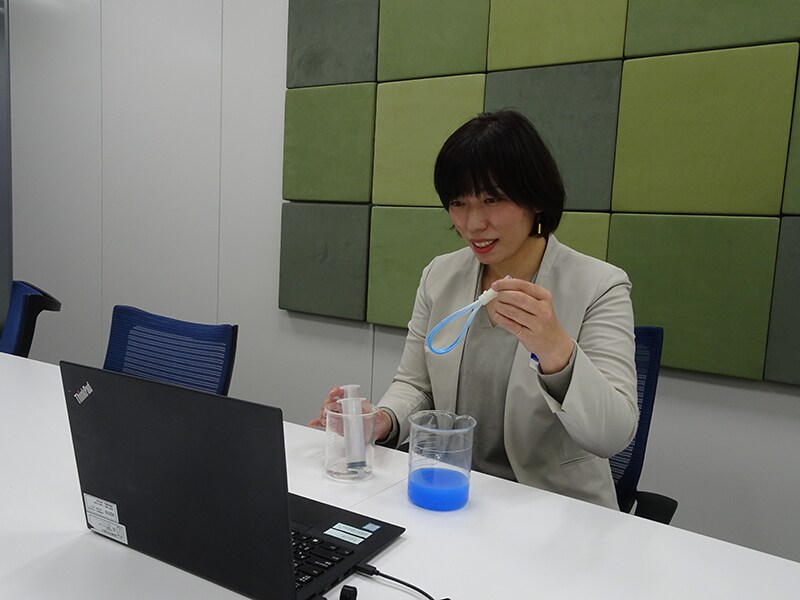 High school girls get firsthand research experience (Toray Research Center, Inc., Global Environment Research Laboratories, Toray Industries, Inc.).
In 2019, the Global Environment Research Laboratories of Toray Industries and Toray Research Center, Inc. (TRC) conducted the Summer Riko-challe 2019 Toray Research Experience Course under the theme, "Let's Protect the Blue Earth with the Power of Science." Seven high school girls attended the course, wearing lab coats, safety glasses, and face masks to conduct various research experiments under the guidance of young researchers from Toray Industries and TRC. During the course, the students made functional separation membranes and used dyes to evaluate the membrane performance. They then used a spectrometer to analyze the filtrate and conducted morphological observation using scanning electron microscopes. The feedback from students included comments like these: "I learned in detail about a technology with useful everyday applications"; and "It was valuable to talk with women involved in research, and I came away with a greater interest in research work."
1 Riko-challe is an initiative established by the Gender Equality Bureau division of the Japanese Cabinet Office to provide support for junior high and high school girls who are interested in science and engineering, designed to help them envision their future and choose career paths in those fields.
University Summer Camp for High School Students in India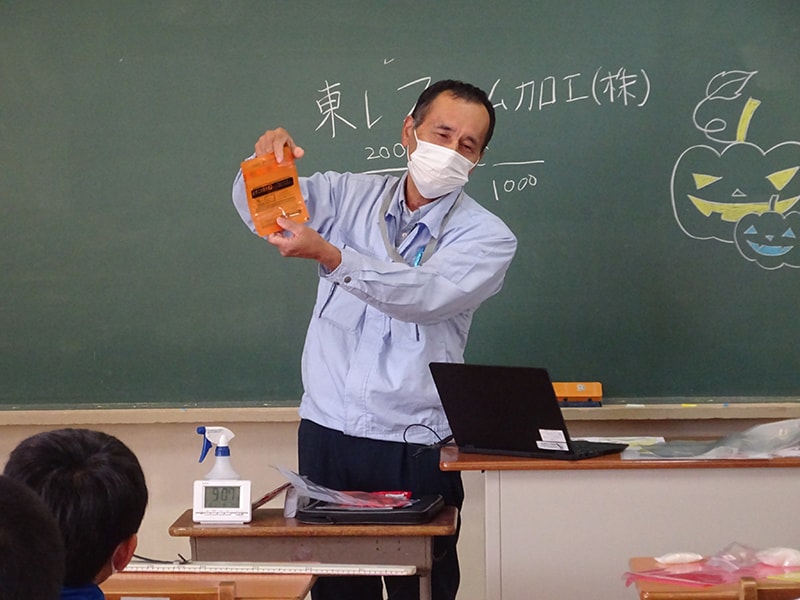 High school students in India examine a hollow fiber membrane during a class (Toray Industries (India) Private Limited).
Toray Industries (India) Private Limited conducted a class on Toray Group's technologies and its initiatives to address global environmental issues. The class was provided to a group of promising high school students from southern India who had been chosen to attend a summer camp organized by the Indian Institute of Information Technology (IIIT). The lecture took place at the IIIT campus, which is situated in the Sri City Industrial Site. As part of the workshop, the students observed filtration using a hollow fiber membrane, which generated many questions such as whether the hollow fiber membrane was biodegradable and how it differed from a reverse osmosis membrane.
Workshops at the Science Museum
Since 2012, Toray Industries has conducted workshops at the Science Museum located in Kitanomaru Park in Tokyo, every day that the museum is open. In fiscal 2019, more than 5,527 people ranging from young children to adults attended the two workshops, which examined filtration and the importance of water, and the amazing properties of fibers.
Sponsoring the Japan Biology Olympiad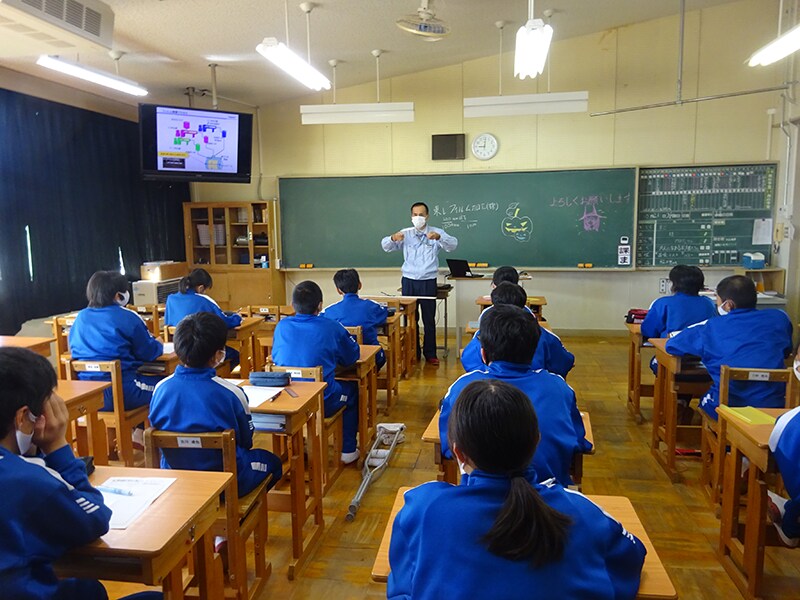 Four students from Japan (photo courtesy of Organization of Japan Biology Olympiad Committee)
Since 2007, Toray Industries has supported Japanese senior high school students to attend the International Biology Olympiad through arrangements made by the Japan Science Foundation. Four Japanese students attended the 30th Olympiad, which was held in Szeged, Hungary in July 2019. Out of the 285 students from 72 countries and regions, all four students from Japan earned medals: two silver and two bronze medals.
Held Aozora Science School
Toray Industries organizes the Aozora Science School2 to foster children's interest in and an affinity for science, through fun activities that combine nature and science. The activities include filtering lake water to remove impurities, making rockets, and a campfire that changes color. The fifth edition was held in 2019 and featured experiments using Toray materials such as TORAYCA™ and ENTRANT™ as well as a sports science class led by former players of the Toray Arrows men's volleyball team, which was introduced the previous year. The campers enjoyed the full program of activities, which delivered many scientific discoveries and wonders.
2 Aozora Science School is a hands-on educational camp designed by Toray Industries, supervised by Leave a Nest Co., Ltd. and provided by JTB Corporation.
Testing the moisture-permeable waterproof qualities of ENTRANT™ fabric, which breathes air delivered from beneath while remaining impermeable to the cylinder of water on top of the fabric

Stargazing and enjoying a clear view of Saturn's rings
Toray Science Foundations around the World
Toray Group has outlined a corporate philosophy of "contributing to society through the creation of new value with innovative ideas, technologies and products," which the Group delivers on by practicing innovation. In order to continuously deliver innovation, the Group must secure and develop talented human resources. From the long-term perspective, the Group fosters human development by providing research grants and prizes through Toray Science Foundation and Toray science foundations outside Japan.
60th Toray Science and Technology Prizes, Toray Science and Technology Grants, and 51st Toray Science Education Prizes
In February 2020, the Toray Science Foundation chose the latest recipients for the 60th Toray Science and Technology Prizes, Toray Science and Technology Grants, and 51st Toray Science Education Prizes.
Toray Science and Technology Prizes were awarded to Dr. Toichiro Kinoshita and Dr. Masamitsu Iino respectively. They and the science educators who were awarded Toray Science Education Prize received certificates, medals, and prize money. Grants totaling 130 million yen were awarded to 11 recipients of Science and Technology Grants.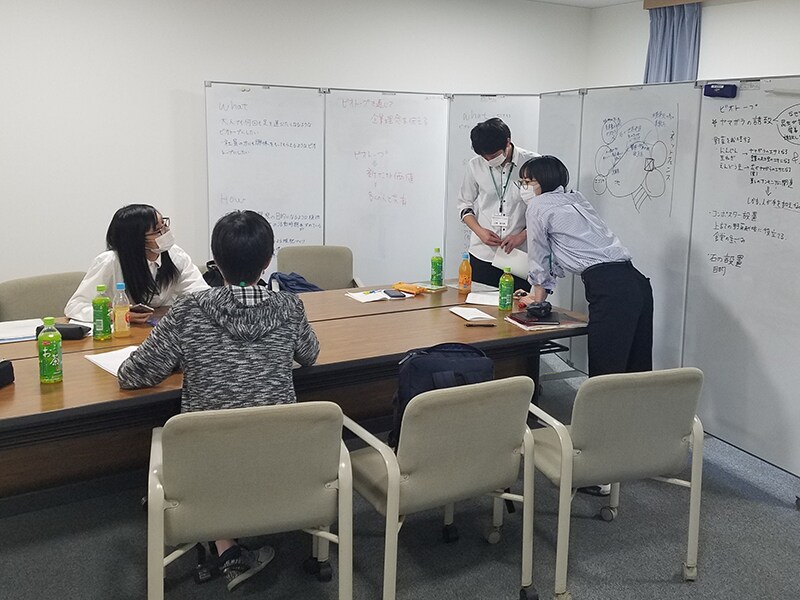 Dr. Toichiro Kinoshita
Development of precision calculation method of Quantum Electrodynamics and its applications
Dr. Kinoshita used a precision calculation method for quantum electrodynamics that he developed, to successfully obtain the most accurate theoretical value in the history of physics.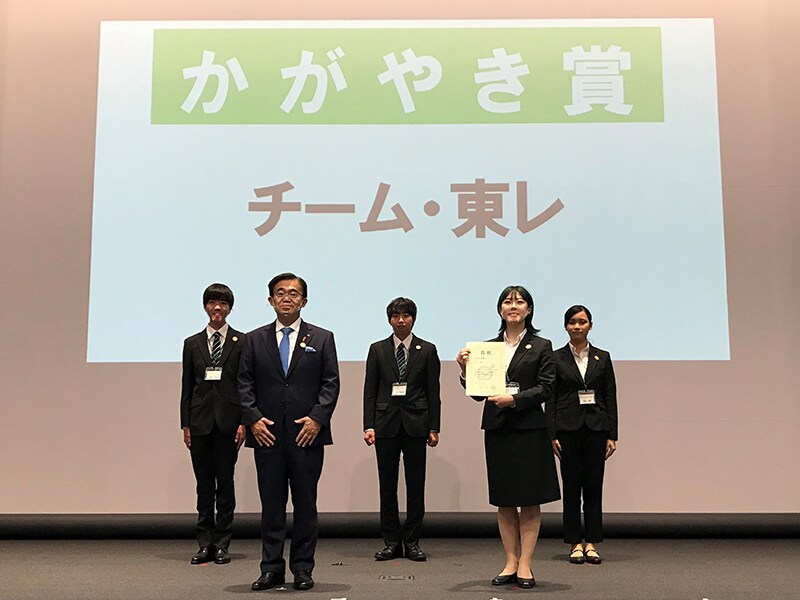 Dr. Masamitsu Iino
Studies on regulatory mechanisms of cell functions by calcium
Dr. Iino used various new techniques to realize numerous findings concerning the temporal and spatial control mechanism of intracellular calcium and its physiological role.
The Minister of Education, Culture, Sports, Science and Technology Prize of the Toray Science Education Prize, which the Toray Science Foundation is known for, was awarded to Masaaki Toyoda, a teacher at Otani Junior and Senior High School, who with students fabricated a Van de Graaff generator using available materials as part of the school's extracurricular student activities. He was awarded the prize for the major sense of accomplishment gained by students from developing a battery-driven Van de Graaff generator that works consistently in rainy seasons. This was achieved over a year of modifications and improvements, resulting in a Van de Graaff generator that exceeds the performance of commerially made units.
Malaysia Toray Science Foundation (MTSF)
The 26th presentation ceremony of Malaysia Toray Science Foundation was held in November 2019, and a total of 290,000 ringgit (equivalent to about 7.5 million yen) in prize money and grants were awarded. The Toray Science and Technology Prize was awarded to one scientist, Toray Science and Technology Grants awarded to 11 researchers, and Toray Science Education Prizes awarded to 15 educators.
MTSF was honored with the 2019 Japanese Foreign Minister's Award for its contributions to friendly relations between Japan and Malaysia. To mark the occasion, Hiroshi Oka, Ambassador of Japan to Malaysia, presented the honor to Dr. Omar Abdul Rahman, chairman of MTSF.
26th presentation ceremony of Malaysia Toray Science Foundation with Science and Technology Prize winners

2019 Japanese Foreign Minister's Award presented to Dr. Omar Abdul Rahman (right), chairman of MTSF
Thailand Toray Science Foundation (TTSF)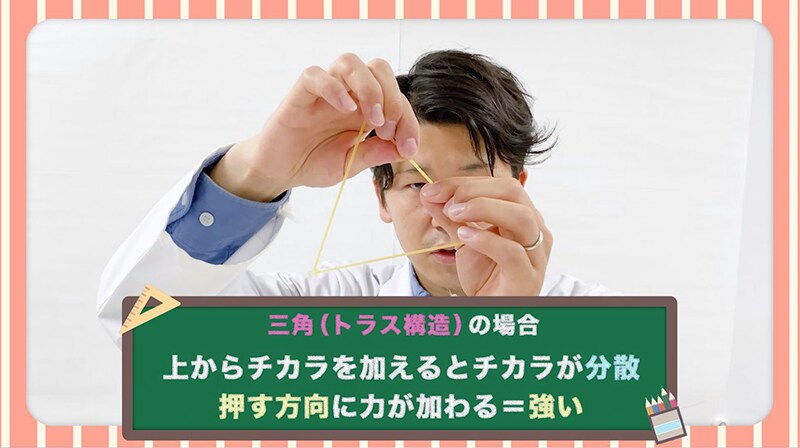 Selection meeting for Toray Science Education Prizes
In fiscal 2019, TTSF awarded two Science and Technology Prizes, 21 Science and Technology Research Grants, and 13 Science Education Prizes totaling 5.44 million baht (equivalent to about 18.5 million yen) in prize money and grants. Due to the COVID-19 pandemic, the 26th presentation ceremony of Thailand Toray Science Foundation Award as postponed and will be conducted at a future point in time together with the 27th ceremony.
Indonesia Toray Science Foundation (ITSF)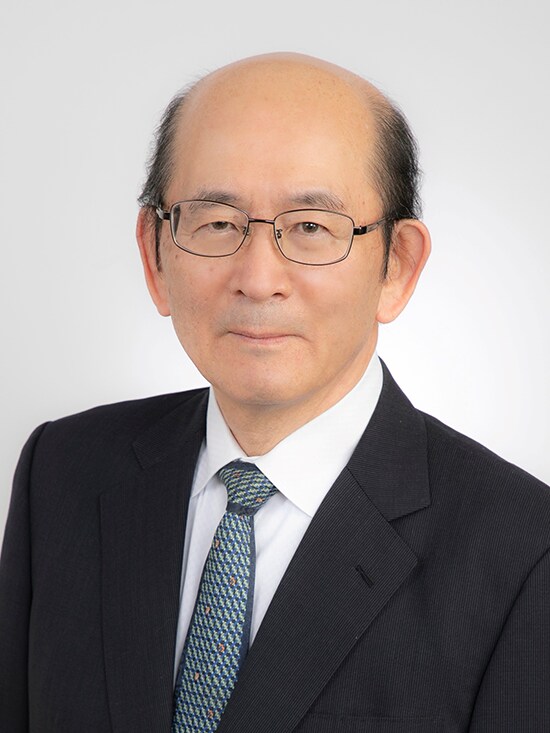 26th presentation ceremony of the Indonesia Toray Science Foundation, with science and technology grant recipients
The 26th presentation ceremony of the Indonesia Toray Science Foundation was held in Jakarta in February 2020, awarding one Science and Technology Prize, 18 Science and Technology Research Grants, and 10 Science Education Prizes totaling 1.05 billion rupia (equivalent to about 7.88 million yen).
The day before the ceremony, winners of the fiscal 2018 grants participated in a research presentation meeting and a science education seminar. During the meeting, researchers presented their research results in one of three groupings consisting of physics and engineering, chemistry and biotechnology, and biology and environment. There was an in-depth discussion among the screening staff, judges and the general participants. In the science education seminar, the 10 recipients of this year's Science Education Prizes gave presentations on the teaching materials that they personally developed.
Korea Toray Science Foundation(KTSF)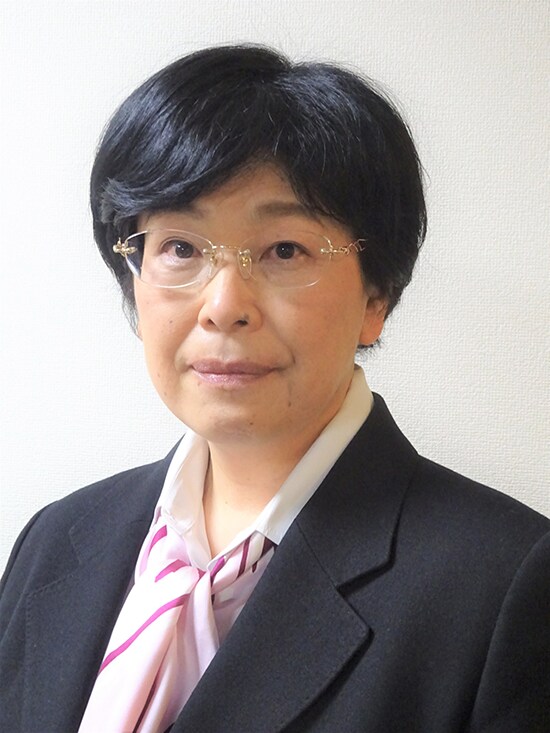 2nd presentation ceremony of Korea Toray Science Foundation, with science and technology grant recipients
The 2nd presentation ceremony of the Korea Toray Science Foundation Science was held in October 2019. A Science and Technology Prize was bestowed upon one scientist and three-year Research Fund Grants were awarded to four young researchers to pursue new research projects. The ceremony was attended by government officials, academic scholars, and eminent persons including the Minister for Economic Affairs of the Embassy of Japan. The guest speaker was Professor Hideo Hosono of the Tokyo Institute of Technology, who is considered a potential candidate for a Nobel Prize in Physics.
Environmental Conservation in Communities
In addition to implementing initiatives to conserve the environment around its production sites, Toray Group companies collaborate with non-profits and municipal governments on ongoing efforts to clean up rivers and shorelines, and maintain forests
Employees clean up the shoreline in Tagonoura, Japan as part of the introductory training for new employees (Toray Human Resources Development Center of Toray Industries)

Employees collaborate with the non-profit Arakawa Clean Aid Forum to clean up the shores of the Arakawa River, while educating participants about impacts on the global environment and ecosystems (Toray Group companies in the Tokyo area)
Employees participate in the Chirihama Nagisa Clean Campaign to preserve the Chirihama coastline in Hakui City, Ishikawa Prefecture (Sowa Textile Co., Ltd.)

Employees plant mangroves to conserve a mangrove forest (Toray Plastics Precision (Thailand) Co., Ltd.)
Employees cultivate young trees on the plant premises and donate them to municipal offices and police stations in Tangerang, Indonesia, to help keep the community green (PT Indonesia Toray Synthetics)

Employees collect trash from the shoreline in Guangdong, Zhuhai City (THK Apparel (Zhuhai) Co., Ltd. in China)
Employees regularly collect trash and help with the upkeep of surrounding communities (Toray BSF Coating Korea Ltd. and Toray Battery Separator Film Korea Ltd.)
Disaster Relief and Reconstruction Assistance
Toray Group uses its resources to assist areas affected by large-scale disasters in and outside Japan
Vocational Research Support for Junior High School Students (Toray Industries)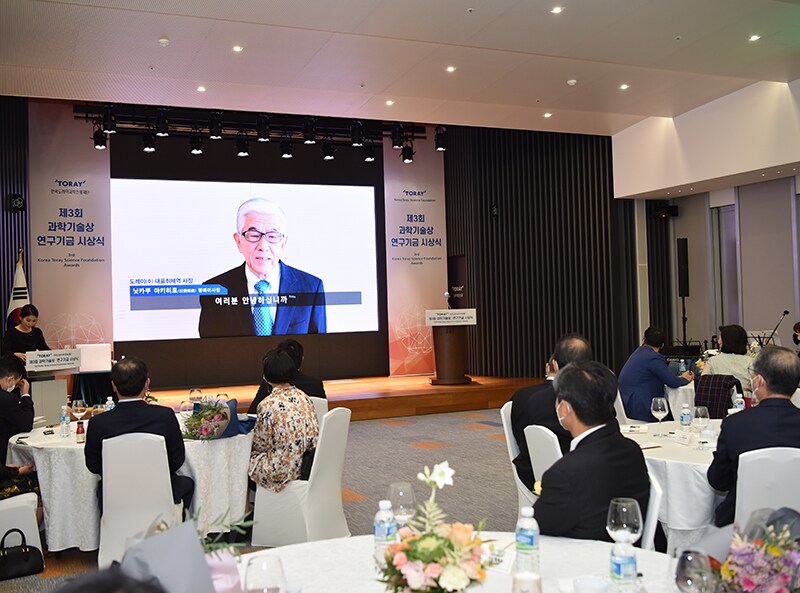 Researchers from the Electronic & Imaging Materials Research Laboratories of Toray Industries talk to students about their work
Since 2012, Toray Industries has sent researchers each year to Career Challenge Day3, a career education event held in Ofunato City, Iwate Prefecture. Representatives from the Company speak with local junior high school students and explain the nature of the R&D work done at a manufacturer. The Company is committed to regularly participating in this event, which helps the youth of Ofunato City find career paths.
3 Career Challenge Day is an alternative program for the workplace experience education that was no longer possible after the Great East Japan Earthquake. In fiscal 2012, the program was awarded the Minister of Education, Culture, Sports, Science and Technology Award.
Volleyball Clinic (Toray Industries Tohoku Branch, Toray Arrows)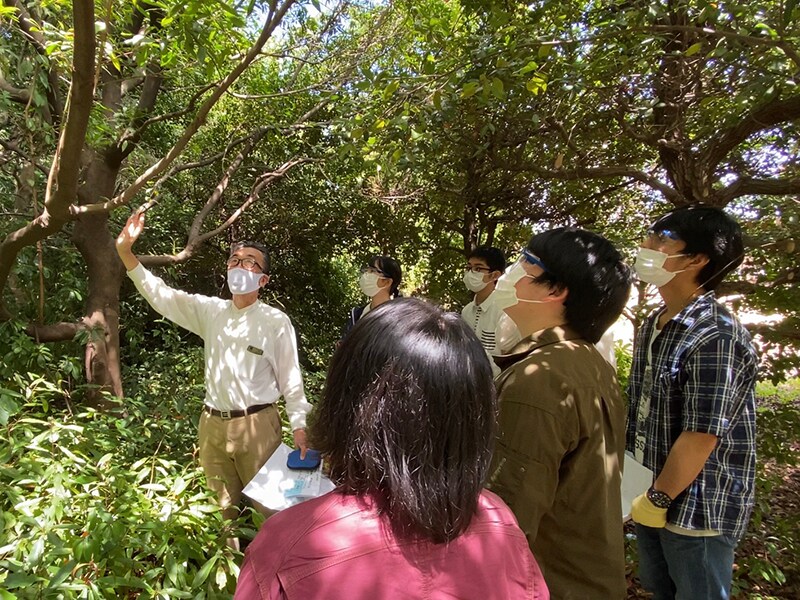 Kana Oyama teaches basic volleyball skills at Tomiya Municipal Narita Junior High School
Since 2013, the Tohoku Branch of Toray Industries has used volleyball as a means of providing support for local reconstruction efforts. In May 2019, former national volleyball team member Kana Oyama visited Tomiya Municipal Narita Junior High School to speak to the students about her own youth and the importance of working to achieve one's dreams. Afterwards, she provided extracurricular instruction to the girls' volleyball team.
She and other former players of the Toray Arrows women's volleyball team visited Higashi-matsushima Municipal Omagari Elementary School to give a clinic on volleyball fundamentals and talked about the importance of teamwork and showing consideration toward opponents.
Natural Dye Workshop for Kids (Chori Co., Ltd.)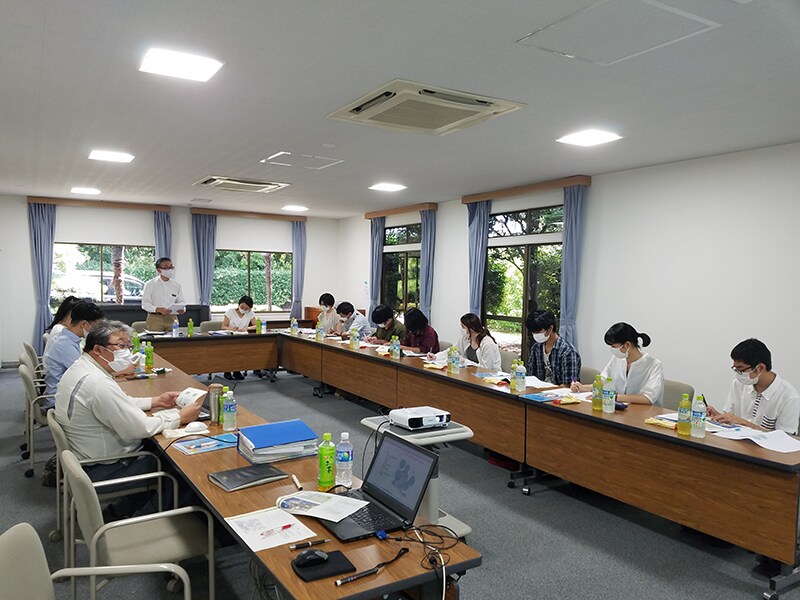 Kids show off reusable shopping bags that they dyed themselves
In September 2019, Chori Co., Ltd. held its seventh natural dye workshop in support of ongoing reconstruction efforts for the Great East Japan Earthquake. The workshop took place at the Kaigan Park Adventure Field and Takasago City Center in Sendai City, Miyagi Prefecture. The kids who attended the workshop used Chori's Natural Dye eco-friendly dying technology to color cloth shopping bags. The kids used the shibori dyeing technique to make different patterns on the cloth using objects such as marbles, chopsticks, and rubber bands. Employees interacted with the children and it was a fun time for all.
Aid for Areas Affected by Typhoons Faxai and Hagibis
Toray Industries made a charitable donation in the amount of 5 million yen to assist areas affected by Typhoons Faxai and Hagibis, which caused extensive damage in various parts of Japan. The donation was made through the humanitarian aid organization NGO Japan Platform.
Group companies Ichimura Sangyo Co., Ltd. and Marusa Co., Ltd. also made separate charitable donations to support reconstruction efforts through the Japan Red Cross.
Office and Plant Tours
Toray Group companies host field trips by local children and students, to support their career education. In fiscal 2019, Group companies conducted plant tours in various countries and regions, as well as hosted and conducted training for employees from Japan.
Plant tour for local elementary school students (Ogaki Fuso Spinning Co., Ltd.)

Plant tour for local elementary school students (Toray Hybrid Cord, Inc.)
An employee teaches a class at a local elementary school (Toray Advanced Film Co., Ltd.)

In Indonesia, local senior high school students visit an office (PT Easterntex)
Students from a local university in Thailand visit a plant (Toray Textiles (Thailand) Public Company Ltd.)

In the Czech Republic, local students visit the plant and research facilities (Toray Textiles Central Europe s.r.o.)
In Taiwan, employees help with career education at a high school near the Toray Industries plant, giving students a tour of the plant and an introduction on the work of manufacturers overseas (Toray Advanced Film Kaohsiung)
Promoting Communication Between Education and Business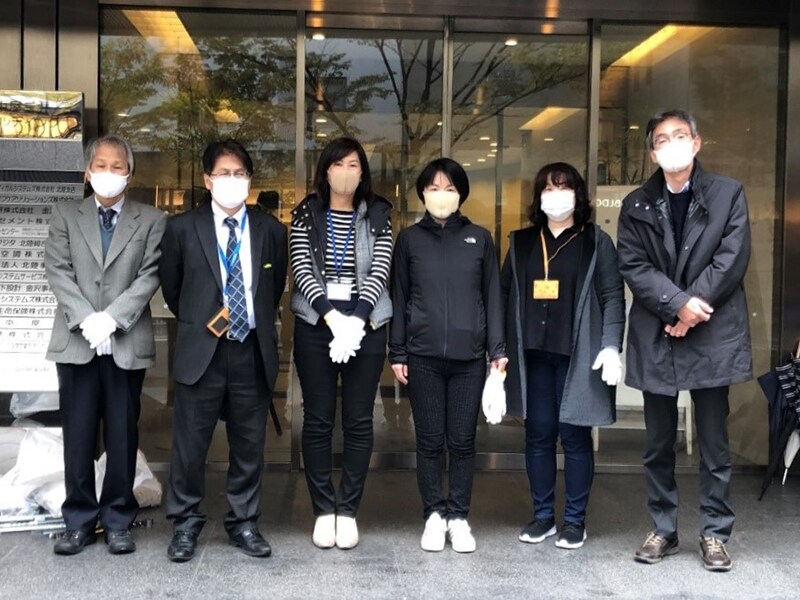 Hazard-prediction training at Mishima Plant (Toray Industries, Inc.)
As part of the Keizai Koho Center's Business Training for Japanese School Teachers program, Toray Industries has accepted around ten teachers each year in Shizuoka Prefecture since 1994. The participants learn about the Company's corporate philosophy and human resources development, and study research, production, safety, and environmental conservation at Toray Industries' Mishima Plant, as well as visiting the production floor. One participant said, "I learned about the efforts of a private sector company, which will make a big difference in the instruction that I provide to students." Complimentary feedback like this indicates that participants are using what they learn in this program in their classrooms.
Diverse Community Initiatives
As a responsible corporate citizen, Toray Group contributes to the betterment and advancement of communities.
Partnering with other Japanese-based companies in the same industrial park, 42 study desks were donated to local elementary and junior high schools in India (Toray Industries (India) Private Ltd.)

Employees of Group companies in Mexico assist with various duties at a Japanese supplemental school for children including helping teachers adjust to living in Mexico (Zoltek de Mexico S.A. de C.V., Toray Advanced Textile Mexico S.A. de C.V., Toray Resin Mexico S.A. de C.V., and Toray International de Mexico S.A. de C.V.)
In Indonesia, food supplies for victims of flooding in Jakarta are donated through an initiative organized by the Confederation of Indonesian Trade Unions (PT Acryl Textile Mills and PT Indonesia Textile Mills)

In Hungary, an employee dressed up as Santa visits excited kids at a local kindergarten class (Zoltek Zrt.)
Promoting Sports and Childhood Development
In addition to helping to promote sports through athletic activity, Toray Industries also contributes to childhood development through sports instruction and training camps.
Toray Arrows volleyball clinics are held in various parts of Japan

Toray Industries Boating Club members instruct members of a local junior high school's boating club
Boys' kendo class sponsored by the Toray Kendo Club (Shiga Plant)
Supporting Physical Education at Elementary Schools
Since 2015, former players of the Toray Arrows men's and women's volleyball teams have visited elementary schools to provide support of teaching soft volleyball in physical education classes.
In fiscal 2019, the players conducted a volleyball clinic at a school in Tokyo and a professional development clinic for elementary and junior high school educators in Atami City, Shizuoka Prefecture.
Teaching during an elementary school physical education class

Volleyball skills clinic for the professional development of physical education teachers in Atami City
Promoting Sports Participation by Sponsoring the Shanghai International Marathon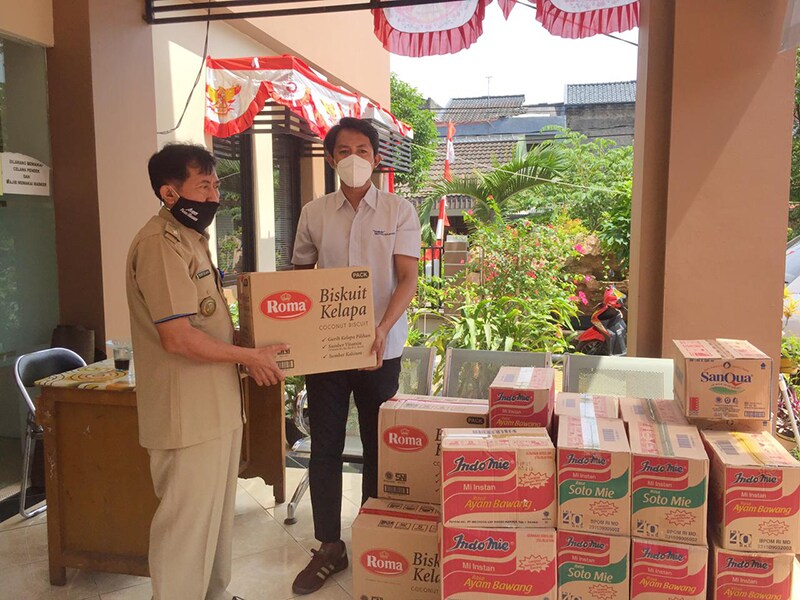 2019 Shanghai International Marathon takes runners through the streets of Shanghai
Toray Industries and Toray Industries (China) Co., Ltd. are helping to promote sports in China by sponsoring the Shanghai International Marathon. The event is designated as a Platinum Label Road Race by World Athletics, a classification reserved for the leading road races around the world.
Since the inaugural event in 1996, which attracted approximately 6,000 runners, participation has grown every year. The 24th Shanghai International Marathon in 2019 was a major event, with approximately 38,000 runners.
Supporting the Pink Ribbon Campaign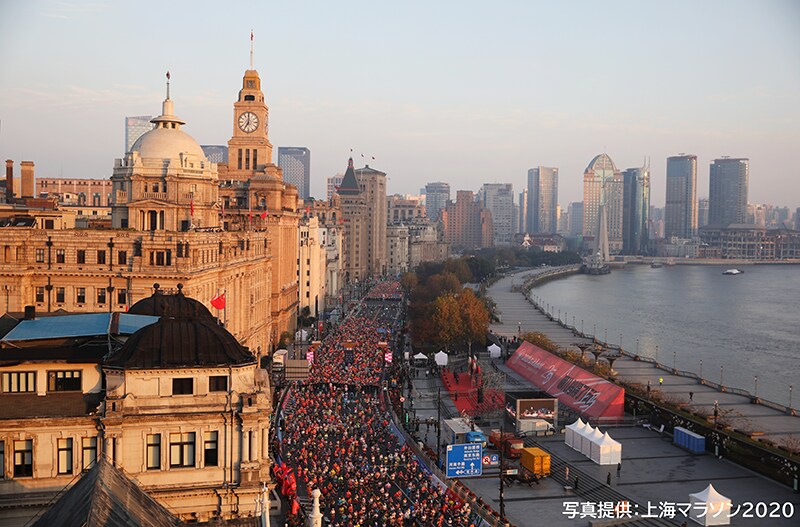 Mobile mammogram bus
The Toray Pan Pacific Open Tennis Tournament provides support for the efforts of the Japan Ladies Tennis Federation (JLTF) to eradicate breast cancer. A booth is set up in the arena to sell Pink Ribbon badges, with the money raised donated to help supply breast cancer screening equipment. A mobile mammogram bus is parked at the venue and provides screenings to those who have signed up in advance. Participating tennis players are also actively involved in promoting the campaign.
Supporting Fureai Concerts
To support culture, education, and welfare, Toray Industries co-sponsors concerts by the Fureai Trio for persons with disabilities, with Toray Group employees helping to organize and run the concerts. Fureai Concerts at venues across Japan, including elementary schools and social welfare facilities, bring music to the people through music instruction, mini-concerts, and audience participation.
In fiscal 2019, 13 Fureai Concerts performed in six cities were enjoyed by more than 2,000 people. At the Fureai Concert for people with disabilities, held at Tokyo Opera City Concert Hall in August 2019, volunteers from Toray Group and other corporate sponsors as well as individual volunteers handled various duties including guiding people to the venue, helping people get to their seats, and assisting audience members who wanted to try playing a violin. It was a night full of smiles.
Fureai Concert held in August 2019

Volunteers show a young child how to hold a violin
Functional Prosthetic Limb Development Project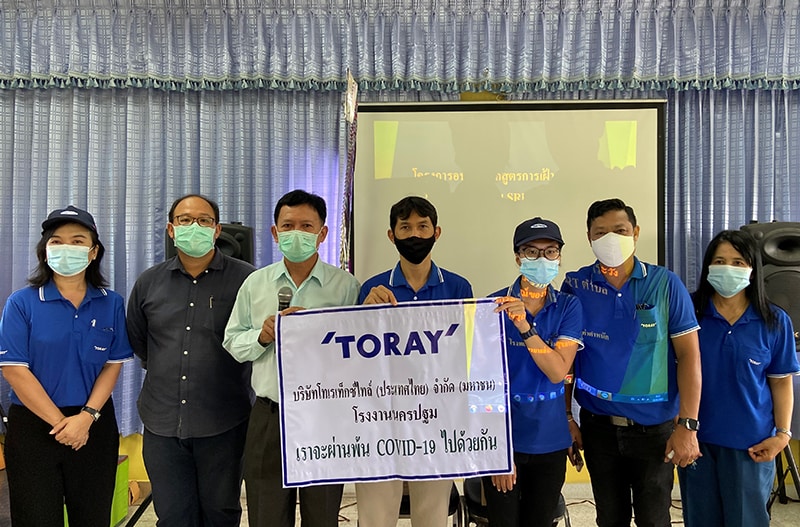 (Toray Industries (Thailand) Co., Ltd.)
Toray Group companies in Thailand are assisting Chulalongkorn University with the development of a prosthetic limb that will improve the quality of life for underprivileged amputees, under the "A New Step with Research and Innovation Project." Carbon Magic (Thailand) Co., Ltd., which normally manufactures carbon fiber-reinforced plastic (CFRP) components, is assisting the university to realize a functional prosthetic limb made from strong and lightweight carbon fiber. The developers welcome the chance to use components made in Thailand, which will significantly reduce the overall cost of the prosthetic limb compared with using imported components.
Professor Supot Teachavorasinskun of Chulalongkorn University, who is also head of engineering for the project, together with Assistant Professors Pairat Tangpornprasert and Chanyaphan Virulsri, are past recipients of science and technology research grants awarded by the Thailand Toray Science Foundation. Their involvement in the project is testament to the value of the Thailand Toray Science Foundation.
Corporate Philanthropy by Group Companies Outside
Japan
Toray Group companies outside Japan work with other organizations to practice corporate philanthropy and raise funds for good causes, to benefit the communities in which they operate.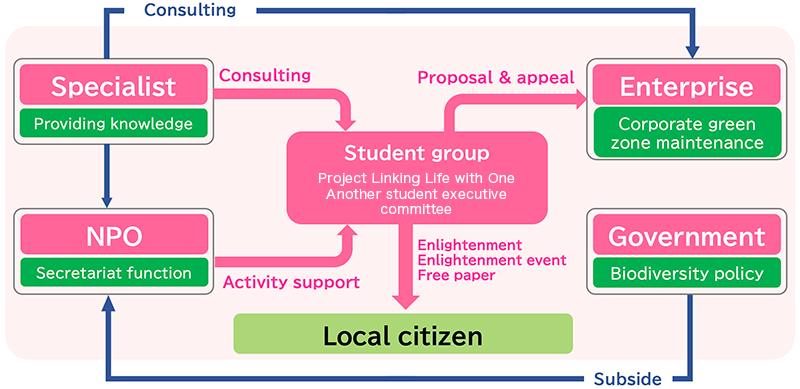 In the United States, Toray Fluorofibers America, Inc. and Toray Composite Materials America, Inc., both of which have bases in Decatur, Alabama, together formed the Toray Decatur team to participate in Relay for Life, a fundraising event by the American Cancer Society to help cancer patients and their families. The cancer walk raises funds for innovative research and cancer patient programs that ultimately benefit communities.
(Toray Fluorofibers America, Inc. and Toray Composite Materials America, Inc.)
Group companies in Mexico collected used clothing and footwear for the state-run DIF program to help needy families and children (Zoltek de Mexico S.A. de C.V., Toray Advanced Textile Mexico S.A. de C.V., Toray Resin Mexico S.A. de C.V., and Toray International de Mexico S.A. de C.V.)

At a teambuilding event organized at an orphanage in Penang, Malaysia participants played games that required creativity and teamwork (Toray Malaysia Systems Solution Sdn. Bhd.)
In the Republic of Korea, fun events are regularly organized to bring employees together with residents of an assisted living facility for persons with severe physical disabilities. This year, a summer camp was held where the participants enjoyed playing in the water and taking relaxing walks in the forest. (STEMCO, Ltd.)

In China, disposable diapers were donated for underprivileged children living at an orphanage in Nantong City (Toray Polytech (Nantong) Co., Ltd.)