Initiatives for Managing Water Resources
Fiscal 2019 CSR Activity Report- Safety, Accident Prevention, and Environmental Preservation
Initiatives for Managing Water Resources
Environment
Toray Group is working to provide solutions to water resources problems around the world, based on the following policies. In its own operations, the Group effectively uses and recycles water and properly manages water resources.
Toray Group recognizes that water is one of the most important resources for humanity, and that people are confronting problems related to water resources in many areas of the world.
Toray Group is committed to helping to solve global water resources problems through its products, technologies and services.
Toray Group continuously monitors the state of regional water resources, and conducts appropriate management of water resources according to the basic principle of sharing precious water resources with the local communities where the Group operates.
Toray Group practices the 3Rs (reduce, reuse, recycle) in consuming water resources, and monitors the quality of water that is released into public bodies of water. Group companies outside Japan that are located in drought areas in particular recycle cooling water and wastewater and work to reduce the amount of industrial water used.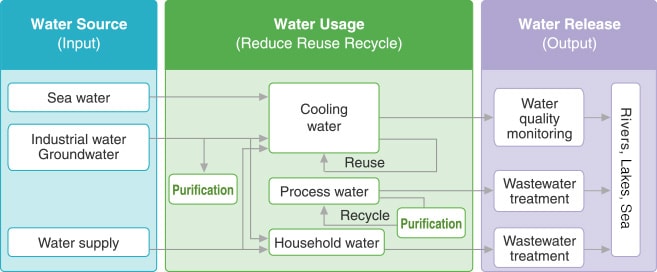 Water Usage Management
Water usage per unit of sales
■Reporting scope

Toray Group

■Target in fiscal 2019

No more than 61% of 2001 level
Result in fiscal 2019
52%
Toray Group used 230 million tons of water in fiscal 2019, the same level as the previous fiscal year. Compared to the amount used per unit of sales in fiscal 2001, set to an index value of 100, usage in fiscal 2019 was 51.7 points, up 0.7 points from the previous fiscal year (a 23% decrease from fiscal 2013). This result, despite the fact that the amount of water used was basically the same as the previous fiscal year, was due to the decrease in Toray Group sales.
Comparative Water Usage Per Unit of Sales (Toray Group)
| (FY) | 2013 | 2014 | 2015 | 2016 | 2017 | 2018 | 2019 |
| --- | --- | --- | --- | --- | --- | --- | --- |
| Comparative water usage per unit of sales | 66.7 | 59.7 | 56.2 | 59.5 | 54.0 | 51.0 | 51.7 |