Initiatives to Reduce Waste
CSR Activity Report (CSR Guideline Activity Reports) - Safety, Accident Prevention, and Environmental Preservation
Initiatives to Reduce Waste
Toray Group is making effective use of resources as it works toward the realization of a sustainable, recycling-based world. It has set numerical targets for waste recycling rates1 and is working to achieve them group-wide.
1 Waste recycling rate = (recycled resources + resources with monetary worth) / (total waste + resources with monetary worth)
Results in Fiscal 2021
Recycling Rate
Waste recycling rate (%)
■Reporting scope

Toray Group

■Target in fiscal 2021

At least 86%
Result in fiscal 2021
85.9%
The recycling rate for Toray Group was 85.9%, down by 0.3 percentage points year on year, and the Group did not achieve its target of 86% or higher. This stemmed from an increase in waste disposal due to equipment troubles at group companies outside Japan.
Going forward, Toray will strive to achieve this target by promoting recycling and focusing intently on group companies outside Japan that generate particularly large amounts of waste.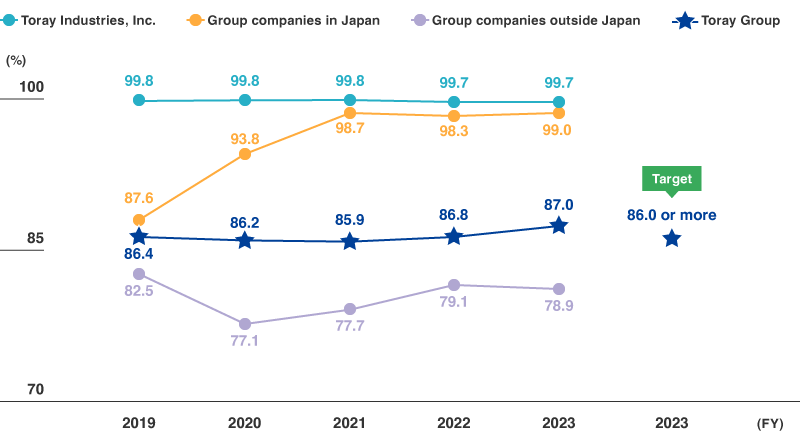 Click here for the main initiatives for CSR Guideline 3, "Safety, Accident Prevention, and Environmental Preservation" in CSR Roadmap 2022.