Socially Responsible Procurement Initiatives at Toray Group
Fiscal 2019 CSR Activity Report - Facilitating CSR Initiatives Throughout the Supply Chain
Socially Responsible Procurement Initiatives at Toray Group
Social Initiatives
Toray Group's Socially Responsible Procurement
Number of group companies that have requested their suppliers to practice CSR
■Reporting scope

Toray Group

■Target (Cumulative fiscal 2017-2019)

40 or more (Cumulative)
Result
(Cumulative fiscal 2017-2019)
155
(Head Office:1, Japan:57, Outside Japan:97)
(Result in fiscal 2019: 5(Japan: 2, Outside Japan: 3))
Number of business partners that Toray Group companies have requested to practice CSR (cumulative)
■Reporting scope

Toray Group
Result
(Cumulative fiscal 2013-2019)
7,438
(Result in fiscal 2019: 2,144)
Toray Group Supply Chain
Toray Group's supply chain extends to diverse countries and regions around the world. In fiscal 2019, the Group's purchasing by region was 45% in Japan, 42% in the rest of Asia, 9% in the Americas, and 4% in Europe. Purchasing by business segment was 36% for Fibers & Textiles, 21% for Plastics & Chemicals, 14% for Films, 11% for Carbon Fibers Composite Materials, and 18% for others.
Fiscal 2019 Purchasing Breakdowns by Region and Business Segment (Based on Transaction Value)
Socially Responsible Procurement Initiatives at Toray Group
Toray Group is facilitating CSR initiatives across its supply chains, including at group companies around the world. These efforts include developing a socially responsible procurement system, responding to customers' requests for CSR practices, ascertaining the CSR initiatives of suppliers and educating them, carrying out CSR surveys of suppliers, and obtaining signed commitments on CSR from suppliers.
In addition, Toray Group has built a plan-do-check-action (PDCA) cycle using its own survey system. By regularly monitoring the status of CSR compliance at suppliers, assessing the overall Group using consistent standards, giving feedback on the results to suppliers, and following up on poor-performing suppliers, the Company endeavors to raise suppliers' awareness and efficiently and effectively lower CSR risks across the supply chain.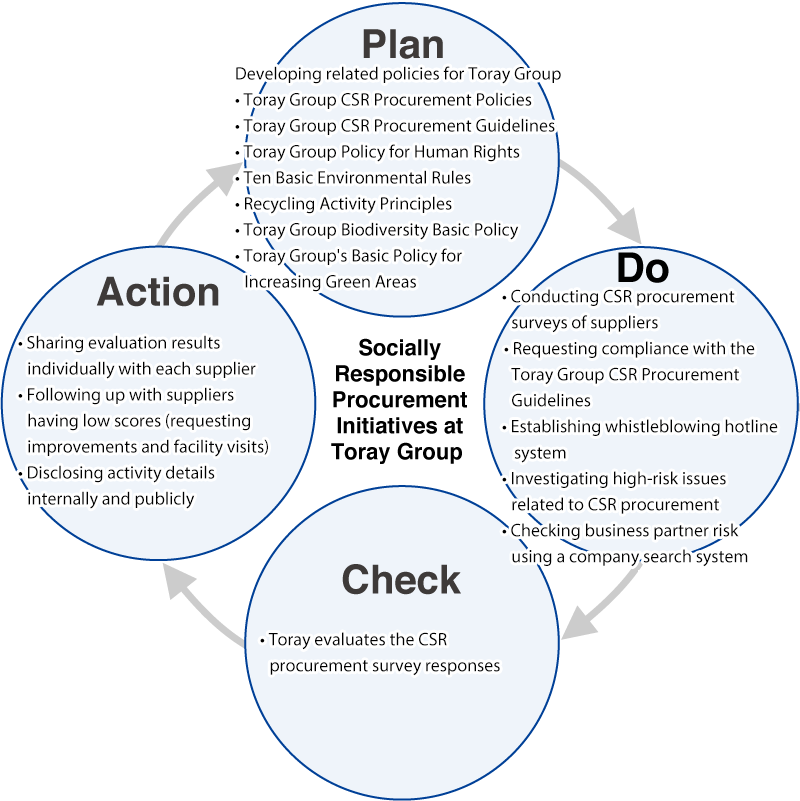 Socially Responsible Procurement Initiatives at Toray Industries
In principle, Toray Industries carries out a biannual CSR survey of major suppliers, business partners and distribution companies which together are responsible for 90% of the Company's total procurement value. In addition to questions based on Toray Group's CSR Procurement Guidelines, the surveys exhaustively confirm the extent to which suppliers are addressing CSR, including their actions on human rights and environmental conservation—areas that have received greater social attention in recent years.
In fiscal 2018, Toray Industries carried out CSR surveys of 449 major suppliers. The results indicated that about 96% of companies surveyed were rated "excellent," "very good" or "good" for CSR practices, thus meeting the Company's standards for business partners. Four percent of the companies surveyed rated only "fair" or "needs improvement," requiring further investigation of their CSR practices.
In fiscal 2019, the Company visited all suppliers who were rated "fair" or "needs improvement" in the fiscal 2018 survey to verify conditions and discuss the steps they need to take to improve. In fiscal 2020, the Company will carry out a CSR survey of major suppliers, including those who were rated "fair" or "needs improvement" in the previous survey, aiming to facilitate awareness of CSR throughout the supply chain and to promote CSR initiatives.
In parallel with those efforts, Toray Industries has been adding a CSR clause into basic supplier agreements. The clause stipulates that both the Company and the supplier will pursue CSR initiatives in areas such as legal compliance, environmental conservation, respect for human rights and product safety. When a new contract is signed or when a contract is renewed, this clause is added to the new agreement. In addition, rules for responses to CSR surveys from customers are set and a system is in place to facilitate prompt and accurate responses.
Percentage of suppliers with the level of efforts required by the Company
(Rated as excellent, very good or good)

96%
Socially Responsible Procurement Initiatives at Toray Group Companies in and outside Japan
Assessing socially responsible procurement conditions across Toray Group is a key issue for the Group as it builds a global supply chain. Determining the extent to which suppliers outside Japan are addressing CSR issues is a priority issue for the Group. In fiscal 2018 and 2019, Toray Industries asked its group companies outside Japan whether they request their major suppliers to carry out CSR initiatives. For suppliers that had not been requested to take CSR initiatives by Toray Group companies, Toray Industries conducted a CSR survey of suppliers.
After analyzing responses from 220 suppliers, it was determined that 90% of them (199 companies) have been rated "excellent," "very good" or "good" for the CSR initiatives required by Toray Group. Meanwhile the remaining 10% (21 companies) were rated "fair" or "needs improvement," which means they will receive further inspection. In addition to providing feedback on the results to the group companies, Toray Industries has been conducting inspections of suppliers who were rated "fair" or "needs improvement," and requesting improvements.
To date, Toray Group companies in Japan have set up internal systems and rules and carried out CSR surveys on an ongoing basis. In fiscal 2019, they carried out CSR surveys of 1,924 suppliers to confirm their CSR initiatives and provided feedback on the resulting ratings to suppliers while following up with suppliers whose efforts are inadequate. In addition, the survey system is also deployed at Toray Group companies to standardize evaluation criteria, and the CSR status of suppliers is shared group-wide to mitigate CSR risk across the supply chain.
Human Rights in the Supply Chain
Toray Group believes that respect for human rights is a crucial element in ensuring that the supply chain is stable and sustainable. Toray Group's CSR Procurement Guidelines state that the Company is dedicated to respecting human rights, eliminating discrimination, and improving workplace environments, as well as prohibiting forced labor, slave labor, child labor, and unfair low-wage labor. The Group requests all suppliers to comply with these guidelines.
In the CSR survey of suppliers that Toray Industries carries out regularly, the Company identifies and assesses the extent to which suppliers are addressing issues related to human rights and labor practices. In fiscal 2019, the Company confirmed the progress of suppliers who answered "Will address in one year" and "Not addressed" and requested them to enhance their human right initiatives, working to improve overall implementation rate. The Company will continue to encourage the promotion of respect for human rights and higher awareness across the supply chain.
As part of efforts to promote human rights protections in the supply chain, the Company enables individuals to report supplier labor issues at any time via the Toray website.
Addressing Conflict Minerals
In recent years, the public has become more concerned about responsible procurement of minerals. In particular, the four minerals of gold, tin, tantalum and tungsten often mined in the Democratic Republic of Congo and surrounding countries have sometimes been a source of funding for armed groups. For this reason, under Section 1502 of the Dodd Frank Act in the United States, publicly traded companies have obligations for reporting and disclosing use of these minerals.
To comply with the rules, Toray Industries investigates whether conflict minerals are used in any of the raw materials and production equipment used for its products. If conflict minerals are used, the Company investigates the suppliers to determine the locations of smelters and mines.
In fiscal 2019, the Company also investigated products made using any of four raw materials: tin, tantalum, tungsten, and gold. It confirmed that none of the raw materials used were from conflict areas. Toray Industries has also set up an internal system for surveys and responses so that it can respond promptly and appropriately to requests from customers in regard to surveys on conflict minerals.
International Cooperation in the Textiles and Apparel Industry
Toray Group is a member of the Sustainable Apparel Coalition, a group of apparel manufacturers and retailers from around the globe. The coalition has created the Higg Index as a tool to evaluate and measure the impacts of apparel and footwear products on the environment, societies and workers. The aim is to mitigate these impacts and resolve issues. Toray Group participates in the coalition as a material supplier that plays an important role in the supply chain and collaborates with other coalition members to reduce negative impact of products on the environment and society.