Contributing to Human Safety
Contributing to Human Safety

Toray Group's advanced materials and innovative technologies are contributing to the protection of people from infectious diseases, abnormal weather conditions (extreme heat, etc.), natural disasters, and accidents.
Typical Product Examples
Protection from infectious diseases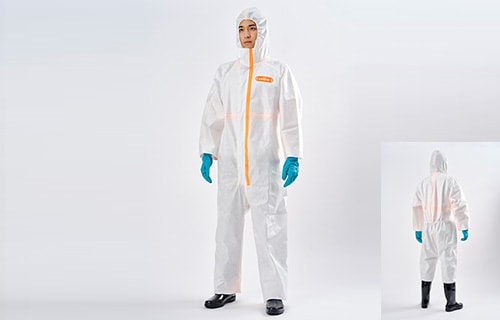 LIVMOA™ 5000
Infection Control Clothing
Infection control clothing provides essential protection from bodily fluids, blood, and other fluids that can result in infection. Such clothing often traps moisture inside and gets very hot, making it uncomfortable for the wearer. Toray's LIVMOA™ 5000 infection control clothing is made using unique layers of moisture-permeable waterproof film. These provide a high level of protection against blood and viruses while also offering permeability to reduce trapped moisture. In order to reduce the risk of secondary infection when removing clothing, a unique sewing design has been incorporated that simplifies the process of disrobing and thus reduces contact with contaminated areas.
Material for masks: TORAYMICRON™ (Polypropylene meltblown non-woven fabric)
An electretized ultra-fine non-woven filter fabric used in a variety of masks including industrial masks, N95 masks, surgical masks, dentist masks, hygienist masks, and hayfever-prevention masks. Effectively catches dust, bacteria, and other types of microscopic dirt.
Material for masks: Polypropylene spunbond non-woven fabric
Polypropylene spunbond nonwoven fabric with low basis weight, high uniformity, excellent flexibility, softness and comfort is used for the inner and outer layers of various masks.
Material for face shields: Lumirror™ (Polyester film)
Lumirror™ is used as an industrial material in a wide variety of applications thanks in part to its excellent toughness, electrical characteristics, and chemical resistance. Its transparency and processability means it also contributes to the public health sector through its use in face shields and other such applications.
Material for air filters: TORAYMICRON™
Air filter units: TORAYCLEAN™
Providing people with safe air for a comfortable life, Toray takes advantage of its creative and manufacturing strengths to develop materials and final products for air filters. Filters with nonwoven fabrics, fibers and other filter mediums are created along with customized air filter units.
Anti-bacterial textile: MAKSPEC™
Anti-viral textile: MAKSPEC™ V
MAKSPEC™ provides superior anti-bacterial properties in fibers. MAKSPEC™ V has the ability to destroy viral envelopes on textiles thereby reducing the virus count and allowing them to be used for a variety of uniform applications.
Disinfectant-resistant resin: PBT/PC resin
This resin achieves both the toughness of Polycarbonate with the chemical resistance of PBT. This can only be achieved with the unconventional technology of Toray's proprietary NANOALLOY™ technology. A new development, this resin is expected to be used in products and components requiring disinfectant solution resistance.
Surgical gloves, medical examination gloves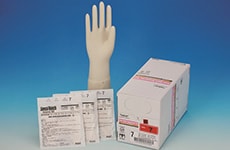 Gloves used to protect both the patient and the user from cross-infection. Both surgical gloves used in medical / dental surgeries and medical examination gloves used mainly in non-surgical medical / dental examinations are available.
Protection from abnormal weather conditions (extreme heat, etc.), natural disasters, and accidents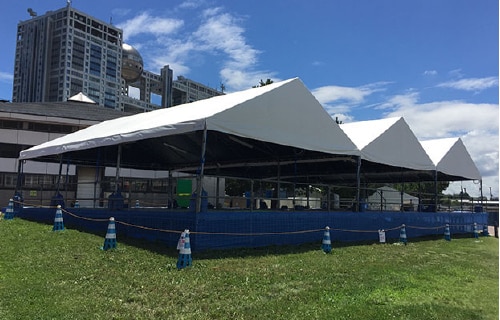 Summer Shield™
Heat-Shielding Fabric
In order to protect people from recent heat-waves, it is becoming increasingly important to have options for protecting against sunlight and ultraviolet rays. Summer Shield™ is a light-shielding fabric with a special three-layered laminate-structure. This fabric excels at simultaneously performing a variety of functions such as heat shielding, light shielding, and UV blocking. Summer Shield™ blocks 100% of light and 99% or more of UV. Parasols made with Summer Shield™ give a feeling that it is at least 4℃ cooler compared to ordinary parasols. It is also used in other outdoor applications such as tents, hats, etc.
---