Contributing to Long and Healthy Lives
Contributing to Long and Healthy Lives

In order to further ensure the long and healthy lives that people desire, Toray Group's advanced materials and innovative technologies are contributing to improvements in fields such as health management, public health, and nursing care.
Typical Product Examples
Continued health and independence (managing and improving of individual and public health)
Managing and improving of individual and public health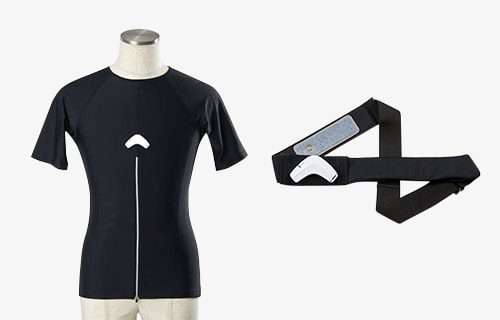 Material for Biometric Measurements:

Hitoe™ (Non-Medical Device)

Hitoe™ is a functional material that can read the weak electrical signals produced by the body. Hitoe™ is made from knit nanofibers with conductive polymers. Made of ultra-thin nanofibers just 1/140th the size of a hair, the knit fabric has a soft feel, clings well to skin and is very comfortable. It is now possible to collect physiological signals in a way that is comfortable and unobtrusive by wearing a shirt or belt containing Hitoe™. Hitoe™ can be used in a variety of fields including sports, nursing care and the monitoring of workers.
Material for sports clothing: High-performance sports fabrics
Toray's high-performance sports fabrics boast a variety of functions, including moisture permeability, sweat-wicking, quick-drying, UV-blocking, stretchability, water resistance and heat retention. Toray has evolved their fabric technologies for unique comfort and performance while adapting to a wide variety of styles. The fabrics are used in a variety of sports and contribute to health management and improvement through sports.
Public health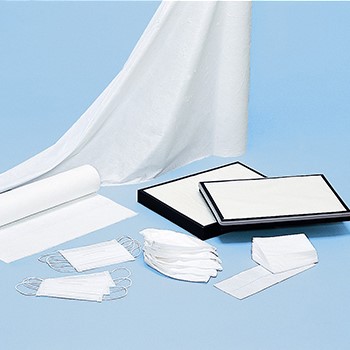 Materials and Units for Air Filters:

TORAYMICRON™, TORAYCLEAN™

Providing people with safe air for a comfortable life, Toray takes advantage of its creative and manufacturing strengths to develop materials and final products for air filters. TORAYMICRON™ is a high-performance electretized material made of a special, ultra-fine non-woven fabric. It contributes to clean environments through excellent performance across a variety of applications in filtering a large range of microscopic particles. TORAYCLEAN™ is an end product with customized air filter units that can be adapted to suit all user environments and needs.
Improved ADLs in the elderly and persons with disabilities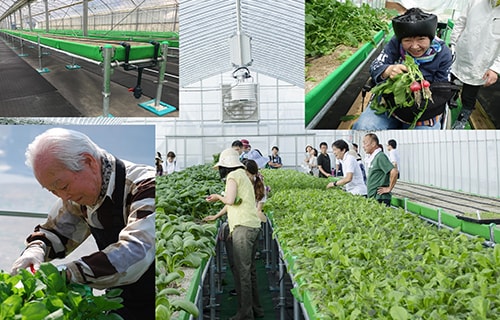 Low-Burden Agricultural Work and Labor Facilities:

TOREFARM™
Raised-Bed Sand Cultivation Farm

TOREFARM™ are farms with dedicated sand cultivation facilities that make the most ofmodern construction materials. Their raised-bed design allows for enjoyable and easy agricultural work. Based upon the Internet of Things (IoT) TOREFARM™ allows anyone, anywhere to participate in full-fledged agricultural work. Raised bed sand cultivation provides healthy vegetables in a non-demanding, safe manner. All of these features combine to create more opportunities for all people to engage in agriculture. The more people that get involved, the further the role of agriculture will expand. It is light work that does not stress the lower back or require agricultural equipment, and so it is safe and minimally burdensome on the body. This facilitates the elderly and persons with disabilities (including those who use wheelchairs) to get involved and to be more active even from remote distances. It also is used as employment support for businesses or rehabilitation facilities to create new employment opportunities.
Prosthetic limb and wheelchair materials:
Torayca™ (Carbon fiber)
Torayca™ composite (Carbon fiber reinforced plastic)
Some people have disabilities that limit their ability to live fulfilling lives and that make them feel impaired. We aim to allow these people to live a life where they are able to do what they want to do, rather than living in a state of extended rehabilitation. Toray's carbon fiber technology contributes to the development of more advanced products in the field of assistive equipment, such as prosthetic limbs and wheelchairs.
Packaging materials to support eating habits: Easy-peel film
A lid material for food and other products that can be opened easily but that seals securely during transport and storage. As the aging population continues to grow in recent years, there has been an increasing need for packaged rice and other food products that can be accessed easily. Easy-peel film is an essential material that is used as a lid for these foods and contributes to improving people's lives.
Reduced burden on nursing care resources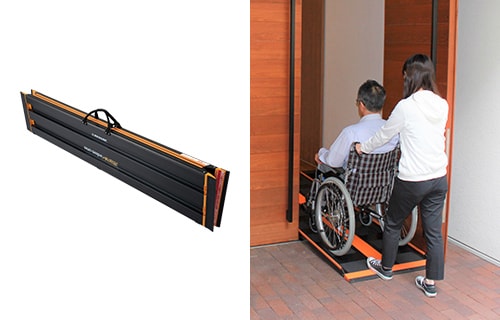 Material for Transportable Wheelchair Slopes:

Torayca™
Carbon Fiber
Torayca™ Composite
Carbon Fiber Reinforced Plastic

Toray and Sumitomo Rubber Industries, Ltd. have jointly developed the Dun-Slope® AiR2*1, the lightest carbon fiber-reinforced plastic portable slope in the industry*2. Our joint development of a woven carbon fiber cloth and stable molding technology have enabled the unique hollow structure shape without using core material which is usual in conventional slopes. This innovational design of Dun-Slope® AiR2 provides lightweight alongside strength and durability that leads safe and secure user experience.
*1 Dun-Slope® AiR2 is a registered trademark of Sumitomo Rubber Industries, Ltd.
*2 Compared to other companies with JIS-certified transportable slopes
(Researched August 2020 by Sumitomo Rubber Industries, Ltd.)
Yoisyuto™ (Lumbar support pants)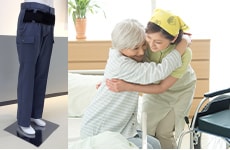 A product designed to reduce the risk of lower back pain caused by routine everyday movements. Integrating the trousers and pelvic belt assures that they are worn in the correct position. While allowing for easy adjustment of support without slippage. It can be used in health care and nursing care facilities, as well as in transportation, manufacturing, and construction industries to help prevent lower back pain in workers.
Torayeasy™ (Slide sheet for positioning and movement)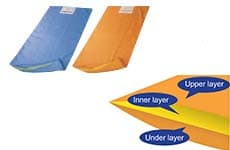 Using Torayeasy™ allows the caregiver to reposition and move the patient with minimal force. Toray's proprietary three-layer fabrics provides excellent sliding performance. Clean and comfortable due to the anti-bacterial treatment, Torayeasy™ is light and thin, reducing the burden on both caregivers and care receivers.
---