Securing and Developing Human Resources to Create New Value
Fiscal 2019 CSR Activity Report - Human Rights Promotion and Human Resources Development
Securing and Developing Human Resources to Create New Value
Social Initiatives
Training expenditures per employee
■Reporting scope

Toray Industries, Inc.
Result in fiscal 2019
96,821yen
Employing a Diverse Workforce
Toray Group employs talented human resources with high aspirations who can play an active role in global business, inclusive of gender and whether employees were hired out of university or mid-career.
Since 1998, Toray Industries, Inc. has been expanding its efforts to recruit diverse human resources, in order to drive the globalization of its business. The Company actively recruits non-Japanese students who are studying in Japan, and Japanese students who graduate from universities abroad. Then, it seeks to build a work environment where all employees are able to fully demonstrate their individual abilities and perform to their utmost potential.
Number of Employees Hired in Fiscal 2017 - 2019 (Toray Industries, Inc.)
Result
2017
2018
2019
New graduates
Men
184
225
244
Women
32
41
44
Total
216
266
288
Mid-career
Men
97
55
35
Women
22
17
9
Total
119
72
44
Systematic and Effective Training
Toray Industries develops well-designed training programs and systematically executes diverse training programs to enhance management, sales, production technology, and specialized skills, and to better equip employees to address globalization. These programs cover all levels of employees and fields, aiming to develop future management candidates while expanding and educating the base of core staff ready to employ their strong capabilities to lead on the front lines.
Over the recent years, Toray Industries has concentrated on enhancing and expanding its development of global human resources through Overseas Training for Young Employees, the Toray Global English School, and Business English Intensive Training, as well as through joint sessions of the Toray Management School and Toray Group Senior Management Seminar. The Company also implements the Global Diversity Seminar for non-Japanese employees working at Toray Industries. In fiscal 2019, training expenditures per employee at Toray Industries stood at 96,821 yen.
In addition to training, the Group is adopting diverse personnel programs to develop an organization in which human resources who are ready for new challenges can play a greater and more active part in the Company.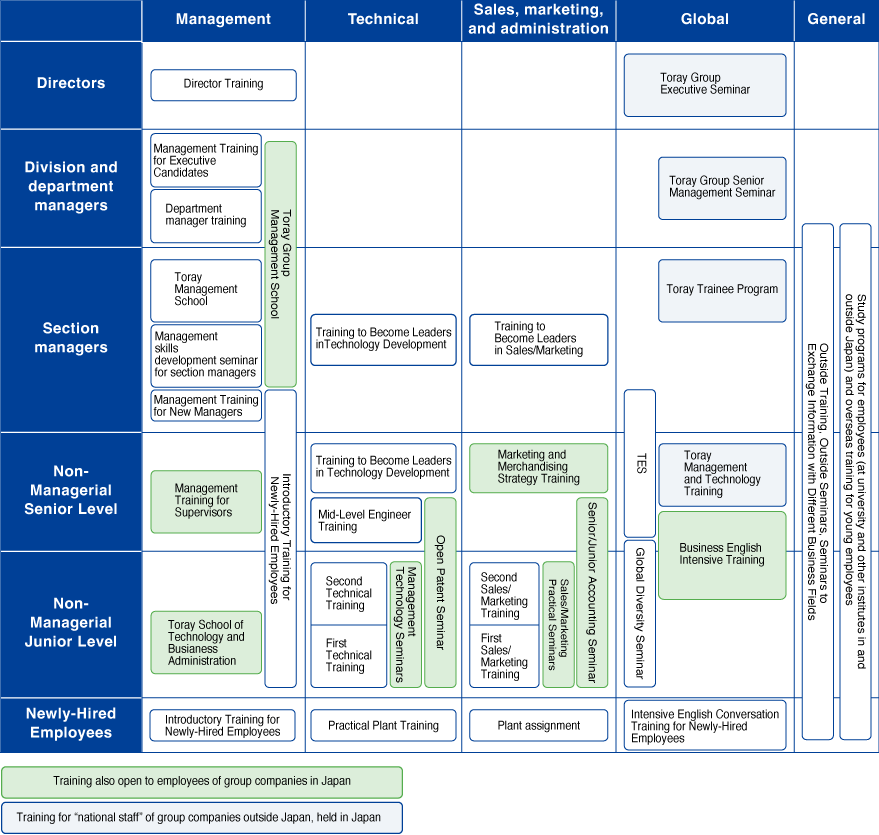 Company-Wide Training Course Enrollment in Fiscal 2019 (Toray Industries, Inc.)
Training category
Persons enrolled
Time dedicated to training per employee (hour) 1
Men
Women
Total
Management
741
82
823
42.4
Technical
560
50
610
29.4
Sales, marketing, and administration
250
77
327
24.9
Global
233
57
290
38.1
General
134
38
172
15.1
Total
1,918
304
2,222
35.0
1 Time dedicated to group training at the Toray Human Resources Development Center. It does not include time for correspondence learning or study abroad, etc.
Personnel System (Toray Industries, Inc.)
| | |
| --- | --- |
| Management-by-objectives system2 | Each employee establishes annual objectives. At the end of the fiscal year, employees and their supervisors meet to review accomplishments and the extent to which they were able to meet their objectives. |
| Personnel appraisal system2 | Designed to facilitate a fair appraisal of employee contributions in terms of duties, responsibilities, capabilities, and performance3. |
| Individual meeting system2 | Employees meet with their supervisors twice a year in a one-on-one setting. Supervisors provide consultation on employee performance and new objectives. |
| Self-assessment system for managers, occupational specialists, and G Course employees | Employees are surveyed annually on topics concerning work experience and desires for interdepartmental transfer. Surveys can then be linked to individual personnel transfers and placement. |
| Career assessment system for G Course employees | Employees participate in a regular review consisting of presentations of daily operations and personnel interviews in order to focus on the direction of their future growth. |
| Job opening system | Employees are given an opportunity to apply for jobs inside the Company and proactively develop their career, while ensuring optimal staff assignment. |
2 Applies to 100% of managers, occupational specialists, and employees pursuing G Course and S Course career paths.
G Course: A career path for Toray Group executive or upper-level professional candidates
S Course: A career path for manager, supervisor, or specialist candidates
3 Including CSR initiatives
Development of Future Management Candidates for Toray Group
Group companies that have adopted a medium-term human resource plan(%)
■Reporting scope

Toray Group

■Target in fiscal 2019

100%
Result in fiscal 2019
100%
Toray Group implements training in order to systematically develop future management candidates. Numerous employees who have undergone the training are already active in management positions.
Toray Group has been working on a succession plan and personnel development plan based on a medium- and long-term perspective and drawing up a medium-term human resources plan and practicing systematic personnel assignment to ensure that core staff can tackle important business issues. The Group implements human resources strategies designed to support business strategies by verifying the availability of successor candidates for core positions and developing individualized development plans for future management candidates, including for national staff at group companies outside Japan.
In fiscal 2019, the Group began using a new personnel information system to formulate medium-term human resource plans and better implement HR initiatives.
Strategies for Developing Future Management Candidates
| Program | Participants | Purpose | Year started | Total participants through FY2019 |
| --- | --- | --- | --- | --- |
| Management Training for General Managers | Division and department managers of Toray Industries, Board members/officers of group companies in and outside Japan | Develop management leaders at Toray Industries and group companies | 2013 | 147 |
| Toray Management School | Section managers of Toray Industries | Develop future management candidates at Toray Industries and group companies | 1991 | 560 |
| Toray Group Management School | Department managers of group companies in Japan | Develop management candidates focusing on group companies in Japan | 2006 | 285 |
| Toray Group Executive Seminar | Board members/officers of group companies outside Japan | Develop core staff at group companies outside Japan | 2004 | 98 |
Number of employees who participated in programs to develop future management candidates (cumulative total)

1,090
Toray Global HR Management ("G-HRM") Fundamental PolicyEstablished November 2011
True to its philosophy, "Contributing to society through the creation of new value with innovative ideas, technologies and products" and its embodiment through "Innovation," and in order to continue being a highly valuable corporate group for every stakeholder, Toray focuses on recruiting, retaining, and developing employees with high aspirations for the Toray Group, with the understanding that "Human Resources" are the most important asset in management.
As Toray Group continues to promote further business growth and expansion, we set the following four principles as the Toray G-HRM Fundamental Policy, despite all differences between countries, regions, cultures, customs, and companies in order to facilitate HR management with a common basis for all Toray Group companies around the world.
Step by step, each company is encouraged to implement and maintain a concrete HR management system in line with the following Toray G-HRM Fundamental Policy. However, at the same time, it is essential to value the merits of local HR management in each company based on the individual circumstances of country, region, culture, custom and company. Thus, it is necessary to promote the policy while integrating both approaches properly.
Consistently recruit and retain core staff and promote long-term HR development programs

(1) Consistently recruit core staff based on mid/long-term HR management views.
(2) Sustain long-term HR development through promoting individual career development, implementing timely assessments of development progress, and carrying out on-the-job training (OJT), together with training programs (Off-JT) and self-development.
(3) Promote HR development by following up on each individual through MBO (Management by Objectives) and performance appraisal systems.

Select and develop core staff who can win a place in the global competition

(1) Recruit highly capable staff who understand and support Toray's corporate philosophy, regardless of nationality.
(2) Provide selected staff with opportunities for sophisticated high-level training and global careers.
(3) Promote staff, who have skills to assume management responsibility for Toray Group companies, to top management positions of each company, and also give them opportunities for selection to executive positions as well as core positions of Toray Japan.

Pursue a "placing the right people to the right jobs" policy while enhancing fairness, understanding (by employees) through convincing explanations, and transparency

(1) Make the best assignment for each employee and assigned organization by focusing on his/her ability and performance.
(2) Place importance on fairness, understanding (by employees) through convincing explanations, and transparency when determining individual compensation, such as salary and bonus, by appropriately taking account all of the roles and responsibilities of the position, the employee' s ability, as well as performance appraisal results based on the MBO (Management by Objectives).
(3) Enhance the HR development system and the compensation system to value challenges as well as enhance motivation of average-level performers who contribute to their team.

Continue various management methods to further strengthen the company's business structure

(1) Conduct head-count management and labor cost management as an entire company in a detailed and uniformed way.
(2) Always sustain a flat, effective organizational structure and control the appropriate proportion of managerial staff.
(3) Maintain and strengthen competitiveness through the appropriate utilization of diversified human resources such as contract employees, temporary staff sent from agencies, and external resources.
Developing and Promoting Staff at Overseas Group Companies
Number of core staff outside Japan who participate in training courses
■Reporting scope

Toray Group (Outside Japan)
Result in fiscal 2019
212persons
Toray Group regards the development of core staff at its overseas group companies as one of its priority management objectives. The Group makes active efforts to promote employees locally hired at these companies to executive management positions, as well as to key posts and management positions at Toray Industries' head office. In fiscal 2019, at Toray Industries, five core staff outside Japan help manage Toray Group, serving in senior director (riji) positions.
Human resource development is systematically implemented using both on-the-job and off-the-job training. Off-the-job training consists of training implemented by each group company outside Japan. This is combined with grade-specific training programs held in Japan to ensure understanding of management principles and policies. These are linked with personalized long-term development plans. Toray Group, with direct involvement from the head office, is developing and regularly providing management training courses outside Japan specially designed for the particular circumstances and needs of group companies in each respective country. In addition, the Group is systematically fostering human resources by offering career development opportunities such as domestic and international job rotations.
Training Courses Held for Core Staff outside Japan in Fiscal 2019 (Toray Group)
Japan-based courses
Training program
vManagerial category
Number of participants
Toray Group Senior Management Seminar
Department managers
12
Toray Trainee Program
Section managers
27
National Engineer Key Person Training
Section managers
5
Toray Management & Technical Training
Unit managers
3
Total number of employees receiving training
47
Courses held outside Japan
Training program
vManagerial category
Number of participants
Toray Group U.S. Senior Management Seminar
Department managers
20
Toray Group U.S. Management Training
Section managers
20
Toray Group EU Senior Management Seminar
Department managers
12
Toray Group EU Management Seminar
Section managers
8
Toray Group Indonesia Management Seminar
Department managers / section managers
38
Toray Group Malaysia Management Seminar
Department managers/section managers
45
Toray Group Korea Senior Management Seminar
Department managers
22
Total number of employees receiving training
165
Toray Group Senior Management Seminar for core staff outside Japan

Toray Trainee Program for core staff outside Japan
Number of core staff members outside Japan who participated in management training courses held in their countries/regions in fiscal 2019 (cumulative total)

165