Creating a Positive Workplace for Employees
CSR Activity Report (CSR Guideline Activity Reports) - Human Rights Promotion and Human Resources Development
Creating a Positive Workplace for Employees
Toray Industries, Inc. has been working to further improve systems that help employees achieve a harmonious balance between work and family life, by offering a wider variety of lifestyle options for men and women. Support systems that exceed those legally mandated for childcare, family care, and maternity protection are provided, the result of the company's commitment to making them accessible and responsive for a diverse range of employee needs. In 2007, the company was granted certification as a general corporate entity meeting the requirements for supporting the development of the next generation by Japan's Ministry of Health, Labour and Welfare.

After acquiring the certification, Toray Industries revamped its child care support systems in June 2010 in an effort to encourage male employees to make use of them. Then in April 2011, the Company launched the Toray Smile Support Program, a point-based system that lets employees choose from various programs that provide financial assistance for childcare and purchasing homes. The Company initiated a telecommuting program in April 2012, aimed at making it easier for employees to work while raising children or caring for family members (the scope was expanded in October 2019 and the requirement of raising children or caring for family members in order to telecommute was eliminated in July 2020). Toray Industries also expanded the scope of its commuting allowance for taking the bullet train in October 2012. In April 2013, the Company improved its support systems once again, offering special leave for parents to prepare children for nursery school, and extending eligibility for leave to care for sick children. In July 2016, Toray Industries expanded its leave provisions for employees requiring special consideration as caregivers, and in January 2017, it eliminated restrictions on the number of times that employees can use long-term family care leave and lower-hour work schedule systems for caregivers. In July 2017, the Company started a flextime system without core-hour requirements for employees at the Tokyo and Osaka head offices. In April 2020, Toray Industries started to allow use of paid annual leave on an hourly basis, introduced a working-hour interval system.
In January 2021, the Company introduced hourly leave systems for caring for sick children or other family members, followed by the expansion of family-care programs in July 2022.
Major Support Systems for Employee Work and Family Life Balance
Category
Description
Prenatal and postnatal leave

Prenatal leave can be taken starting eight weeks before the expected delivery date (14 weeks before a multiple pregnancy).
Postnatal leave is available for eight weeks after childbirth.

Long-term childcare leave

Available for employees using child care center services up to the end of the month in which the child turns two years of age

Lower-hour work schedules for childcare

A maximum reduction of two hours per day, calculated in 15-minute increments, available until the end of the fiscal year in which the child is in third grade of elementary school
May be used concurrently with flextime system

Long-term family care leave

Available for a total of 365 days per situation requiring leave to provide care
May be split up

Spouse's childbirth leave

Available for three days in the event that an employee's spouse gives birth

Lower-hour work schedules for caregivers

May be taken multiple times per situation in the five-year period following the first day of use
May be split up
May be used concurrently with flextime system

Leave to care for sick children

Five days per year of leave per child available until the end of the fiscal year in which the child is in third grade of elementary school
Can be used on hourly basis

Family care leave

Five days per year of leave available per family member
Can be used on hourly basis
At maximum 10 additional days per year available when no other appropriate caregiver is available

Toray Smile Support Program

Welfare point system offering a selection of programs with an emphasis on providing support for childcare and home acquisition

Childcare services payment assistance

Childcare coupons offering a 70% discount on services provided by participating companies issued as an additional Toray Smile Support Program service
No restrictions on number of coupons or age of participating employee's child

Telecommuting program

Available for employees who are proficient in their assigned duties, can perform these duties self-sufficiently, and meet certain requirements.
Available up to three days (22.5 hours) per week and no more than a maximum of ten days (75 hours) per month for approved employees, who may use the program on a full-day or hourly basis. If an employee requests more than the maximum hours/days due to special circumstances, and it is deemed not to interfere with workplace management, the employee may telecommute for more than the maximum allowed under the program.


Note: In addition to the conditions above, since 2020, the program has also been used to address the COVID-19 pandemic.

Registration system for reemployment

Registration system providing reemployment opportunities to former employees who resigned due to personal matters such as marriage, childbirth and childcare, nursing care for family members, or a spouse's work transfer
The registration period is ten years. Registrants may be immediately eligible for regular employee positions depending on the content of their jobs, expectations of their role in the company, and their personal situations.

Commuting allowance for bullet train or other limited express travel

Allowance for tickets for applicable distances on bullet trains or other limited express trains available for employees who wish to avoid (cease) living apart from their families due to job transfers or employees who bear personal responsibilities such as caring for family members
In certain cases, employees may be required to pay a part of the commuting expenses out of pocket.
Note: Toray Group employees working near Nihonbashi in Tokyo can use a local consortium-based child care center (Kids Square Nihonbashi Muromachi).
Examples of Workplace Initiatives in fiscal 2021
Online Discussion Meeting Held Concerning Support for Balancing Work and Family Lives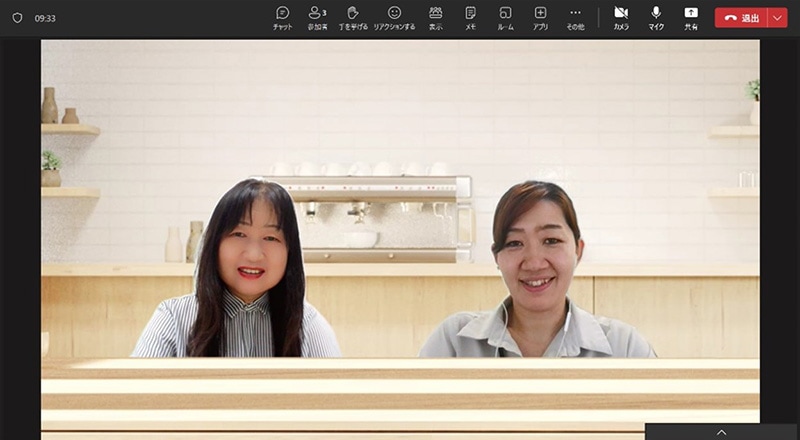 WELBOX online discussion meeting
Toray Group has set up a section on its employee welfare site called WELBOX to provide information on various work-life balance support programs. WELBOX also shares examples of work-life balance achieved by Toray Group employees. In fiscal 2021, a new initiative, WELBOX Online Salone, was held as an online discussion meeting for those interested in the cases featured on the site. Reflecting on the themes of "balancing work and childcare" and "examples of career struggles," the participants shared their daily struggles, and used it as an opportunity for communication that went beyond the usual workplace boundaries. Going forward, the plan to continue holding this meeting about twice a year.
Utilization of Childcare and Family Care Leave Systems (Toray Industries, Inc.)
FY
2017
2018
2019
2020
2021
Employees taking childcare leave
Women
68
58
60
66
56
Men
3
4
10
22
40
Employees taking family care leave
Women
0
5
3
1
2
Men
1
1
1
0
1
Note: Figures show the number of employees taking leave in each year.
Number of Employees Who Returned to Work after Childcare Leave and Family Care Leave (Toray Industries, Inc.)
Employees returning to work from childcare leave (%)
■Reporting scope

Employees of Toray Industries, Inc.

■Target in fiscal 2021

100%
Result in fiscal 2021
99.0%
FY2020
FY2021
Number of employees who returned to work
Percentage of employees who returned to work
Number of employees who returned to work
Percentage of employees who returned to work
Childcare Leave
Women
64
97.0%
59
98.3%
Men
18
100%
38
100%
Family Care Leave
Women
2
66.7%
2
100%
Men
0
-
1
100%
Note: Number/percentage of employees returning to work per fiscal year
Employees taking leave for spouse's childbirth (Toray Industries, Inc.)
| FY | 2019 | 2020 | 2021 |
| --- | --- | --- | --- |
| Number of employees | 254 | 230 | 220 |
Initiatives to Reduce Overtime and Encourage Use of Annual Paid Leave (Toray Industries)
Reduction in employees who exceed 45 hours/month of non-statutory working hours (%)
■Reporting scope

Toray Industries, Inc.

■Target in fiscal 2021

Year-on-year reduction
Result in fiscal 2021
112.2%
* In fiscal 2020, overtime work decreased due to pandemic restrictions on business activities. With the partial business recovery in fiscal 2021, overtime work increased compared to the previous fiscal year (76.0% compared to fiscal 2019)
Available annual paid leave used by labor union members (%)
■Reporting scope

Toray Industries, Inc.

■Target in fiscal 2021

About 90%
Result in fiscal 2021
89.6%
As part of its commitment to workplace innovation, Toray Industries makes provisions to help employees balance work and family life. Since fiscal 2008, regular workplace discussions are held in each workplace to raise awareness of different working styles, and working late at night or on holidays is prohibited, in principle. All lights in the workplace are turned off at a certain time at night, and company-wide "no overtime days" take place one day each month. The Company has been working on ongoing initiatives to reduce overtime hours and encourage employees to take annual paid leave. (Employees used 89.6% of available annual paid leave in fiscal 2021).
In fiscal 2010, Toray Industries set up a Work-Life Balance Committee (renamed the AP-G 2022 Labor-Management Committee in fiscal 2020), which focuses on further improving and operating the systems. The committee follows up on work-life balance initiatives, including support for balancing work and family life, reducing excessive working hours, enhancing mental healthcare, and support for healthy work lives. In addition to reviewing further possible measures, the committee also analyzes current conditions regarding ideal work styles (required work styles, working conditions, and labor-management rules), identifies the issues involved, and reviews and proposes steps to be taken.
Employee Health
Toray Industries sees employee health management as a management priority, and is taking strategic initiatives in this area. The group-wide Safety, Health, and Environment Committee reports on the results of health management initiatives, determines action plans, and promotes them in each workplace. Working in collaboration with the employee health insurance association, the Company actively promotes employee health by sharing health information via internal communication tools, holding participatory events using health information sites, and providing lifestyle disease prevention seminars.
Toray Industries is also addressing mental health, and since fiscal 2011 has been implementing employee stress check-ups through an external provider. This helps employees recognize their own stress levels and learn how to manage stress, which leads to an improved workplace environment. The stress check-ups are also carried out at group companies in Japan.
In recognition of these efforts, in March 2022, Toray Industries was again listed as a White 500 Company in the Certified Health and Productivity Management Organization Recognition Program.
Examples of Workplace Initiatives in fiscal 2021
Physical Function Evaluations at the Mishima Plant (Toray Industries, Inc.)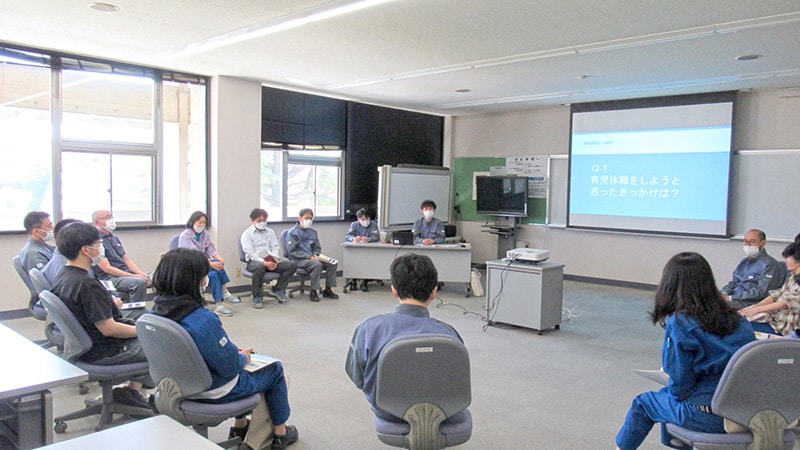 Function test (checking static balance while standing on one leg with eyes open)
At the Mishima Plant of Toray Industries, a comprehensive health campaign (Health Promotion Plant -- Mishima) is being promoted to ensure that employees can work safely and in good health.
As part of this campaign, physical function evaluations recommended by the Japan Industrial Safety and Health Association were performed for employees of the factory and group companies operating on the premises. After completing a questionnaire, each person's physical function levels were measured. By confirming the gap between perceived and actual physical abilities, each individual's issues were identified. Participants were then encouraged to participate in the morning exercise program held at the plant before the start of work. Through these activities, the aim of the campaign is to improve the physical health of employees.
Going forward, Mishima Plant will continue to engage in activities to maintain and improve employee health through sleep seminars and walking events.
Dialogue with Labor Unions
Toray Industries holds meetings of the Central Labor and Management Council twice a year with the attendance of directors at the senior vice president level and higher and labor representatives at the union head level and higher. In addition to briefing the union on management information about Toray Group, the meetings facilitate ongoing dialogue with the union. In fiscal 2021, the number of meeting participants was limited in order to reduce the risk of COVID-19 infection.
Resolution of labor issues is undertaken at separate Labor and Management Council meetings.
Based on the union shop system, all regular employees, excluding those at the management level or accepted as exempted from labor-management consultations, are members of the Toray Workers' Union. As of March 2022, Toray Workers' Union membership stood at 8,168 workers.
Click here for the main initiatives for CSR Guideline 8, "Human Rights Promotion and Human Resources Development" in CSR Roadmap 2022.