Approach to Green Innovation Products
CSR Activity Report (CSR Guideline Activity Reports) - Contributing Solutions to Social Issues through Business Activities
Approach to Green Innovation Products
The following diagram outlines Toray Group's process and procedures for certifying Green Innovation products. Products are subjected to a two-stage screening process conducted by the divisional committees and by the group-wide Green Innovation Certification Committee. Those able to demonstrate objective evidence of providing an effective solution for global environmental issues are certified as Green Innovation products.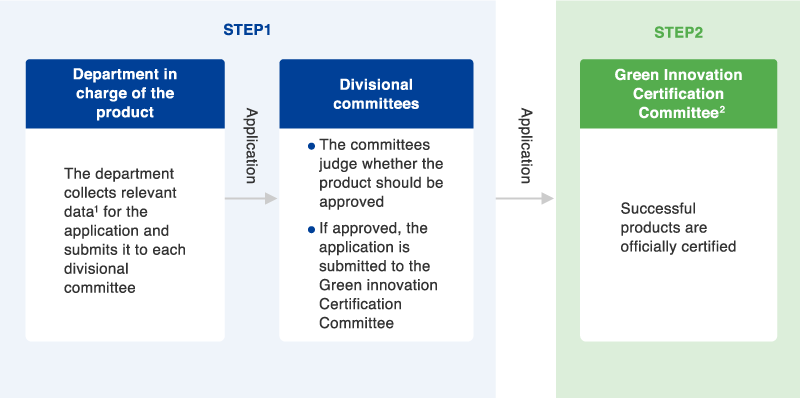 1 This includes LCA data, T-E2A data, and estimates of CO2 emissions reduction attributable to the product.
2 Comprised of members of Toray Industries' Global Environment Business Strategic Planning Department, Corporate Marketing Planning Department, and Technology Center Planning Department, as well as experts when necessary.
Green Innovation-Related Products and R&D Announced in Fiscal 2021
Launch of New Nylon Fiber Made From Plants
100% Plant-based Nylon Fiber Ecodear™ N510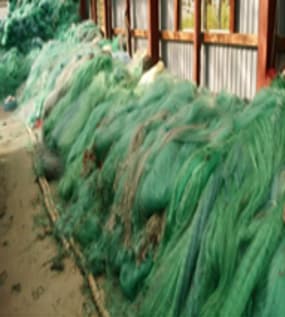 Textile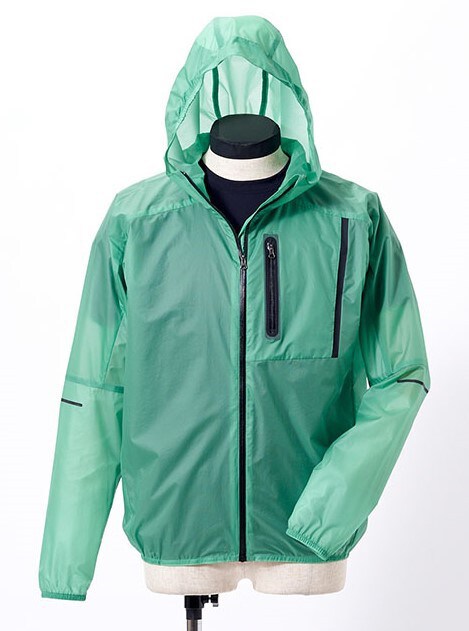 Sewn Product

Brand Logo
Toray Industries has developed a new fiber, Nylon 510 (N510), made entirely with polymer raw material obtained from plants. It has been released as Ecodear™ N5103 and is the newest in the lineup of biomass-based polymer materials and products under the Ecodear™ brand. The Company has created diverse potential applications for Ecodear™ N510 as a sustainable offering for high-end markets worldwide. While primarily for sports and outdoor fabrics they extend to lightweights, cut-and-sew fabrics through innerwear lace materials.
Toray Industries already offers partially plant-based polyester, nylon, and other polymers. However, this is the first 100% plant-based4 nylon fiber to be put on the market. Unlike other wholly plant-based nylons, Ecodear™ N510 has practical features like a high melting point and outstanding dimensional stability. Moreover, because it is as strong and heat-resistant as Nylon 6, companies can use it to create products that are sustainable and offer the same performance as products made from conventional petroleum-based nylon.
Going forward, Toray is focused on combining various proprietary technologies to drive further fiber advances. These would include making fibers thinner and lighter or adding functionality by changing cross-sectional shapes. In this way, the Company will develop an array of apparel and other materials applications.
By providing innovative technologies and advanced materials, Toray will keep serving increasingly diverse lifestyles while contributing to affluent living and sustainability.
3 100% plant-based nylon fiber made using Sebacic acid from castor-oil plants, and Pentamethylenediamine from corn.
4 ISO16620-1 3.1.5 bio-based synthetic polymer content (percentage of content derived from plants) is 100%.
TORAY Commercializes "IMPRIMA™FR" as New Waterless Offset Printing Plate for Flexible Packaging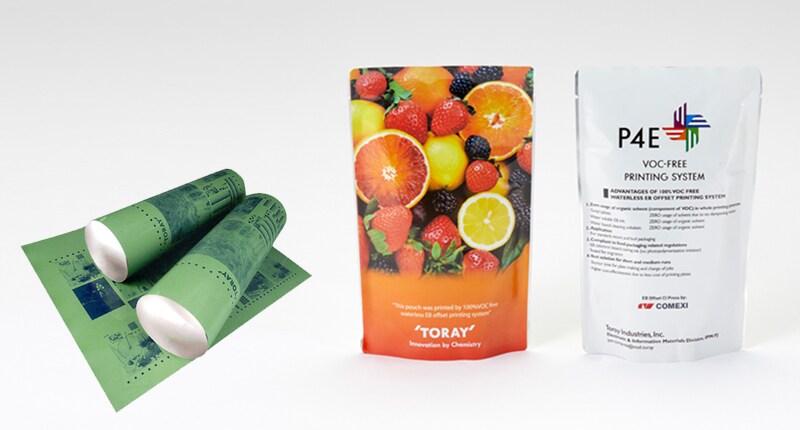 Retort pouch printed using IMPRIMA™FR
Gravure and flexographic processes predominate in the printing of flexible packaging materials.
A drawback is that these setups consume a lot of printing ink containing organic solvents. This results in energy consumption and CO2 emissions when thermally drying these solvents and treating waste gas. There has therefore been a shift toward the adoption of offset printing, which is free of organic solvents and employs printing inks that are cured with electron beam or ultraviolet processes, which consume less energy.
IMPRIMA™ is the brand name for the Toray Waterless Plate™, which does not use water containing volatile organic solvents for dampening during the printing process and does not discharge alkaline processing liquid waste during plate making. More than 1,500 printing companies in 50 countries have adopted this Toray product in recognition of its eco-friendly performance. Released in October 2021, the IMPRIMA™FR waterless printing plate for flexible packaging materials delivers high resolution and beautiful gradations in printing by leveraging Toray's proprietary nano-structure and interface control technologies.
It also lowers printing costs because this printing plate costs less than those for conventional flexible packaging printing processes.
To assess the environmental impact, Toray produced estimates based on Product Category Rule PA-BC-02, the Japan Federation of Printing Industries' calculation standard for plastic containers and packaging. The estimates confirmed that using the IMPRIMA™FR waterless printing plate with electron beam offset printing for flexible packaging printing can reduce CO2 emissions by up to one fifth compared to gravure printing and by up to one third compared to flexographic printing.
This product should significantly reduce CO2 emissions and contribute to carbon neutrality in the growing flexible packaging materials market, while helping to improve printing quality and lower printing costs.
Toray's Hydrocarbon Electrolyte Membrane Contributes to Reducing Green Hydrogen Cost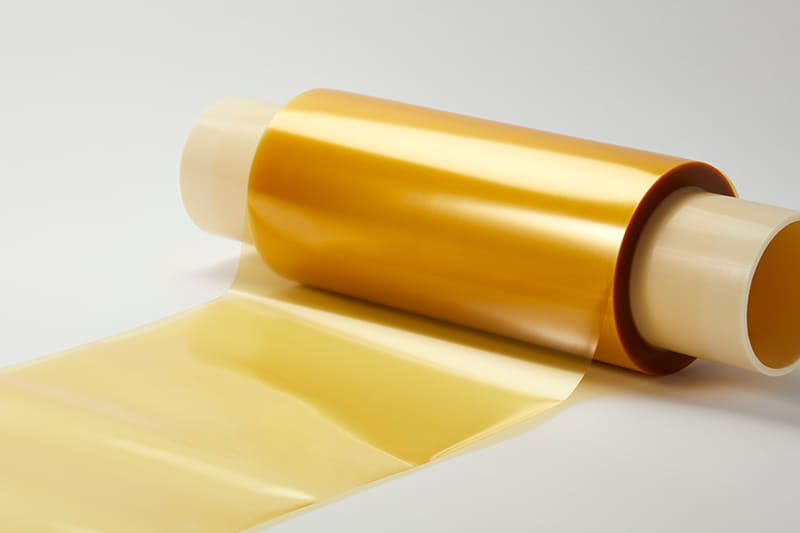 Hydrocarbon electrolyte membrane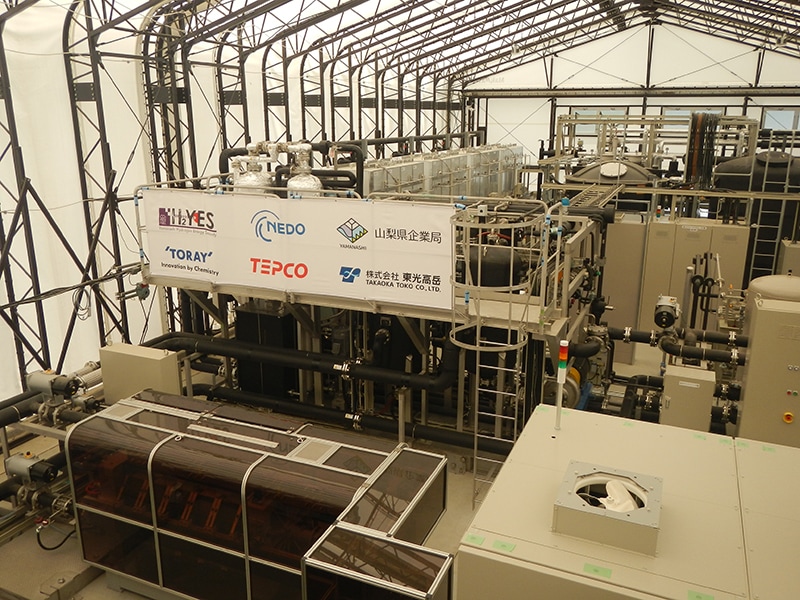 Komekurayama P2G system
As part of its efforts to help realize a carbon-neutral society, Toray Industries has been developing and demonstrating Japan's first megawatt-class, polymer electrolyte membrane (PEM) type water electrolysis technology. Since 2016, in collaboration with Yamanashi Prefecture and Tokyo Electric Power Company Holdings, Inc., Toray has been demonstrating a P2G (power-to-gas) system that produces hydrogen from photovoltaic power in Komekurayama, Kofu City, Yamanashi Prefecture.
The project has shown that by using the hydrocarbon-based electrolyte membrane developed by Toray, it is possible to produce twice as much hydrogen per unit of membrane area as with conventional fluorine membranes, at the same voltage. It is expected that this drastic improvement in the efficiency of water electrolysis will greatly reduce green hydrogen5 costs in the future.
In June 2021, the project began supplying green hydrogen made using renewable energy to semiconductor factories and supermarkets in Yamanashi Prefecture, ahead of the rest of Japan.
In addition, based on a Green Innovation Fund Project, supported by Japan's New Energy and Industrial Technology Development Organization (NEDO) and jointly adopted by eight parties concerned in August 2021, Toray plans to help build one of the largest PEM-type water electrolyzers in Japan to produce green hydrogen that could decarbonize factory heating demand.With its proprietary hydrocarbon-based electrolyte membrane technology, Toray will continue to improve the performance of water electrolyzers. Its aim is to help build a carbon-neutral world by lowering the cost of hydrogen to the current fossil fuel level, and to help build a global green-hydrogen supply chain.
In recognition of these efforts, Toray Industries received the Japan Business Federation Chairman's Award at the 30th Global Environment Awards6 sponsored by the Fujisankei Communications Group.
5 Hydrogen produced by electrolyzing water using electricity generated from renewable energy sources. Because it is produced this way without emitting CO2, it is classified as green hydrogen.
6 The Global Environment Awards were established in 1992 with the aim of "industry coexisting with the global environment." As a way to recognize environmental excellence that brings together companies, government, and citizens, the program has involved special participation by the World Wide Fund for Nature Japan (WWF Japan; Honorary President, Crown Prince Akishino).
Click here for the main initiatives for CSR Guideline 7, "Contributing Solutions to Social Issues through Business Activities" in CSR Roadmap 2022.