Promoting Life Cycle Management
CSR Activity Report (CSR Guideline Activity Reports) - Contributing Solutions to Social Issues through Business Activities
Promoting Life Cycle Management
In addressing global environmental issues, it is vital to consider the entire life cycle of products and services in order to reduce environmental impact while also delivering improved economic and social value. In this respect, Toray Group practices life cycle management. Life cycle management is the basis for Green Innovation products, and the Group has adopted life cycle assessment1 and the Toray Eco-Efficiency Analysis (T-E2A)2 tool and is working to ensure these are employed thoroughly in all of its businesses.
1 Life cycle assessment is a method for quantitatively assessing the resources that have gone into a product and the impact the product will have on the environment and ecosystems over its life cycle.
2 T-E2A is an environmental analysis tool developed by Toray Industries, Inc. It produces a map of multiple products plotted along the axes of environmental impact and economic performance, enabling users to select the most environmentally friendly and economical products.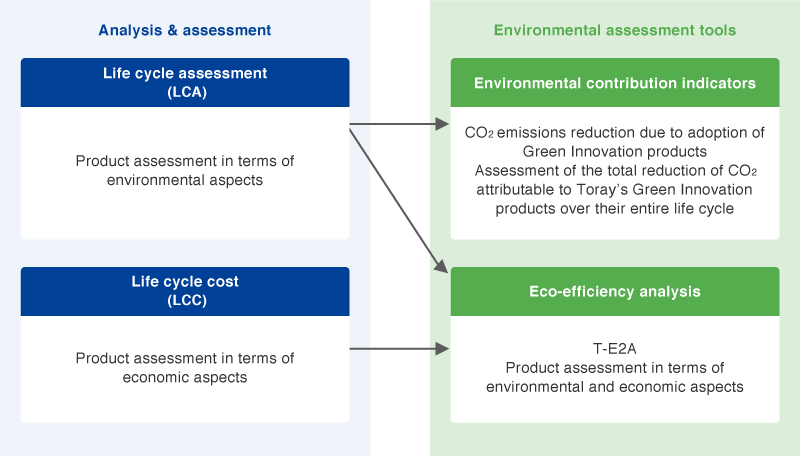 Click here for the main initiatives for CSR Guideline 7, "Contributing Solutions to Social Issues through Business Activities" in CSR Roadmap 2022.