Life Innovation Business Expansion Project
CSR Activity Report (CSR Guideline Activity Reports) - Contributing Solutions to Social Issues through Business Activities
Life Innovation Business Expansion Project
Revenue of Life Innovation products (IFRS)
■Reporting scope

Toray Group

■Target

300.0 billion yen(Fiscal 2022)
Fiscal 2021 Result
308.4
billion yen
In the field of health and medical care, the world has entered a period of historic change. The threats posed by the COVID-19 pandemic have been added to the existing challenges of declining birthrates and aging populations in developed countries, soaring social security costs, and global healthcare disparities. Toray Group's life science business helps to support health and medical care, especially through polymer material research, which Toray Group has pursued since its establishment.
The Life Innovation Business Expansion Project started in fiscal 2014 with the launch of the Medium-Term Management Program, Project AP-G 2016. Life Innovation is a group-wide project aimed at improving health by making the most of Toray Group's advanced materials, core and elemental technologies, and business platforms. The project focuses on businesses that can improve the quality of medical care, reduce the burden on medical staff, and support people's health maintenance and longevity. Under the Medium-Term Management Program, Project AP-G 2022, which was initiated in fiscal 2020, Toray Group has been adding businesses related to personal safety products, including ones that help protect people from infectious diseases, extreme weather (heat waves, etc.), disasters, and accidents, and strengthening group-wide initiatives related to these businesses.
Product Definitions and Guidelines
Improving the quality of medical care and reducing burden on medical staff
Products used in medical treatment, products used in medical testing and diagnosis, supplies/products used in medical institutions
Supporting a society where people everywhere can live long, healthy lives
Maintaining wellness, health, and independent living, improving activities of daily living (ADLs) for the elderly and home-care recipients, reducing the burden on care givers (nursing staff and families), and addressing public health issues
Supporting personal safety
Leveraging materials to protect people from disasters, extreme weather (heat waves, etc.), and accidents
Net sales ("revenue" from fiscal 2020) in Life Innovation businesses have steadily increased from 142.2 billion yen in fiscal 2014 to 308.4 billion yen in fiscal 2021 due to the addition of personal safety products to this business area in fiscal 2020. Toray Group aims to expand revenue in this area to 300 billion yen in fiscal 2022, based on International Financial Reporting Standards (IFRS).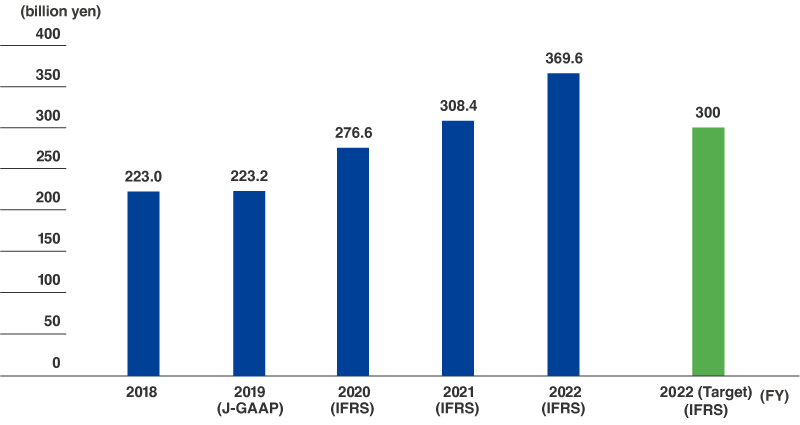 Note: FY2020-21 performance and FY2022 target are revenue based on International Financial Reporting Standards (IFRS).
Life Innovation Product Topics
Toray Debuts Japan's First PMMA Hemodiafiltration Device FILTRYZER™ HDF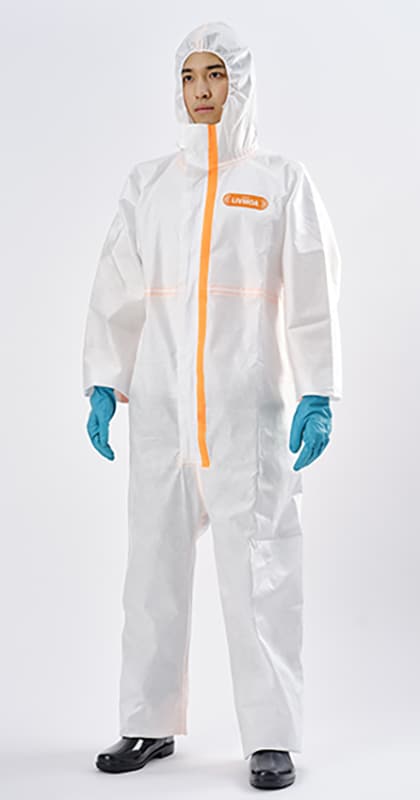 FILTRYZER™ HDF
Toray Industries has developed FILTRYZER™ HDF, Japan's first polymethyl methacrylate (PMMA) hollow fiber membrane-based hemodiafiltration device, and has recently launched sales of this product in Japan. Broadly two therapies employ artificial kidneys. The first is hemodialysis with dialyzers. The second is hemodiafiltration with hemodiafilters, which combines hemofiltration and hemodialysis.
More than 80% of hollow fiber membranes in hemodiafilters in Japan are made of polysulfone. Demand has risen for other materials, including because of allergic reactions and other biocompatibility issues and toxin removal performance needs. Toray is the world's sole manufacturer of dialyzers incorporating PMMA hollow fiber membranes. They have earned excellent reputations in Japan and numerous other nations for excellent biocompatibility and uremic toxin removal.
By using technology it has developed over many years, the Company pursued hemodiafilter development and now has Japan's first PMMA hemodiafiltration device, FILTRYZER™ HDF. The product has since received manufacturing and marketing approval in Japan, and is covered by the country's health insurance system.
Having obtained approval in 2007 to market Japan's first polysulfone hollow fiber membrane hemodiafilters, the Company has continued to work to improve them. The new PMMA hemodiafiltration device underscores Toray's ongoing commitment to meeting diversifying dialysis market needs.
Toray Develops Biochip for High-Performance Multi-Item Allergy Testing

Allergy Testing Biochip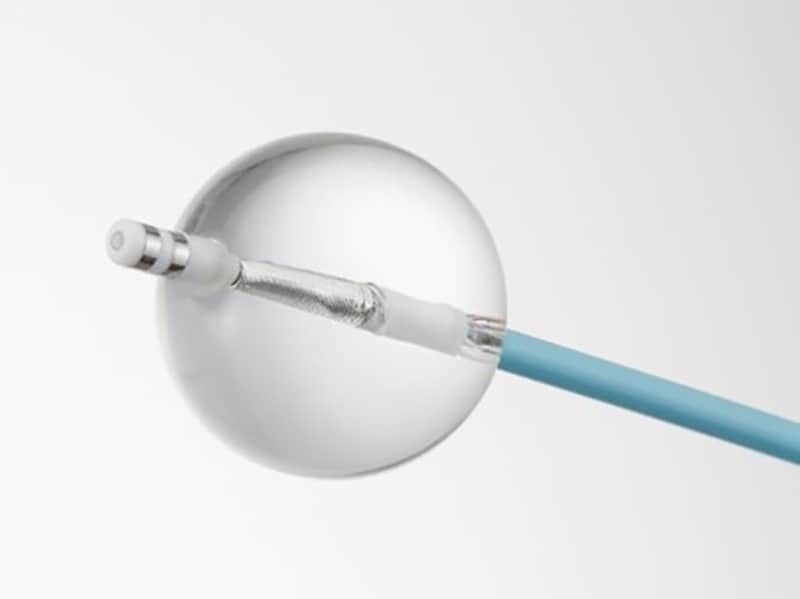 Fine columnar structure in the center of the chip
Food, pollen, and other allergies afflict half of Japan's population. Incidence rates are rising, particularly among infants and young adults. It is common in medicine to identify such ailments by using in vitro diagnostic products that measure allergen-specific IgE antibody levels in the blood. An issue with simultaneously measuring allergen-specific IgE antibodies from small blood samples (which can alleviate stress for certain patients) has been that proteins, cells, and other contaminants in the blood impede accurate measurements.
Recently, Toray Industries completed development of an allergy testing biochip that can simultaneously measure multiple allergen-specific immunoglobin E (IgE) antibodies from trace amounts of blood. Toray was able to attain high precision from measurements with small samples by combining the microarray technology of its 3D-GeneTM, a highly sensitive DNA chip, and its low-fouling polymer technology to prevent blood component adhesion.
This new biochip should help reduce stress on children and others whose blood is difficult to draw and enhance the accuracy of allergy diagnostics in medical settings. Toray aims to undertake large-scale verifications of the specimens of allergy sufferers and swiftly apply for in vitro diagnostic certification.
Highly Breathable Model of LIVMOA™ Disposable Personal Protective Clothing Proven to Reduce Heat Stress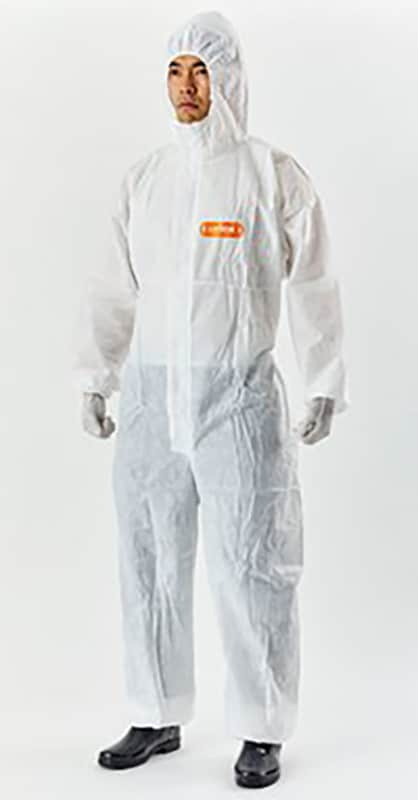 LIVMOA™3000
Based on a fusion of fiber and film technologies, the LIVMOA™ lineup of disposable personal protective clothing provides both comfort and barrier properties, making it ideal for dust protection, clean rooms, infection control, and other uses. Toray Industries is promoting business development for this product line.
The Company conducted an evaporative heat resistance test on the fabric of a highly breathable model of LIVMOA™ designed to optimize safety and comfort. Using the Wet Bulb Globe Temperature (WBGT) index1, a benchmark for heat stress, the test found that the correction value (value added to the WBGT value according to the clothing combination) showed the same value as for regular clothing. Accordingly, this protective clothing helps keep the wearer from getting sweaty while working, resulting in a high level of comfort. Additionally, the test confirmed that the fabric helps reduce heat stress for the wearer compared to general-purpose protective clothing.
Going forward, Toray will strive to promote safer and more comfortable work environments by marketing its highly breathable model of LIVMOA™ disposable personal protective clothing to the manufacturing and construction sectors, where heat protection is essential in summer.
1 This benchmark used for heat stroke prevention is derived from temperature, humidity, and radiation from light.
Toray Concludes Business Collaboration Agreement with ASKA Concerning Adhesion Barrier TRM-270C
Toray Industries signed a business collaboration agreement with ASKA Pharmaceutical Co., Ltd. to develop and commercialize an adhesion barrier in Japan. Toray has been developing the product in collaboration with Nanotheta Co., Ltd.
The product is used during medical procedures in obstetrics and gynecology, as well as in gastroenterology procedures. It has a laminated structure that comprises anti-adhesive layers, as well as supportive layers that are made of biodegradable polymers and water-soluble polymers respectively. Since it has the properties of being both flexible and providing good adherence to organs, the expected benefits are good operability particularly during laparoscopic surgeries with an excellent anti-adhesive effect.
Through the commercialization of this product, Toray hopes to improve the prognoses of patients who undergo surgery in obstetrics and gynecology as well as gastroenterology interventions.
Click here for the main initiatives for CSR Guideline 7, "Contributing Solutions to Social Issues through Business Activities" in CSR Roadmap 2022.