Life Innovation Business Expansion Project
CSR Activity Report (CSR Guideline Activity Reports) - Contributing Solutions to Social Issues through Business Activities
Life Innovation Business Expansion Project
Revenue of Life Innovation products (IFRS)
■Reporting scope

Toray Group

■Target

300.0 billion yen(Fiscal 2022)
Fiscal 2020 Result
275.6
billion yen
In the field of health and medical care, the world has entered a period of historic change. The threats posed by the COVID-19 pandemic have been added to the existing challenges of declining birthrates and aging populations in developed countries, soaring social security costs, and global healthcare disparities. Toray Group's life science business helps to support health and medical care, especially through polymer material research, which Toray Group has pursued since its establishment.
The Life Innovation Business Expansion Project started in fiscal 2014 with the launch of the Medium-Term Management Program, Project AP-G 2016. Life Innovation is a group-wide project aimed at improving health by making the most of Toray Group's advanced materials, core and elemental technologies, and business platforms. The project focuses on businesses that can improve the quality of medical care, reduce the burden on medical staff, and support people's health maintenance and longevity.
Under the Medium-Term Management Program, Project AP-G 2022, Toray Group intends to add and strengthen product initiatives related to personal safety, including ones that enable response to unforeseen circumstances such as the COVID-19 pandemic.
Product Definitions and Guidelines
Improving the quality of medical care and reducing burden on medical staff
Products used in medical treatment, products used in medical testing and diagnosis, supplies/products used in medical institutions
Supporting a society where people everywhere can live long, healthy lives
Maintaining wellness, health, and independent living, improving activities of daily living (ADLs) for the elderly and home-care recipients, reducing the burden on care givers (nursing staff and families), and addressing public health issues
Supporting personal safety
Leveraging materials to protect people from disasters, extreme weather (heat waves, etc.), and accidents
Net sales ("revenue" as of fiscal 2020) in Life Innovation businesses have steadily increased from 142.2 billion yen in fiscal 2014 to 275.6 billion yen in fiscal 2020 due to the addition of personal safety products to this business area and increased shipments of non-woven fabrics for medical gowns and masks. Going forward, Toray Group aims to expand revenue in this area, including personal safety-related products, to 300 billion yen by fiscal 2022, based on International Financial Reporting Standards (IFRS).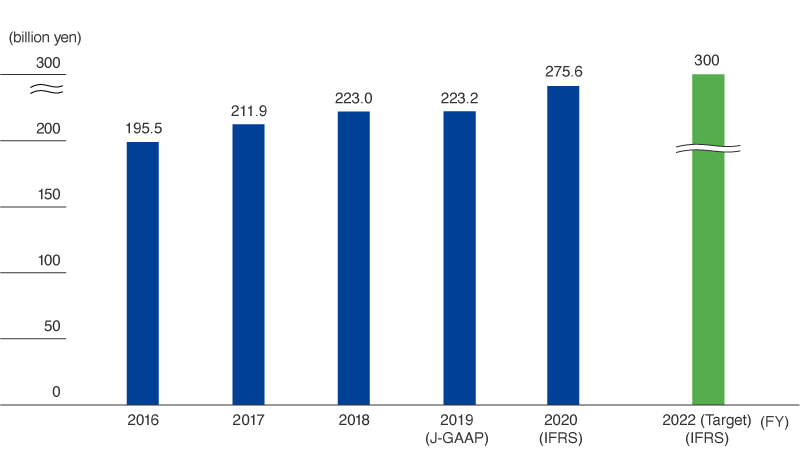 Note: FY2020 performance and FY2022 target are revenue based on International Financial Reporting Standards (IFRS).
Life Innovation Product Topics
Strengthening and Expanding the System to Supply Non-woven Fabrics for Medical Gowns and Masks
Based on a request from the Japanese government that had been hard hit by tight domestic demand for medical gowns due to the COVID-19 pandemic, Toray Industries decided to deliver non-woven disposable medical isolation gowns to the Ministry of Health, Labour, and Welfare in May 2020. With the objective of providing frontline sites with a steady supply of required volumes within short lead times, the Company fully engaged its group-wide supply chain in Japan to produce and deliver a total of 10.1 million pieces by March 2021.
In December 2020, the Ministry of Economy, Trade and Industry awarded the Group a letter of appreciation for its efforts to increase production of medical supplies in response to the outbreak of the COVID-19 pandemic and for its significant contribution to the stability of people's lives by helping meet demand.
In addition, Toray Industries expanded its supply system of non-woven fabrics for masks to deliver 100 million pieces per month in Japan and around the world, five times the level of production maintained prior to the pandemic.
Isolation gown

Letter of appreciation from the Minister of Economy, Trade and Industry
Toray MAKSPEC™ V Antiviral Textile Proves Effective in Combating COVID-19 (SARS-CoV-2)
Antiviral tests on samples of MAKSPEC™ V (100% polyester type), which was developed in 2020 as an antiviral textile with exceptional washability and comfort, have confirmed its effectiveness in reducing concentrations of the novel coronavirus SARS-CoV-2.
Toray used the JISL 1922 antiviral test for textile products. It exposed samples to COVID-19 and measured concentrations two hours later. As with earlier experimentation using the ATCC VR-1679 envelope strain, the company confirmed that the fabric reduced more than 99.9% of COVID-19 viruses on textiles. It obtained this same result even after 50 industrial washing cycles, underscoring the fabric's solid antiviral performance. Going forward, Toray Industries will step up promotion of this textile for use in uniforms worn by customer service employees, nursing caregivers and school students, where there is strong need for antiviral function. In addition, the Company will expand this business to a wider range of areas, including uniforms, sportswear, casual wear, fashion, and children's clothing.
Product Lineup Expanded with New Series of LIVMOA™ Single-Use Protective Clothing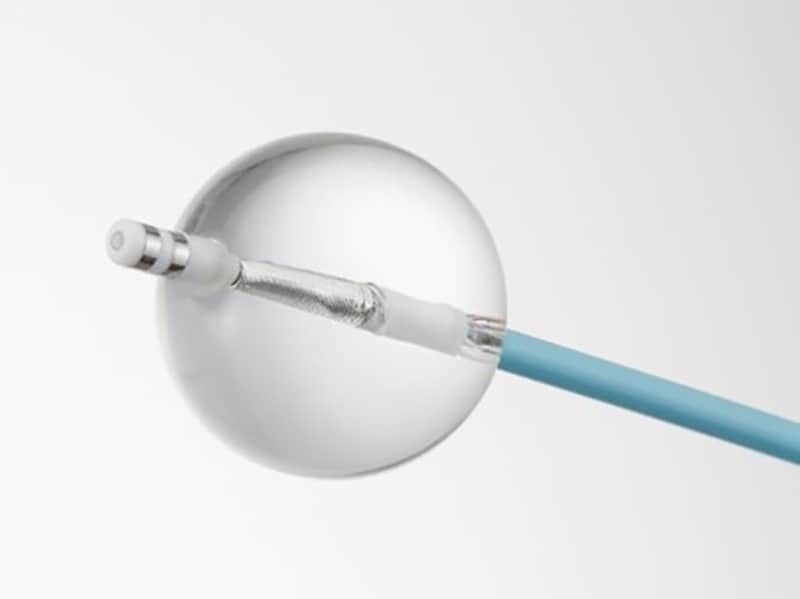 LIVMOA™4000
Toray Industries is expanding its range of LIVMOA™ single-use protective clothing, which integrates textile and film technologies to deliver both comfort and protective barrier properties. The expanded lineup includes suits with excellent breathability and dustproof features, sterilized clothing that is both highly breathable and low dust emitting, and high-breathability clothing that protects against the spread of infection. These products, particularly those with excellent breathability and dust protection features, have gained a strong reputation for breathability that reduces stuffiness, and they are increasingly used in industrial applications. Shipment volume has grown significantly over the previous fiscal year due to rising demand brought about by efforts to contain the spread of COVID-19 and other factors. Toray Industries has also added the new LIVMOA™ 4000 for high-pressure water application and the upgraded version of LIVMOA™ CL sterilized clothing for cleanrooms to its lineup in order to meet rising demand.
Click here for the main initiatives for CSR Guideline 7, "Contributing Solutions to Social Issues through Business Activities" in CSR Roadmap 2022.