Life Innovation Business Expansion Project
Fiscal 2019 CSR Activity Report - Contributing Solutions to Social Issues through Business Activities
Life Innovation Business Expansion Project
Value Creation
Sales of Life Innovation products
■Reporting scope

Toray Group

■Fiscal 2019 Target

300 billion yen
Fiscal 2019 Result
223.2
billion yen
In the field of health and medical care, the world has entered a period of historic change. The threats posed by the COVID-19 pandemic have been added to the existing challenges of declining birthrates and aging populations in developed countries, soaring social security costs, and global healthcare disparities. Toray Group's life science business helps to support health and medical care, especially through polymer material research, which Toray Group has pursued since its establishment.
The Life Innovation Business Expansion Project started in fiscal 2014 with the launch of the medium-term management program, Project AP-G 2016. Life Innovation is a group-wide project aimed at improving health by making the most of Toray Group's advanced materials, core and elemental technologies, and business platforms. The project focuses on businesses that can improve the quality of medical care, reduce the burden on medical staff, and support people's health maintenance and longevity.
Under Project AP-G 2022, Toray Group intends to add and strengthen product initiatives related to personal safety, including ones that enable response to unforeseen circumstances such as the COVID-19 pandemic.
Product Definitions and Guidelines
Improving the quality of medical care and reducing burden on medical staff
Products used in medical treatment, products used in medical testing and diagnosis, supplies/products used in medical institutions
Supporting a society where people everywhere can live long, healthy lives
Maintaining wellness, health, and independent living, improving activities of daily living (ADLs) for the elderly and home-care recipients, reducing the burden on care givers (nursing staff and families), and addressing public health issues
Supporting personal safety
Leveraging materials to protect people from disasters, extreme weather (heat waves, etc.), and accidents
Net sales in Life Innovation businesses have steadily increased from 142.2 billion yen in fiscal 2014 to 223.2 billion yen in fiscal 2019. Going forward, Toray Group will add new products related to personal safety to this business area, aiming to expand revenue to 300 billion yen by fiscal 2022, based on International Financial Reporting Standards (IFRS).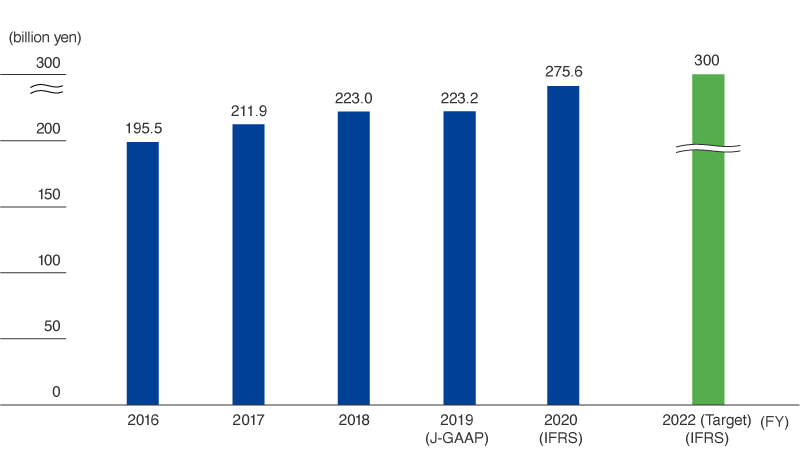 Note: revenue target for fiscal 2022 is based on IFRS
Life Innovation Product Topics
Strengthening and Expanding the System to Supply Non-woven Fabric for Masks in Japan
In response to the rapid increase in demand for masks during the COVID-19 pandemic, Toray Industries, Inc. has utilized its global production facilities to strengthen and expand its system for supplying material to Japan to make non-woven masks. Toray Group manufactures non-woven fabrics for mask production at group companies outside Japan, and was supplying enough material to make about 30 million non-woven masks each month. In response to the soaring demand for masks, however, the Group created a system that increased production with existing equipment, and in September 2020, Toray supplied enough material to manufacturers in Japan to make about 60 million masks. In October, the supply will further increase to the equivalent of 80 million masks. In addition, Toray Industries utilized the non-woven fabric development equipment at its Shiga Plant to establish a production system in Japan that can manufacture enough fabric for 20 million masks each month. Therefore, starting in October, the Toray Group plans to supply enough material for a total of 100 million non-woven masks per month.
Interim Approval for the Use of TORAYMYXIN™ to Treat COVID-19 Patients in Canada
The Canadian public health authority, Health Canada, has issued an interim order approving the use of an endotoxin adsorption cartridge, TORAYMYXIN™ to treat patients with COVID-19.
In April 2020, the company licensed to sell this product in the United States also obtained approval from the U.S. Food and Drug Administration (FDA) for its use in patients with COVID-19, as part of clinical trials. To help prevent the spread of COVID-19, Toray Group is committed to taking the necessary measures based on government action plans, and will make a group-wide effort to help end the pandemic as soon as possible and promote social and economic recovery.
Product Lineup Expanded with a New Series of LIVMOA™ Single-Use Protective Clothing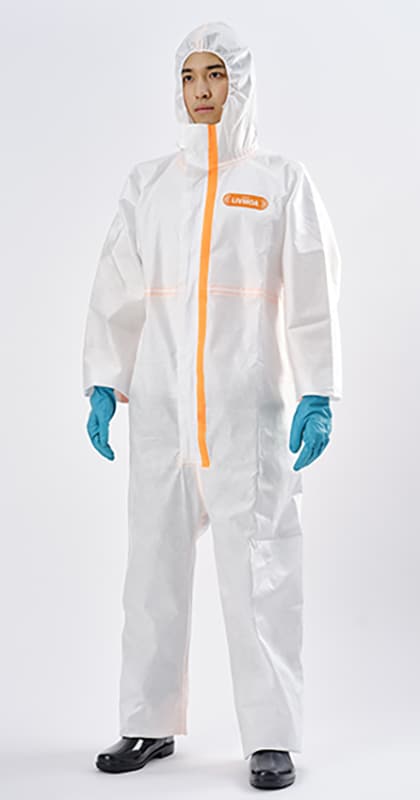 LIVMOA®2000
The LIVMOATM 2000 series of single-use protective suits was recently released, offering both comfort and protective barrier properties made possibly by the integration of textile and film technologies. The protective suits include a multi-layered material made of TORAYMICRON™ non-woven fabric, which has excellent breathability and dust protection features. The advanced fabric is used for the head, chest, and back of the suits, areas especially prone to overheating, to achieve both comfort and cost balance. The coveralls also comply with JIS T 8115: 2015 Type 5 (Protective clothing for use against solid particulates). The needs of a wider range of customers have been met by designing the suits for work environments where heat and stuffiness are common throughout the year, and not just in summer.