Green Innovation Business Expansion Project
CSR Activity Report (CSR Guideline Activity Reports) - Contributing Solutions to Social Issues through Business Activities
Green Innovation Business Expansion Project
Revenue of Green Innovation products(IFRS)
■Reporting scope

Toray Group

■Target

1,000 billion yen(Fiscal 2022)
Fiscal 2021 Result
832.2
billion yen
Toray Group embraces the thinking that all business strategies must prioritize responsibility for the global environment in an effort to help build a more sustainable world with a small carbon footprint. The Group is endeavoring to realize this vision by addressing global environmental, resource, and energy issues through the continued implementation of the Green Innovation Business Expansion Project.
Green Innovation businesses have steadily grown since the start in 2011, reaching consolidated revenue of 832.2 billion yen in fiscal 2021. In the Medium-Term Management Program, Project AP-G 2022, which started in fiscal 2020, Toray Group set a challenging target of 1,000 billion yen in revenue from Green Innovation businesses on a consolidated and International Financial Reporting Standards (IFRS) basis and aims to expand its environment-related businesses. The contribution to CO2 emission reduction1 and water filtration2 from the use of Toray Group products has steadily increased as the business has expanded. In fiscal 2021, Toray Group products helped to reduce CO2 emissions in the value chain by 306.22 million tons (8.0 times higher than in fiscal 2013) and added 61.00 million tons of water filtration (2.2 times higher than in fiscal 2013).
Contribution to CO2 reduction1 in value chain in fiscal 2021

306.22 million tons-CO2


(8.0 times compared to fiscal 2013)
Contribution of Toray water treatment products2 in fiscal 2021

61.00 million tons


(2.2 times compared to fiscal 2013)
1 Toray calculates the CO2 emissions reduced throughout the value chain of products in accordance with the chemical sector guidelines of the Japan Chemical Industry Association, the International Council of Chemical Associations (ICCA), and the World Business Council For Sustainable Development (WBCSD).
2 Toray calculates water treated with Toray's water treatment membranes by multiplying the amount of fresh water that its ultrafiltration water treatment membranes can produce per day, including reverse osmosis (RO), ultrafiltration (UF) and membrane separation bioreactors (MBR), by the number of membrane elements sold.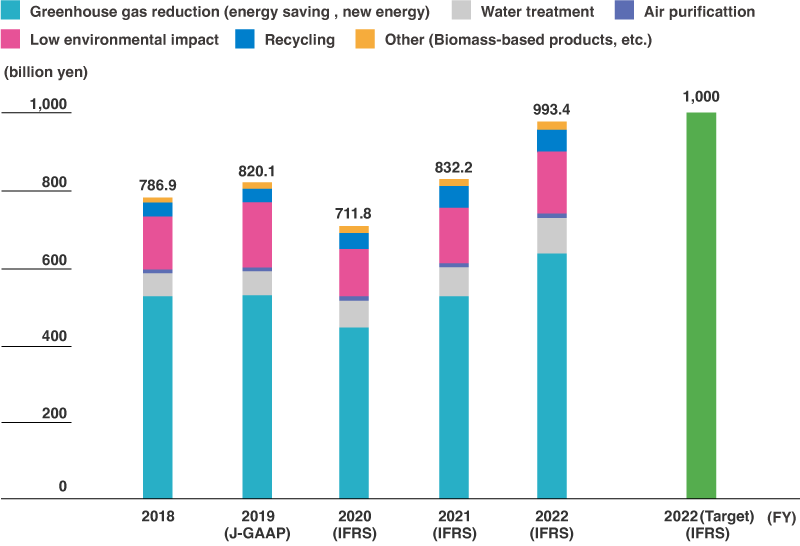 Note: FY2020-21 performance and FY2022 target are revenue based on International Financial Reporting Standards (IFRS).
Click here for the main initiatives for CSR Guideline 7, "Contributing Solutions to Social Issues through Business Activities" in CSR Roadmap 2022.