CSR Guidelines & Activity Reports - Contributing Solutions to Social Issues through Business Activities
Approach to Green Innovation Products
Value Creation
The following diagram outlines Toray Group's process and procedures for certifying Green Innovation products. Products are subjected to a two-stage screening process conducted by the divisional committees and by the group-wide Green Innovation Certification Committee. Those able to demonstrate objective evidence of providing an effective solution for global environmental issues are certified as Green Innovation products.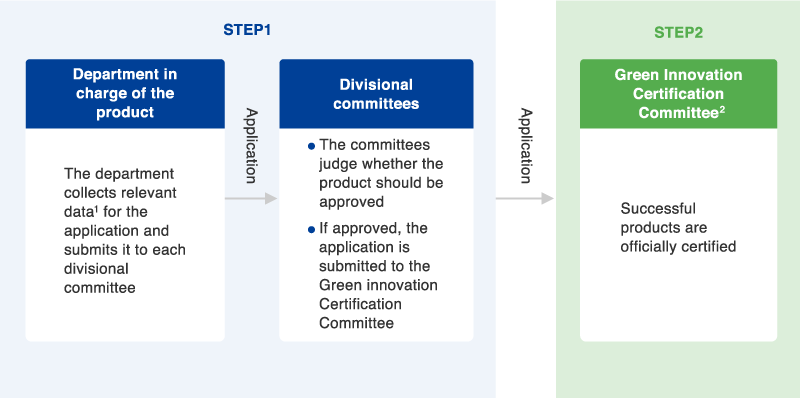 1 This includes LCA data, T-E2A data, and estimates of CO2 emissions reduction attributable to the product.
2 Comprised of members of Toray Industries' Global Environment Business Strategic Planning Department, Corporate Marketing Planning Department, and Technology Center Planning Department, as well as experts when necessary.
Green Innovation Products Released in Fiscal 2018
Development of Reverse Osmosis Membrane Element Optimized for Sewage and Wastewater Treatment, Turns Wastewater into a Viable Resource
In April 2018, Toray Industries launched ROMEMBRA™ TLF Series reverse osmosis (RO) membranes, which offer excellent removal of impurities and permeability with better resistance against membrane fouling.
Compared with conventional RO membranes for wastewater treatment, ROMEMBRA™ TLF Series membranes deliver 30% better permeability, which will help to reduce operating costs. In addition, the Company developed new membrane surface coating technology to maintain enhanced durability against membrane cleaning chemicals, resulting in a longer membrane replacement cycle. This comes amid recent serious water shortages in the United States, China and emerging countries, and worsening water quality due to rapid industrial development, which have become global issues. With the introduction of the ROMEMBRA™ TFL Series, Toray Group aims to meet rapidly growing demand for sewage and wastewater treatment, while also seeking to expand applications for other industrial water treatment such as ultrapure water purification and boiler feedwater treatment.
Introduction of ultrasuede™ BX Non-Woven Material with Suede Texture, Featuring World's Highest Level of Plant-Based Raw Material Content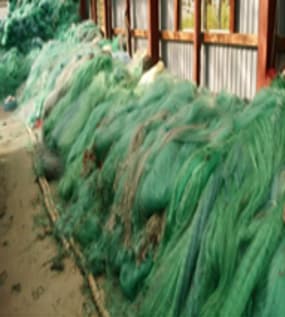 ultrasuede™ BX non-woven material with a suede texture
In January 2019, Toray Industries launched sales of ultrasuede™ BX, a non-woven material with a suede texture that realizes the highest proportion at about 30% of plant-based raw material content—in this case polyester and polyurethane—in the world.
ultrasuede™ BX uses polyester polymerized with ethylene glycol made from the waste molasses of sugarcane, and polyurethane composed of polyol made of castor oil from inedible castor oil plant, which gives the suede texture material the world's highest content of plant-based raw materials. ultrasuede™ BX is the world's first non-woven material with a suede texture made using plant-based polyurethane.
Until now, polyurethane made of plant-based raw materials faced issues with its technical properties resulting in low durability and unsatisfactory texture, and so could not be used for a non-woven suede-like material. To solve these issues, the Company employed original design technologies — from polymer and material structure design to polyurethane coagulation technology — to develop ultrasuede™ BX, which delivers superior texture and functionality with its high durability, air permeability, and easy maintenance.
Toray Industries anticipates that ultrasuede™ BX — as an eco-friendly material that offers both superior feeling and functionality — will be widely adopted for a broad range of applications, including automotive interiors, furniture, and fashion.