The Art and Science of LifeWear
The Art and Science of LifeWear
New Form Follows Function
From 17 to 22 September 2019, UNIQLO held "The Art and Science of LifeWear: New Form Follows Function" exhibition at the Somerset House, which is known as a hub for creative and cultural activities in London.
Toray and UNIQLO have entered into strategic partnerships to not only develop innovative materials and products, but to also communicate the value of those innovations to the world through joint marketing initiatives such as exhibitions and other events. Following the LifeWear events in New York in 2017 and Paris in 2018, this year's event in London presented the innovative designs and unparalleled functionalities of UNIQLO's products that are based on the LifeWear concept. The exhibition also showcased the stories behind the development of UNIQLO's most-loved LifeWear products through experiential and experimental installations.
To bring you up to speed on what was covered during the event, this webpage summarizes the presentations by Chairman, President & CEO of Fast Retailing Co., Ltd, Mr. Yanai, and President of Toray Industries, Inc., Mr. Nikkaku on Media Day on 16 September. It also reveals the secrets of the science behind LifeWear products that were featured at the event such as HEATTECH, AIRism, Ultra Light Down, and DRY-EX, as well as shed light on Toray's role in those innovations and enabling UNIQLO to achieve its sustainability goals.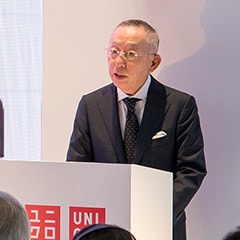 The presentation of Tadashi Yanai, UNIQLO Founder and Chairman, President & CEO of Fast Retailing
At the press conference on Media Day, Chairman, President & CEO Yanai talked about UNIQLO's LifeWear concept and sustainability initiatives, as well as introduced the exhibition.
Unlike fast fashion, UNIQLO offers timeless clothes that can be worn for a long time and across generations, and can adapt to the individual's lifestyle. UNIQLO sees LifeWear as high-quality "tools" for realizing a better everyday life, and delivers that by combining Japanese aesthetics with advanced technology.
Driven by its "Made for All" philosophy – which means "clothes for everyone" – UNIQLO makes clothes with robustness, and provides a rich line-up of affordable clothes with simple and functional designs. Those clothes offer advanced functionalities with each passing year, thanks to the solid partnership with Toray.
Installations across the themed zones at this exhibition showcased LifeWear's constant innovation, quality and sustainability initiatives. Chairman, President & CEO Yanai ended his presentation by saying: "Sustainability, in particular, is an important theme for today's apparel industry. I hope you'll rediscover UNIQLO from a different perspective through this exhibition."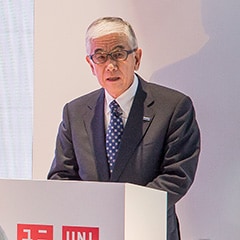 The presentation of Akihiro Nikkaku, President of Toray Industries, Inc.
During the press conference, President Nikkaku introduced Toray's Sustainability Vision, the strategic partnership between Toray and UNIQLO, as well as the sustainability initiatives as part of that collaboration.
Since its founding, Toray has a strong belief that materials have the power to intrinsically change society. It aims to contribute to the sustainable development of society through business as a public institution.
As part of its strategic partnership with UNIQLO which began in 2006, Toray covers all aspects of production – from materials to sewing – for a range of innovative innerwear. Recent joint sustainability initiatives include the production of recycled down from used down items, and the development of high-performance, quick-drying wear DRY-EX using polyester fibers made from recycled PET bottles.
President Nikkaku concluded: "We will continue to offer customers around the world high-quality clothes with the functionality and sensitivity of our materials through UNIQLO. We are committed to providing convenience for customers and realizing a more prosperous society."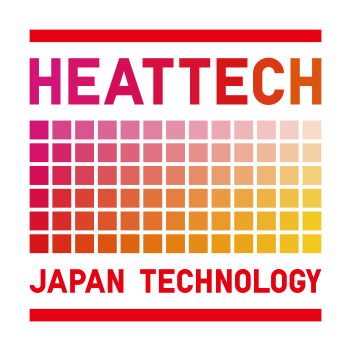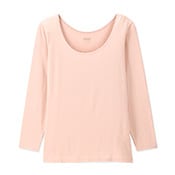 Rewriting the rules for winter innerwear
An immersive digital art installation showcased HEATTECH's technology on a micro level through a huge screen to demonstrate HEATTECH's functionalities.
The conventional way of staying warm during winter is to wear layers of thick and heavy clothing. Although doing so keeps the user warm, it also restricts movements and prevents users from enjoying winter fashion.
UNIQLO and Toray, therefore, decided to tackle the challenge by developing a game-changing material that solves the problem of cold in a way that is fundamentally different from the convention. The journey was arduous – it took more than 10,000 prototypes before the right material was born. Driven by a sense of mission to "create something that does not exist anywhere in the world", both companies overcame many barriers to produce the warm, light, and comfortable HEATTECH, which has redefined the norms of winter wear.
Key Functions
HEATTECH is made up of four fibers – rayon, acrylic, polyester, and polyurethane – knitted together in a complex structure. This foundation enables it to offer superior comfort functionalities such as heat generation, heat retention, and moisture-wicking, and stretchability.
Direction: Mai Tsunoo (concept & text), Tangram (movie) Animation: nomena Graphic Design: Akihiro Kumagaya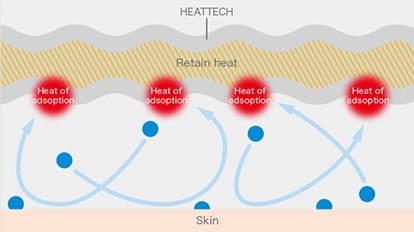 The kinetic energy of steam is converted into thermal energy, and fine acrylic keeps warmth.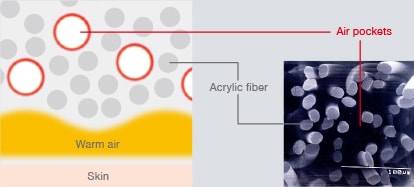 HEATTECH's heat adsorption mechanism makes use of moisture that the body emits. When sweat or moisture evaporates, water molecules move rapidly between the skin and the HEATTECH fabric. Rayon fibers with excellent hygroscopic properties adsorb the water molecules, while the kinetic energy resulting from the movement of the water molecules converts to thermal energy to provide thermal insulation.
To maintain warmth, the HEATTECH fabric traps the warm air in the air pockets between fine acrylic fibers, which are each one-tenth the thickness of a strand of hair.
Besides providing warmth, HEATTECH delivers other features too. Thanks to polyurethane, HEATTECH offers exceptional stretchability to give users the perfect fit. Meanwhile, the polyester fibers allow HEATTECH to quickly absorb and dry moisture, providing users with warmth and comfort in any situation.
READ MORE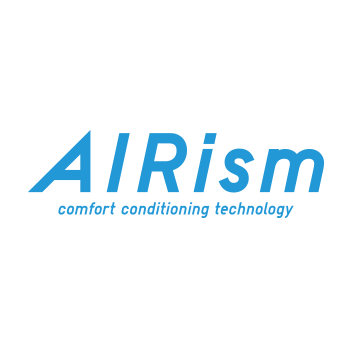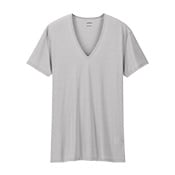 Delivering 24/7 comfort
The sensory walk made from hanging strips of AIRism fabric allowed visitors to get first-hand experience of the light, thin, and smooth fabric made from Toray's specially engineered fine polyester fibers.
With global warming causing the world's average temperature to increase, innerwear provides comfort to users by regulating the clothing microclimate, which is a small layer of air stream between the garment and their skin. To deliver this, the men's AIRism line is made from Toray's fine polyester fibers that allow the fabric to wick away perspiration quickly, be breathable, and provide a smooth and cool contact feel.
Key Functions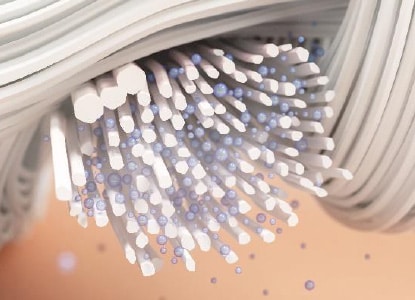 Since conventional men's innerwear is made from cotton, it absorbs moisture well but takes a considerably long time to dry. Knitting existing synthetic fibers into men's innerwear could speed up the drying process, but such fibers tend to be harsh on the skin. To counter these issues, Toray and UNIQLO embarked on a quest to develop specially engineered fine polyester fibers that can produce a light and silky fabric.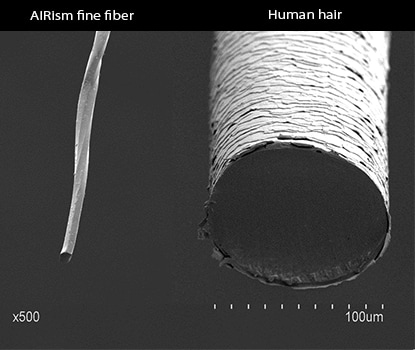 With each fiber being one-twelfth the thickness of a strand of human hair, the fabric made from Toray's fine polyester fibers is very fine and has few surface irregularities, which results in the silky smoothness of AIRism. Moreover, the smoother or less fluffy the fabric, the more heat is transferred from the skin to the fabric, enabling the user to feel cooler.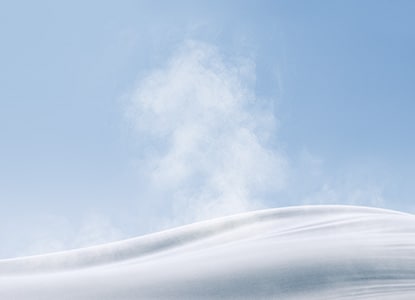 Additionally, the fine polyester fibers allow the fabric to not only absorb perspiration well, but also release trapped moisture and hot air to wick away perspiration more quickly than conventional cotton innerwear. As perspiration evaporates, it also takes heat away from the skin to cool the body. As such, the fast-drying speed of AIRism allows the user to always feel cool and dry.
The combination of all these features allows AIRism to deliver high levels of comfort such that users may not realize that they are wearing innerwear.
READ MORE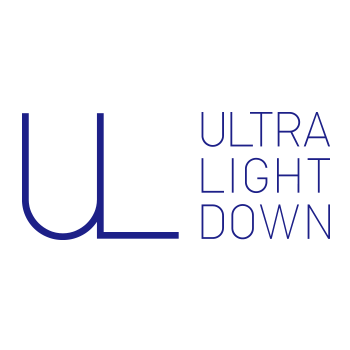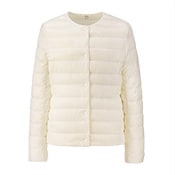 Keeping warmth without the bulk
Ultra Light Down is so light that each of them can be lifted by a balloon.
Ultra Light Down has changed the perception of down jackets. Unlike traditional down jackets which are thick and heavy, Ultra Light Down jackets are feather-light and compact while delivering warmth. This is because Ultra Light Down items feature a shell made from strong and fine nylon yarns that are developed by Toray.
Key Functions
With each nylon yarn being approximately one-tenth the thickness of a single strand of human hair, the shell of those jackets can be thin and light. However, the shell is also durable and flexible as the yarn is made from multiple fine fibers that are woven together.
Enlarged view of Fine Nylon Yarn

Enlarged view of Human Hair
Down jackets usually feature a down pack, which is a bag containing the down and is stitched to the outer fabric layer to prevent the down from escaping. Toray eliminated this need by putting the fabric of Ultra Light Down shells through high heat and pressure to close the mesh between threads, making it difficult for the down to escape. Since this allows down to be inserted directly into such jackets, it enables Ultra Light Down to reduce its weight and be folded into the small accompanying pouches.
General Down Wear

Ultra Light Down
Enlarged view of conventional fabric

Enlarged view of ULD Fabric
New items made from recycled down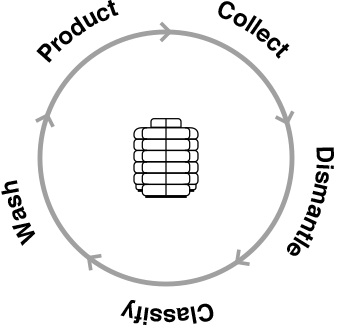 UNIQLO and Toray have also started a collaboration in which they are planning to offer down products that use recycled down as part of their construction, from the 2020 Fall/Winter collection. A new Toray-powered machine will extract, cleanse, and rejuvenate down from the pre-loved Ultra Light Down items donated by customers. The recycled material, which will be in an "as new" condition, will then be used to fill new down jackets. The process of extracting stuffing from Ultra Light Down is arduous due to their thin shells and complex construction. Toray's new machine will therefore fully automate cutting, stirring and separating, and recovery for 50-fold the processing capacity of manual processes, which will greatly alleviate workloads.
READ MORE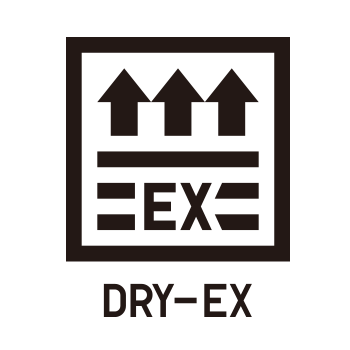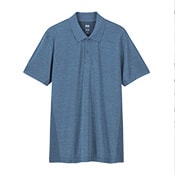 Highly functional yet environmentally friendly products
Toray's technology enables polyester fibers from recycled PET bottles to be reborn as environmentally-friendly DRY-EX products.
Since comfort plays a crucial factor in one's performance in sports, DRY-EX provides that by keeping users comfortable and dry even as they move. It is able to do so due to the fabric jointly developed by Toray and UNIQLO, which features a special arched structure of highly breathable mesh made from polyester fiber. In addition, the two companies have launched collaborative efforts around sustainability for DRY-EX.
Key Functions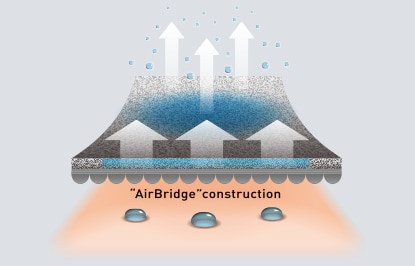 With excellent quick-drying properties, the fabric used for DRY-EX quickly absorbs and diffuses sweat. This prevents the user from feeling sticky when he perspires and reduces discomfort. Coupling this with the fact that the fabric is lightweight and provides a comfortable fit, DRY-EX can support high performance during competitions more effectively.
New DRY-EX pieces incorporating polyester from recycled PET bottles
To deliver on its promise to produce sustainable products, UNIQLO's 2020 Spring/Summer DRY-EX line will be made from high value-added polyester fibers derived from recycled PET bottles. Toray's contaminant filtering technology and spinning technologies will allow the creation of pure white high-quality fibers from reclaimed plastic bottles – a quality that is a notch above other commercially available recycled synthetic fibers.

Additionally, Toray's Recycling Identification System will enhance reliability by ensuring that fibers derived from plastic bottles are traceable. All these new features will enable future DRY-EX items to be more environmentally friendly while delivering the same high performance, lightness, comfort, and moisture-wicking properties as their predecessors.
READ MORE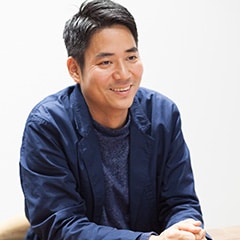 Interview with Rei Matsunuma, Global PR Director of UNIQLO
LifeWear has been disrupting the fashion industry by redefining clothes over the years. Rei Matsunuma, Global PR Director of UNIQLO, shares why Toray is one of the key driving forces behind LifeWear and how it is helping UNIQLO to improve sustainability in fashion.
What is your vision for LifeWear?
Designed to enrich everyone's life, LifeWear is clothing that is simple, high quality, ingenious in detail, and offers aesthetic rationality. It is also everyday wear that has been thought through with life's needs in mind, and made to be durable enough to be worn for a long time. In short, we envision LifeWear to be clothes that are affordable and accessible to everyone, and serve as tools to help create a lifestyle.
Why is Toray necessary for LifeWear?
Since the basis of clothes is materials, having good materials is crucial to the development of LifeWear's innovative products. By working closely with Toray for close to two decades, we have been able to blend traditional techniques with new technologies to create clothes that are of exceptional design and comfort, made for everyone, and positively impact the society and environment. The products born out of the partnership include the HEATTECH range for winter warmth, the cool and fresh AIRism innerwear, and the lightweight, quick-drying and stretchable Kando pants.
To sum it up, Toray has enabled the development of revolutionary materials that empower us to make clothes which make everyone's lives more comfortable, enjoyable, and convenient.
How does Toray allow UNIQLO to offer clothes that contribute to a more sustainable society?
We are fortunate that Toray is just as passionate as us when it comes to continuous innovation and making the world a better place to live in. This has enabled us to jointly unleash the potential of clothing to be a positive force for change.
With Toray's high-quality and innovative materials, LifeWear is able to deliver timeless designs expressed in high-quality, functional, and durable clothing that outlasts trends to remain as wardrobe essentials for many years. By producing clothes that can be worn for a long time, we can empower UNIQLO customers to be fashionable while contributing a more sustainable society. As such, we look forward to extending this collaboration to continue making a positive impact on the world.
READ MORE