Voluntary Initiatives to Reduce Atmospheric Emissions of Chemical Substances
CSR Activity Report (CSR Guideline Activity Reports) - Safety, Accident Prevention, and Environmental Preservation
Voluntary Initiatives to Reduce Atmospheric Emissions of Chemical Substances
As a corporate group that does business in the chemicals sector, Toray Group places the highest priority on reducing emissions of chemicals into the atmosphere in order to reduce its environmental impact.
Working to achieve its targets for reducing atmospheric emissions of volatile organic compounds (VOCs) and substances specified under Japan's Pollutant Release and Transfer Register Law (PRTR Law), for fiscal 2020 and beyond, the Group has been focusing on making reductions at group companies and plants with high atmospheric emissions. The Group will follow their progress and continue making efforts to achieve a reduction of at least 70% annually until fiscal 2022, compared to fiscal 2000.
Reducing Atmospheric Emissions of PRTR Law-Specified Substances
In fiscal 2021, Toray Group's atmospheric emissions of PRTR Law-specified substances were 716 tons, which represented a 72.7% reduction compared to the base year of fiscal 2000, achieving the target of a 70% reduction compared with the base year.
Going forward, the Group will continue aiming for steady target achievement. It will conduct follow-ups twice a year to ensure achievement of its numerical reduction targets for plants subject to priority management due to high PRTR substance atmospheric emissions.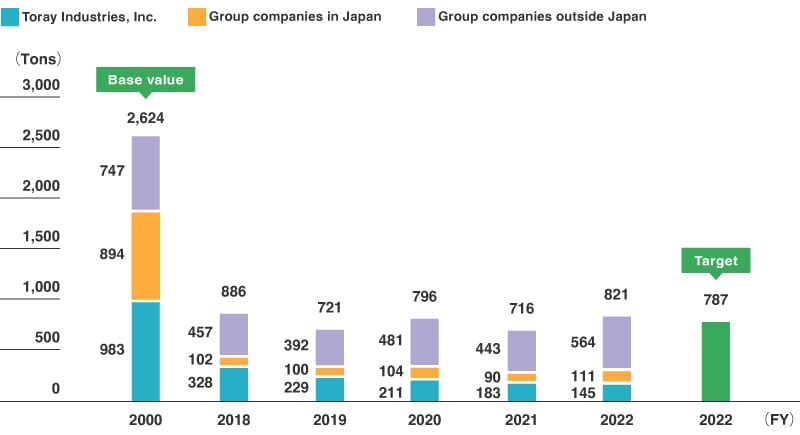 Reduction of Atmospheric VOC Emissions
Reduction of atmospheric VOC emissions (%)
■Reporting scope

Toray Group

■Target in fiscal 2021

At least 70% lower than fiscal 2000
Result in fiscal 2021
77.6%
In fiscal 2021, Toray Group's atmospheric VOC emissions were 888 tons, down 14.5% (151 tons) compared to the previous fiscal year.
The emissions were 77.6% below the base year of fiscal 2000, achieving the fiscal 2020 target of a 70% reduction compared to the base year.
The main reason for the decrease in PRTR substance and VOC emissions was the improvement in emissions capture at Toray Battery Separator Film Korea Limited. This was due to optimization of operating conditions for the adsorption recovery equipment performing target substance capture.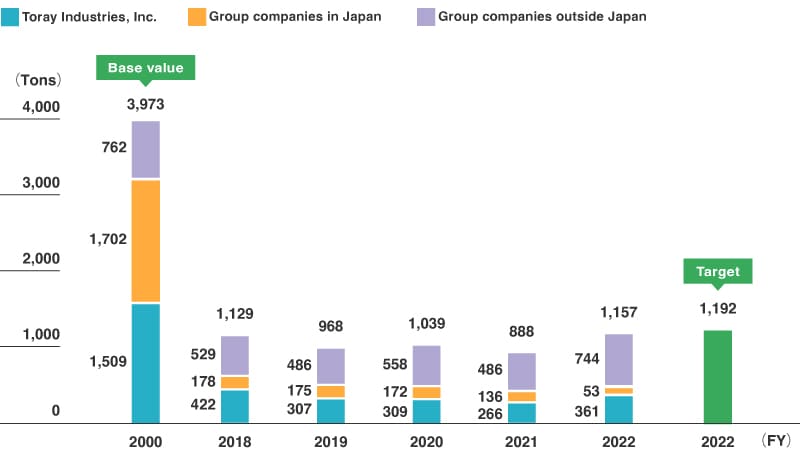 Click here for the main initiatives for CSR Guideline 3, "Safety, Accident Prevention, and Environmental Preservation" in CSR Roadmap 2022.